Animated weather widget, clock gives you touch of Sense 3.0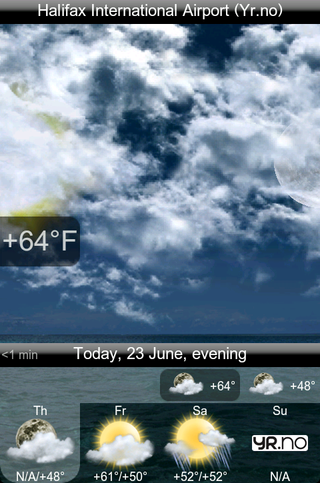 Living where I do -- in Halifax, Nova Scotia, nice sunny days are kind of a rare thing now, and knowing when they are coming so that I can plan ahead to enjoy them is a good thing. Right now there is a multitude of weather apps in the Android Market to choose from, some better then others but today I decided to give Animated Weather Widget, Clock by Mobilityflow Arts a shot to see how I like it. It has plenty of features included and the animations thus far look great on my Desire HD:
Desktop widgets with digital clock
Animated daily weather forecast
Realistic Video effects of cloudiness, rain and snow
Multiple scene landacapes
Custom (user-defined) backgrounds
Global world weather
50000+ locations worldwide
Auto update forecast
Data in Metric/Imperial
Geolocation (GPS Search)
The app is offered in both a free and paid version, the free version does lack some of the features such as the ability to view a full forecast and has an upgrade ad right at the top but for my purposes I really don't mind the ad. Read on past the break for more info and screenshots.
You can choose from various backgrounds that are built in. As shown above, I chose the ocean considering the Grand Canyon didn't really fit into my location. I really would have liked to see it decided for me based on location but maybe I'm asking too much there.
You get two widgets to choose from, one being a smaller 2X1 an the other a 4X2 plus, the developer is working on extra skins and themes for the widget selections. Currently there are three in the Android Market with more on the way sometime soon.
Now what I consider to be the best part of it all -- the animation videos for weather. As we've seen in Sense 3.0 there is a lot of animation happening there when it comes to the weather widgets and while the animations are awesome, they're not coming to every device. As such, Mobilityflow Arts has brought them to you. The animations looked and ran great on my Desire HD and were certainly comparable to those found in Sense 3.0 and elsewhere.
If you're looking for a new weather app to try out, check Animated weather widget, clock by Mobilityflow Arts. You have nothing to lose by trying it, and if you like it you have the option to upgrade to the full version for only $4.95.
Get the Android Central Newsletter
Instant access to breaking news, the hottest reviews, great deals and helpful tips.