Androidland - The world's first Android store in Melbourne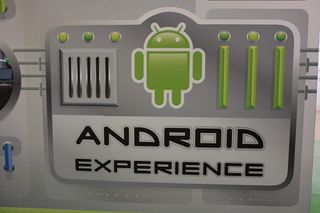 YouTube link for mobile viewing
If you've ever looked at some of our past coverage of trade shows, you no doubt noticed that when Google is in attendance -- they like to do things big. They bring lots of phones to put on display, have plenty of Android gear around and its always a very hands-on experience,
Telstra in Australia has now taken some of that tradeshow feeling and turned into a retail experience with the launch of the worlds first Android store in Melbourne. After having worked with Google and various other partners such as HTC, Motorola, Sony Ericsson & Samsung to create Androidland, Telstra is planning to keep the 154 square metre store open for the next 6 months and beyond, depending on customer benefit.
Customers are welcome to come play Angry Birds on a big screen TV and more importantly go hands-on with the devices they could potentially be purchasing and get in-store help Telstra representatives. What do you guys think? Pretty Awesome right?
Source: AusDroid
Get the Android Central Newsletter
Instant access to breaking news, the hottest reviews, great deals and helpful tips.
That's sick, now if only we can get one here in the U.S., where... Oh yeah where Google is freaking from!! Lol. Btw first :P

Ditto those feelings. So sick of Apple stores and Apple accessories/magazines in just about all stores. Need more Android/Google love.

Don't be greedy.
Australia is last to market 99% of the time.
Don't forget Google maps were an Australian idea sold to Google. Aussie, Aussie Aussie

dang you guys , i was excited for a moment because im 15 minutes from melbourne florida -_-

Oh man... if only there was one of these in Austin or Dallas

Androidland! The store smells of gingerbread and maybe they'll add a donut or froyo/ice cream sandwich stands :-)

LOL, is it for 3 year olds? It sure looks like it.

Pretty Awesome! The spaceship wallpaper is a little over the top though.

Alright, who wants to go in on a franchise with me. I think this could be big! :)

Hey I been waiting for something like this for years for Android. I want to open one myself, are you serious about opening a franchise because I'm in.

They need to open one of these where I live, so I can go work there. I like working for AT&T, but I would LOOOOVVVVVVEEEE to work for Android!!!!!

And to think I was going to try and get a loan so I too, can open an android store or land pretty awesome if you ask me. lol

Mac Store, Smack store! androidland is the new Disney world for us Techies

I love the idea, and the result looks amazing. However, I fell (This is all going to be imo), that the name "Androidland" is well... juvenile. I love Android, and I would love to see more of these Android stores around the world, however I wish it were a little more grown up feeling.
"Serious business management and control" like Apple look is definitely not welcome. But something to show that Android is not only kid friendly, but business friendly too. It would be so cool to have one of these and see all the different Android devices in one location! How about they license out the name Android Central? ;)

Right on the nail. I totally agree.

This is awesome, I wish they had one in Phoenix, AZ. I would go there on opening day. It blows an Apple store out of the water.

Hey I live in WPB, Florida. Would anyone want to open a franchise with me or a whole new chain of Android stores? let me know.