As an Android user, what do you think about iOS 14?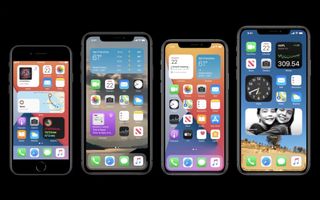 (Image credit: Apple)
Yesterday, June 22, marked the beginning of Apple's Worldwide Developer Conference — also known as WWDC. This entire event this year is being held virtually given the current state of the world, including the opening keynote in which Apple unveiled its latest plans for iOS, iPadOS, watchOS, and tvOS, and macOS.
Of those announcements, iOS 14 was definitely one of the major takeaways. This latest update makes iOS more like Android than ever before, adding things like home screen widgets, an app drawer, and picture-in-picture.
It's easily one of the most significant iOS updates we've seen in years, but as an Android user, how's it look to you? Some of our AC forum members recently shared their own thoughts, saying:
What say you? As an Android user, what do you think about iOS 14?
Joe Maring was a Senior Editor for Android Central between 2017 and 2021. You can reach him on Twitter at @JoeMaring1.
A few more years and you won't be able to tell iOS and Android apart.

Yes you will because iOS devices older than 2 years will still get OS updates.

Way to reply to a comment i didn't make.

With this new update, they practically look the same now.

iFans, welcome to android world! well, just a litle makeup on iOS... the journey just started!:D

I will definitely be buying an iPhone 12 and I haven't bought an iPhone since iPhone 4 was released, I think maybe that was like August 2010. The decision will be should I keep my Note 10 plus along with iPhone 12 or sell it my pixel 2 XL can't get nothing for it so I'll have a Android phone.

I have no interest in iOS. My work phone is an iPhone and I find it difficult to be productive with it compared to Android.

I don't think about it at all...

Confirmed also... switching back to iPhone 12 pro, when it will come out.
My last iPhone was 3GS...long time ago 😅

I have no opinion other than it's great for my daughter to now have a device more like mine. 😁

It's better, I suppose, but looks messy to me.

As someone invested more in the Google ecosystem than the Android devices, iOS 14 will make it even easier to use Google services on an Apple device.

I definately like what I am seeing. Being someone who started off with Windows Phone in the smartphone business I am ready to maybe try iPhone now as a primary device. It is becoming more and more what I loved about Windows Mobile while Android is becoming less and less what made it better than a neglected OS. And it is Google's fault. Not Android's. But when it comes down to services and functionality, Google and Google Play store had disappointed me. Take it from someone coming from a Microsoft Store device. Not to mention the degrading and always changing Google services landscape that I am probably becoming old to keep hopping on and off, sideways and back. Apple services felt less but at least they are not taking away things from you that you got familiar with. Currently the Your Phone support is what keeps me with Android as long as I use Microsoft Windows on my PCs.

Enough that my iPhone arrives tomorrow. I have not used one since the 4. The ability to change the default mail and browser was the tipping point. I want nothing to do with Google.

As an Android user I don't care. My wife is an iPhone user, the new bells and whistles won't matter to her because she isn't interested in changing base apps or customizing the phone. This is what makes her an iPhone user.

Yes most people that are iPhone users are like your wife, but you'd be surprised that a lot of the features in iOS 14 have been asked for but a lot of iPhone users that are a bit more tech savvy than your wife.

I'm loving iOS 14, I have already made up my mind to switch back to iPhone with an iPhone 11 which is now in about 6 weeks and the big changes in iOS 14 and the direction that Apple is taking with iOS vindicate my decision to switch back to iPhone after more than 2 years using Android and this time I plan on staying with Apple for various reasons.
Android Central Newsletter
Thank you for signing up to Android Central. You will receive a verification email shortly.
There was a problem. Please refresh the page and try again.