Android Quick App: WidgetLocker Lockscreen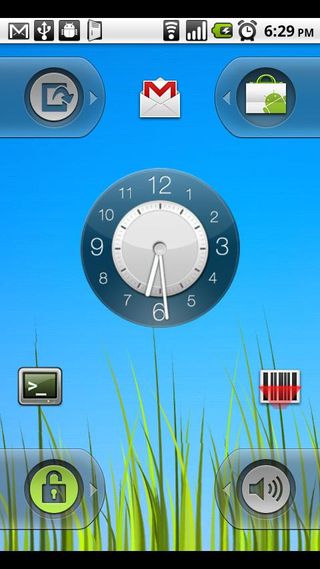 WidgetLocker Lockscreen is a lockscreen replacement that gives you much more freedom over not only how your lockscreen looks, but how it functions. The premise is simple: Open up the lockscreen to having widgets and shortcuts of your choosing, and give you the ability to make any slider a shortcut to any app or process. The result is a pretty cool experience that really tightens up the efficiency factor of your device.
When you open WidgetLocker for the first time, you're greeted by a very informative walkthrough, showing you not only how to change your lockscreen up, but also how to access menus, activate Tool Mode, and remove sliders. There's also a tidbit about the 5-second rule that's worth knowing about.
Customizing your lockscreen is a fairly straightforward affair. Everything functions just as it would on a normal homescreen, so you can either long-press or do the menu > add route to pull up the applicable menu. From there, you're given the options to add another slider, applications, shortcuts, or widgets. It's all the same as doing anything on a homescreen, so you'll be treading in familiar territory.
Where things get really cool is the Custom Slider menu. TeslaCoil has packed the slider menu full of different themes, ranging from the stock Android slider to iOS's, MIUI to MotoBlur. Once you've picked your skin of choice, you slide the slider to configure what exactly you want it to do. This is rather limitless as well, giving you the requisite unlock option, in addition to WidgetLocker specialty actions, application shortcuts, or launcher-specific shortcuts.
WidgetLocker also boasts a highly variable and detailed settings menu. From here you can alter everything from which buttons unlock the screen to what WidgetLocker-specific widgets you want to use. You can also customize the look and feel of everything and a whole host of other things. If there's something you want to control, there's probably a menu option for it.
WidgetLocker is $1.99 in the Market, but with it's successful revamp as version 2.0 not too long ago, the price is well worth it. Especially if you're the type who wants things your way (and let's be honest, who isn't?), this is a must-have app.
Pictures and download links are after the break.
Android Central Newsletter
Get instant access to breaking news, the hottest reviews, great deals and helpful tips
Cool app, but was a battery killer for me.

not me, worked great, love this, no effect on battery on samsung epic 4g

Wasn't a battery killer for me. Though I did find that it made my phone slow as all hell when being used. Stopped using it and phone was back to normal. I like the idea though and I'll keep trying as it gets updated. HTC EVO

Best app ever! The original Sense 3.0 lockscreen. ;-) I've never had it poorly affect my battery.

Where can I get the sense 3.0 slider for this app? I've looked everywhere!

Love this app, lots of customization, not really a battery killer for me, even on my Thunderbolt

Love this app. Best thing until I get a device with Sense 3.0 lock screen. This does not kill my battery at all. Best paid app next to Ringo Pro

Love this app on my Thunderbolt, no issues from it.

I've been quite interested in this for some time now, but I've been hesitant to buy. It's really a shame that there isn't a trial (or a reasonable return policy ...) One of the (only) things I miss from my WM phone was S2U2 which (in additions to being a fruity ripoff) allowed me to have my upcoming appointments, next alarm, weather, unread SMS/EMAIL etc. etc. right on the lockscreen. I can get some of these things now, but being able to customize ... I think I'm talking myself into it. Still would want a trial.

I was a bit on the fence about it as well... It allows you to go out and download prebuilt screens as well from XDA. There was a cool one that looked like the WM screen, download it and install right there and you are good to go. My problem was that it was dog slow (Like a very old lazy dog) getting to the first screen on my Evo 4G. I thought that the GB update would help, so I disabled and tried it again after the update came out. It was a bit better, but not much. Guess I'll have to try it again when I update my hardware.

I used this for a while, but noticed the same thing... it slowed my phone considerably. When unlocking my phone with this it would take up to 5-10 seconds just to load the first screen on my phone. I will probably re-install once I upgrade my hardware form the OG Droid!

I used it for about 6 months straight before I realized that 95% of my FCs were caused by it. I like the idea - it's just that it feels like it's still in beta. Not finished. Also, seems to have issues with the three most popular home launcher replacements.

Is LauncherPro Plus in the popular three? I've been using it with that and haven't had any issues.

Great app. You might want to include that you MUST disable the phone's lockscreen or your phone will restart at random times. You can use the built-in feature or nolock from the market.

Hmm, interesting. I don't think I've set mine to do that and haven't encountered any issues with random reboots.

App works great for me. Lots of customization too. This was not a battery killer on my Captivate. If its a battery killer, mind telling which phone you have? I noticed that I lose an additional 3% of battery over a 9 hour workday period. Also, @ jonkim, which phone are you referring to? Do you use an appkiller? (not trying to start something but if you do then you have to add WidgetLocker to your ignore list)I dont get random restarts at all. Finally, if you disable the phone's lockscreen, then what do you do for security on your device? A simple slider is not going to cut it. Once you move the slider (whichever one you choose) it either unlocks or goes to that app. That means anyone could pick up your phone and get straight to business, especially if it was stolen. I keep the phones' lockscreen which some may think is pointless but hey, i was using it anyways. Now I go right to the app instead of flipping thru screens. Plus I like having an additional wallpaper on my phone too.

What is the clock in the first screen in the center?

This is by far my favorite app. My phone is much more functional because of this app. This and swipe pad working together are awsome.

Do alarm snooze/dismiss functions work properly with this?

Yes indeed. I run 6 alarms a day, never missed one and they snooze just fine when needed... (EVO 4G | Go Launcher

Must have app for anyone wanting to fully customize their phone. Have it running on my EVO 4G w/Go Launcher and never had an issue. $2 well spent....

cool review, and btw I love that song "Honestly" on the 2nd scren. Josh could you post a link to the wallpaper in your 4th screen? Thanks

Best and most useful app on my Thunderbolt. Can't recommend it enough. Blows Sense 3.0 out of the water.

I wanna buy it but then I don't wanna see free in the Amazon app store after I do... Is it really worth it Joshua Munoz?

Is there a Sense 3.0 slider theme for this app? If so, where? I've looked everywhere!

I love this app, it's one of the reasons I love android so much . I think this is a must have for everyone. No battery issues or force closes here. myt4g

Great app, I love it. It doesn't seem to affect my battery or my girlfriend's. I have a Captivate, and she has a Droid2. The only thing that both of us have noticed is that sometimes when we pick our phones up, the screen is unlocked and on something. I attribute it to WidgetLocker as neither of us have had the problem before, and we both have it now. It doesn't happen often though, and is well worth it still.
Android Central Newsletter
Get instant access to breaking news, the hottest reviews, great deals and helpful tips
Thank you for signing up to Android Central. You will receive a verification email shortly.
There was a problem. Please refresh the page and try again.