Android Oreo now on 0.5% of devices, Marshmallow still largest at 29.7%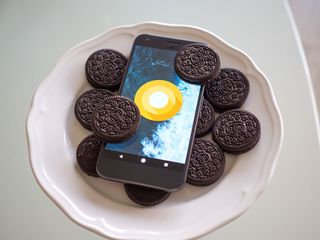 Google recently released the latest Android Distribution numbers, and this is the last one we'll get for 2017. A lot of what we're seeing this time around is more of the same, but one area that might look disheartening is Android Oreo's current adoption.
At this time, Oreo 8.0 (not even counting 8.1 that was recently released to Nexus and Pixel devices) only makes up 0.5% of all Android gadgets. That number was 0.2% back in October, so there's only been a 0.3% increase over the past two months. We should hopefully see that number increase in January as more and more OEMs are continually releasing either public or beta versions of Oreo for their hardware, but that's something for which we'll just have to wait and see.
As for the rest of Android, Marshmallow is still found on most devices with a distribution of 29.7%, with Lollipop behind it at 26.3%.
Nougat falls into third place at 23.3%, and this is up quite a bit from October's results of 17.8%.
Google's Project Treble should theoretically allow us to see larger adoption rates of new Android versions much faster than before throughout next year, so it'll be interesting to see what sort of impact (if any) that has on distribution numbers going into 2018.
Joe Maring was a Senior Editor for Android Central between 2017 and 2021. You can reach him on Twitter at @JoeMaring1.
No surprises there. OEMs need to pull their socks up.

So sad that Android is so behind.

It's the slow manufacturers that are behind. The better ones keep up. My U11 has been on Oreo for weeks now, and running better than our iPhone 7 and iPhone 8 Plus.

Those .5% device's r only pixel Phone's

Not quite. Sony XZ1 launched with oreo. I got the oreo update yesterday on my Sony Xperia XZ.

I'm running Oreo on my Galaxy S8.

I'm running Oreo "BETA" on my Galaxy S8. Fixed it for you.

There are a few others, I would lump the Nexus devices in the Pixels, but the OP3t has it, some Moto's and I think the LGv30.

I have both the LG V30 and the v30+ . No Oreo for mew yet :--(

Nor does my V30. Perhaps by March.

Oreo is serving my XZ well, love you Sony. <3

This is beyond sad, it's ridiculous.

All these new cheap phones built in with android 5.0 or 6.0 is what kills the percentage.
There is an easy fix for this.
Make the requirements stricter for them.
So if Android 8.1 is out and they want to build a
new Android phone it has to be built off 8.1
Also I think The new Oreo Go Edition OS will help Manufacturers with this.

Yeah no $hit. My OG Moto X is still stuck on Jellybean. Come on Moto. :-)

The annual Android releases have all followed this progression since Kit Kat. A new version is released in the fall, spends about 6 months barely growing to 2-3%, then beginning Feb-March they grow rapidly for the next 12 months. At that point, the next version has emerged to take over all the growth, and the previous version begins a 3+ year decline to irrelevance. It would be nice to see Project Treble disrupt the pattern, but there are roughly 2 billion active Android devices that will never have Treble so it will be a long time before all of those drop out of the market.

Let's hope so. This is beyond ridiculous.

It seems to follow a predictable pattern. I'm sure at one time Marshmallow was the new kid with 0.5%. One day Oreo will be at the top holding on and giving ground grudgingly. As long as i have a recent version I'm content. Nouget is ok for now.

Got sweet Oreo today!, i bought a Nokia 8 with Android 7.1.1 and recieved an update briefly after boot. Works awesome!

It's incredible how the Xiaomi Mi A1 (a Android One project smartphone) still hasn't got Oreo. And no one says anything about it. Disgraceful.

This is the problem with Android. It's too fragmented. Only 23% of devices are on Nougat and now we have Oreo. Google need to move to the Windows 10 model. One OS with incremental updates. The biggest Android user by far is Samsung with scores of different phone and tablet models. As a software developer myself I have first hand knowledge of the almost impossible task of converting every device model with global, regional and multilingual considerations in a timely fashion. It's fine for a company that only brings out a few phones every year. Google needs to change how Android is released and work more closely with its biggest OEMs to sort it out. Otherwise strong companies like Samsung will eventually go elsewhere.

A little bit of context here: This is a list based on a snapshot of devices that visited the Google Play Store in a 7 day period. The phones include everything from new flagships and Pixels, to garbage phones bought in the checkout line at WalMarts, and old POS phones that the user doesn't care about like LG JK series and Kyocera Hydros... phones which the manufacturer no longer gives a rat's behind about. Sometimes, like RonnieBinns states, the OEMs need to pull up their socks and get with it, like Lenovo who sells products which NEVER see an update after leaving the factory. In other cases, older phones are taken to the highest OS level the hardware will accommodate, then stopped. This is a good thing, and is a lesson that Apple could learn from at times. We've owned EVERY iPhone except the original, the 5S, and the 10, and some of them have been rendered almost useless by updates that were too much for the hardware to handle.

You neglected to mention the Android devices it doesn't include: Fire tablets, Fire TV/Stick, Echo devices, Chinese phones.
Android Central Newsletter
Get the best of Android Central in in your inbox, every day!
Thank you for signing up to Android Central. You will receive a verification email shortly.
There was a problem. Please refresh the page and try again.