Android Device Manager app now lets guests temporarily track their lost phones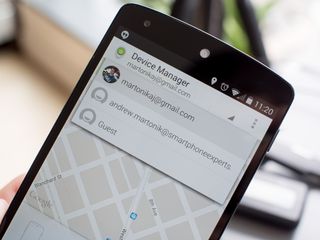 Android Device Manager is an extremely useful app for tracking and finding your lost or stolen phone, and now you can use it to give a friend a helping hand when their phone is lost as well. The latest update to the app gives you a "Guest" option in the account switcher menu, which then lets a friend log into their Google Account and track their Android devices. Once logged in they can track, ring and erase their phones just as if they were using the ADM website or an installed app on another one of their devices.
Having temporary access to someone else's Android device to track a lost or stolen device could mean the difference between finding it and never seeing it again, so we applaud Google's inclusion of this feature in the latest release. You can download the Android Device manager app at the Play Store link above — it may just save your (or someone else's) phone one day.
Android Central Newsletter
Get instant access to breaking news, the hottest reviews, great deals and helpful tips
Andrew was an Executive Editor, U.S. at Android Central between 2012 and 2020.
This is a pretty great development. It will make it much more convenient to find my son's phone which is lost on a semi-regular basis. Posted via Android Central App

This is somehow evil. Google is bad Posted from the Avengers: Age of Droid Ultra

Great addition. I wish Apple's Track My iPhone had the same ability, because someone-in-my-house-who-is-not-me loses her iPhone all the time.

When I had an iPhone I logged onto a friend's Find My iPhone app to track my own phone. This was two years ago. Posted via Android Central App

This is going to be really helpful if you're out and about and someone loses their phone. You'll be able to possibly find it right away or if not you'll be able to wipe it.

Good reason to always carry around extra authenticator codes (wallet, tattoos, etc)

What if 2 step verification is turned on, then will you not need the code? Posted via Android Central App

Yep, just tried it and two step stops it cold. Shame really. Posted via the WebOS Android Central App!

Agreed. This should make it useless to many people, especially since Google is recommending two step for everyone.

That blows. I have the two step turned on. Posted via HTC m8

That does suck. One more reason to carry backup codes in your wallet (which you should be doing already, just in case).

Lost my phone biking this weekend, tried Device Manager guest access also on my girlfriend's phone, but was blocked @ MFA Fortunately, had Runkeeper LiveTrack running so found it's last location, and the person who had tried to disabled the battery but not in time :)

Couldn't you use a browser on your friend's phone to just login to your account before?

i'd rather just use the friend's phone browser.

Thats a big one. i thought of that when it was intro'd. had to sign in on the browser with my fiance's phone when i misplaced my silent phone. obviously it didnt kill me to do it. but the play store wasn't mobile optimised yet so it was a pain

The app is garbage. All it's fine thus far is 'load'. Believe me, I'm certain that the phone is on and being used cuz psychopath ex wife stole it. She's been sending out emails from my gmail account connected to that device. I cannot understand why someone hasn't created an app that simply allows you to track the device using the email that is connected and opened on the damn thing. I'm over it. Anyone....?
Android Central Newsletter
Get instant access to breaking news, the hottest reviews, great deals and helpful tips
Thank you for signing up to Android Central. You will receive a verification email shortly.
There was a problem. Please refresh the page and try again.