These are the Android Central team's favorite things from CES 2018!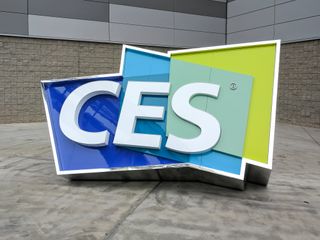 CES 2018 has come to a close, and Android Central as a whole handed out Best of CES Awards to some fantastic products.
But the AC team is large and diverse, as is CES itself, so we wanted to round up the one favorite announcement from each of us here at AC to tell you how we all saw the show personally. That means some things that we saw personally at the show, some we lusted after from a far, and a couple that go beyond the Android and mobile world we typically deal with. These are the Android Central team's favorite things from CES 2018!
Alex Dobie
The new generation of Google Assistant products with displays represent something really interesting and new. Google framed its first major CES presence around "Hey Google," the new, slightly less awkward hotword for Assistant, but bringing the service's AI smarts to displays that aren't your phone was the shows biggest development for me.
Google is already making plenty of headway in enabling Assistant in Bluetooth earbuds from countless manufacturers, and at CES we saw Assistant make its debut on the long-neglected Android Auto as well. But devices like the Lenovo Smart Display give us the clearest picture of where Google sees Assistant going as a platform, when it's not limited to audio because it's using earbuds, or a limited subset of features because you're driving.
Before long I'm sure we'll see a similar interface replicated on TVs, Chromecasts and other devices, and that process starts with the early Assistant builds we played with at CES this week.
Andrew Martonik
I could very easily choose several different things here and have good justifications for doing so. Most of them will be covered by others here. So just to pick a less-than-popular one, I'm going with the Sony Xperia XA2 and XA2 Ultra.
I think Sony does so many awesome things with its phones. It just also happens to get in its own way with a lot of stupid things, like not having fingerprint sensors in the U.S. and overpricing phones with very iterative designs. But the Xperia XA2 and XA2 Ultra are promising because they show Sony's still up for a fight, and that fight will happen in the U.S. alongside other markets — even when most would have assumed it would be understandable for it to leave the U.S. market entirely.
The XA2 and XA2 Ultra have fantastic feeling and looking hardware — now with fingerprint sensors — and also subtle changes like much larger batteries, actually interesting cameras (at least on the front here), subtle hardware tweaks for usability rather than just style, and other increasingly niche features like a headphone jack. All while having really clean software and design that's still unique and striking. And this is in a pair of phones that will retail for around $400.
Sure these phones aren't industry-changing titans, but they do indicate Sony's going to keep trying. Maybe its upcoming flagships will take these cues and run with them — and that's exciting to me. For a show that's increasingly about more than "just phones," Sony definitely used CES as a nice little nod to the phone lovers.
Sony Xperia XA2 and XA2 Ultra hands-on: No more quirks, these are just good phones
Tom Westrick
My favorite announcement from CES has nothing to do with Android or Google. Optoma is a company known for making great projectors at various prices, and they did announce the first projector with Alexa built-in. Part of the appeal of projectors (for me at least) is that most projectors are just dumb displays that can be expanded as I see fit, so I don't care for that model. What did interest me is Optoma's 4K UHD HDR Laser UST.
That's a mouthful of a product name, but it tells you everything you need to know. "UST" stands for "ultra short throw", which is a type of projector that can be placed on a TV stand instead of needing to be mounted on a wall or ceiling. Those projectors can display almost straight up, and it makes for an easier set up. The Optoma UST projector is priced at $5,000, which isn't anyone's definition of cheap. At the same time, Sony's latest UST 4K projector is $30,000, so the Optoma projector is a much easier pill to swallow. I'm probably going to wait until next year before taking a serious look at 4K projectors, but it's great to know they're coming down in price.
Ara Wagoner
I don't have any one true favorite at CES this year, but I do have a few things that stood out among the blackouts, the robot strippers, and everyone trying not to say what the F in BFGD really means:
I refuse to leave the house without my Bluetooth headphones, so Qualcomm announcing a new SoC that aims to help make Bluetooth headphones sound better and last longer on a single charge is fantastic. However, as more and more phones ditch 3.5mm headphone jacks and users become more reliant on Bluetooth to keep their tunes flowing all day, this is the announcement at CES that could impact the most people. Getting all-day battery, crystal-clear sound, and Google Assistant shouldn't cost the $250 JBL is charging.
Android Auto going wireless is great, and I can't wait for it to come to more carmakers. No, really, I can't: I've been waiting three years to buy a Honda CR-V with Android Auto. I can't wait another three years to get wireless Android Auto.
I use my Shield Android TV every day, and if I could get one of those Big — Friendly — Gaming Displays with the best Android TV inside, I would probably never get anything done again. I use my OTA antenna maybe twice a year, I use the Blu-ray player maybe three times a year, so really, all I need is a massive screen and Android TV.
Daniel Bader
My take on CES this year is a bit different than the rest. I am not going to highlight a single product or service but an idea: that despite the platform wars still going strong, they appear to be well-established and no longer in danger of being toppled.
For example, Google Assistant was everywhere at this year's CES, but it didn't preclude Alexa, which continues to slowly creep toward smart home ubiquity. SmartThings is becoming the overarching brand for all of Samsung's IoT ambitions, while Bixby, for better or worse, will play front-end to all those commands, from washing machines to televisions. LG's webOS, now in its fourth year, is a stable and good-looking smart TV platform with plenty of interesting features, and LG has added an element of AI to the proceedings with ThinQ. Even Microsoft's Cortana and Apple's Siri/HomeKit was well represented at the show this year, and there appears to be room for all of them to live in harmony.
With expansion to screens and cars, Google Assistant is officially everywhere
Marc Lagace
Since CES is all about featuring tech and toys I'll likely never get to mess around with, I tend to be drawn to crazy concept products like Razer's Project Linda, which aims to turn your Razer Phone into a slick-looking laptop.
Turning a smartphone into a computer itself isn't a new concept, but I can't help admiring Razer's design choices here. I thought Razer was simply trying to buck the latest flagship trends with a brick-shaped phone lacking curved edges. Razer turned around and used the industrial design of the phone to complement the laptop hardware perfectly with its front-facing speakers and side button fingerprint sensor. I really don't even care how it runs, it just looks downright cool and an encouraging adaptation for the Razer Phone — and hopefully a glimpse at Razer's future endeavors building Android devices.
And here I thought Razer could top themselves after last year's Project Valerie laptop ...
Razer's Project Linda turns your phone into a laptop
Joe Maring
My favorite announcement from CES 2018 is easily Lenovo's Smart Display. I use my Google Home on a daily basis, and while it works perfectly fine, I've been yearning for Google to finally take on the Echo Show since its announcement last June.
I'll probably end up waiting to see what Google Home-branded Smart Display we end up getting this fall before handing over any cash, but Lenovo's caught my attention the most so far. The bamboo back on the 10-inch model looks stunning, the ability to stand it up vertically or horizontally thanks to the funky wedge is fantastic, and the physical switch to cover the camera lens is ingenious.
Actually, now that I think about it, maybe I will buy one of these as soon as Lenovo lets me.
Lenovo's Smart Display is the Google Assistant-powered Echo Show we've been waiting for
Jerry Hildenbrand
65 inches of 4K G-Sync enabled 120Hz gaming pixels from ASUS.
The ROG Swift PG65 is one of the new NVIDIA Shield TV enabled giant gaming monitors and it looks like a big old box of Viagra. They have me counting all the money I can find in hopes that it's enough. (It won't be. It never is.) I currently use the second input on my gaming display with a Shield TV, so I'm already loving the way you can flip back and forth between a game and a movie. But my dinky little 27-inch gaming monitor is a far cry from 65 inches, so I'm sure I'll like it even better.
Here's hoping that the "later this year" release date is somewhere between the time it takes to save up the cash and before I see something else shiny and blow it.
NVIDIA partners with Acer, ASUS and HP for new 65-inch 4K HDR gaming displays that run Android TV
Hayato Huseman
I've been looking for a good Android Auto head unit for my car, so I'm pretty excited about Pioneer's new models. They're the first head units to offer wireless Android Auto (each unit creates a WiFi network for your phone to connect to), finally bypassing the need for cable routing and the risk of compatibility issues. You can also just say "Hey Google" to access Assistant hands-free, which is great for the road.
There's also that Vivo phone with the fingerprint sensor under the display. I mean, come on. You know you're excited to see that Synaptics module work its way into more mainstream devices.
Android Auto is fantastic with the addition of Google Assistant and wireless connectivity
Russell Holly
I love my HTC Vive, but you better believe I will be first in line to upgrade to this new Vive Pro HTC announced. The resolution bump is going to make the headset that much more immersive, the lighter body is going to make it way easier to use for longer, and the baked in headphones sound amazing.
This is an improvement on the original Vive in every way, and when you add in the wireless adapter that will be available later this year it's going to be an entirely new VR experience for me. I am genuinely excited for what happens in VR gaming this year, and a lot of it is going to happen through that new Vive.
Hands-on with the HTC Vive Pro
Your favorites
That's the list that the folks here at Android Central loved. What were your favorites from CES 2018? Let us know in the comments!
Get the Android Central Newsletter
Instant access to breaking news, the hottest reviews, great deals and helpful tips.
Andrew was an Executive Editor, U.S. at Android Central between 2012 and 2020.