Android Central's Best of CES 2018 Awards!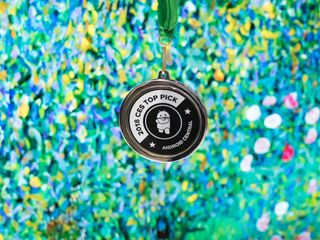 Thousands of products debut each year at CES, but only a few of them are award-worthy.
And while Android isn't particularly well-represented at the world's biggest technology show anymore, there are still plenty of reasons to be excited about the products and services that were shown off this year. From awesome phones to innovative VR headsets and a weird-and-wonderful prototype, here are our picks for the Best of CES 2018!
Best of CES / Design Huawei Mate 10 Pro
Huawei didn't have a great CES. The world's number-three handset maker had every intention of announcing a carrier deal with AT&T for its Mate 10 Pro flagship, but according to numerous reports, and confirmed by Huawei itself, pressure from the U.S. government put an end to those ambitions.
Still, the Mate 10 Pro is coming to the U.S., and it's being backed up by an enormous awareness campaign. That's great news, because the phone is stunning, with a curved glass back and racing-stripe overlay on the camera, a vivid 6-inch 18:9 OLED display, and one of the most powerful processors ever made in the Kirin 970.
When the Mate 10 Pro debuts on February 18 for $799, it may not be as accessible as it could have been on AT&T's store shelves, but that doesn't take away from the fact that this is one of the best-looking phones coming to market in early 2018.
Huawei Mate 10 Pro coming to the U.S. in Feb, but carrier deal is dead
Best of CES / Innovation Lenovo Vital Moto Mod
Lenovo's Vital Moto Mod came out of left field, to be honest, but we're glad it exists: the accessory pairs with any Moto Z phone and offers important health stats through the built-in finger insert, including heart rate, respiratory rate, Pulse Ox, core body temperature, and systolic and diastolic blood pressure. These metrics usually require expensive arm cuffs, but the Vital Moto Mod gets it all done portably in under two minutes.
It's a remarkable piece of technology and a testament to the continued versatility of Motorola's Moto Mods ecosystem.
Fingers-on with the new and weird Vital and Keyboard Moto Mods
Best of CES Lenovo Smart Display
Let's talk about the evolution of Google Assistant, because Google's ubiquity was a big part of what made this year's CES so exciting. Assistant is seemingly in everything, from cars to thermostats to... screens. Google's smart display strategy gets going with Lenovo's Smart Display, which is coming later this summer starting at $199. The beauty is in the simplicity: the Smart Display runs Android Things, so it combines the intuitive voice actions of Assistant with the power of Chromecast.
Part of what makes this particular model so great — there are other smart displays coming later this year from JBL, Sony, and LG — is its design, which is both minimal and bold. On the 10-inch version, the bamboo back adds some extra design flair, which we like.
Lenovo's Smart Display is the Google Assistant-powered Echo Show we've been waiting for
Best of CES Razer Project Linda
To say we weren't expecting this is an understatement, but Project Linda is the latest in a long history of interesting and innovative projects from gaming company Razer. What is it? Think a laptop without most of the guts where you insert your Razer Phone into the area where a trackpad would be. Once installed, the Razer Phone's screen is mirrored on the laptop display and you can play games, browse Chrome, or do whatever else you feel like.
Right now, Project Linda is just a prototype with no release date
Razer's Project Linda turns your phone into a laptop
Best of CES Sony Xperia XA2 + XA2 Ultra
Sony is back with another pair of mid-range phones — wait, don't go anywhere! — and they're important for a few reasons. First, the Xperia XA2 and XA2 Ultra are the first Sony phones to be sold in the U.S. with working fingerprint sensors since 2014, and they're also rocking the battery-friendly and speedy Snapdragon 630. Second, the larger of the two devices has a second, optically-stabilized front-facing camera so your selfies will turn out better in any lighting condition, including near-pitch black. Third, these phones ship with Android 8.0 Oreo and have huge batteries and 23MP rear cameras.
Finally, they should ship later this quarter for under $400, putting them among the best deals in mid-range smartphones right now.
Sony Xperia XA2 and XA2 Ultra hands-on: No more quirks, these are just good phones
Best of CES LG 2018 OLED AI TVs
LG's new 4K OLED TVs are stunning, but they also have a Google trick up their sleeves: Google Assistant support built into LG's webOS platform, which is now mature and intuitive.
Even if you don't think you want Assistant on a TV, we've learned that having it nearby while watching Netflix or cable is enormously valuable for quickly checking stats or turning off smart home devices. LG's OLED TVs are becoming more like big phones every year, and 2018's models are closer to that idea than ever.
Of course, aside from the smart stuff you get what is arguably the best 4K OLED panel available on a TV right now — even Samsung can't compete with LG in the TV space, which is ironic — and that's what has us both excited as readying our wallets as these sets get nearer to launching.
LG's 2018 TVs include new 'Alpha 9' processor for natural language processing, Google Assistant
Best of CES Lenovo Mirage Solo
Although we already knew it was coming, nothing could have prepared us for the exhilaration of being able to freely move around Daydream's beautiful VR landscape powered by Lenovo's (and the world's) first phone-free Daydream headset.
The Mirage Solo has all the specs you expect from a high-end phone — Snapdragon 835 SoC, 4GB of RAM, and a Quad-HD LCD display — and some extra tricks. On the front are two WorldSense cameras that allow the wearer to freely move around, enhancing purpose-built games and other Daydream apps. Google says that a handful of WorldSense-specific experiences will be available when the headset debuts in the second quarter of 2018 for under $400. Until then, we'll just continue Daydreaming the old-fashioned way.
Lenovo Mirage Solo hands-on: The first Daydream headset that doesn't need a phone
Best of CES Lenovo Mirage 180 Camera
Lenovo's Mirage 180 Camera isn't going to be as popular as the Mirage Solo VR headset, but it also works in tandem with it. The idea is simple: instead of dealing with the onerous task of having to shoot accurately and carefully with a 360-degree camera, Lenovo envisions the Mirage 180 as a way to create VR photo experiences without all the headaches. Even better, the videographers among us can look forward to 4K video capture from the dual 13MP sensors, along with plenty of software upgrades down the line.
At under $300, the Mirage 180 Camera won't be cheap, but after playing with it we're excited to see what it can do.
Google is focusing on 180-degree video for VR headsets
Best of CES Vivo in-display fingerprint sensor phone
Can a phone have a fingerprint sensor if you can't see it? That's the idea behind Vivo's yet-unnamed phone, whose OLED display hides a pretty neat trick: an optical fingerprint sensor by Synaptics, allowing users to place one of their digits on the near-bezelless display and unlock the phone like any other sensor.
While there are no phones yet announced for the U.S. market with this remarkable tech inside, it's safe to assume that will change in the months to come.
Vivo's in-display fingerprint sensor shows the future of smartphone biometrics
Best of CES NVIDIA Big Format Gaming Displays
Wow, just wow. To say that we were surprised to see NVIDIA work with ASUS, Acer, and HP on specialized 65-inch 4K gaming monitors with 120Hz G-Sync and DCI-P3 color reproduction would be an understatement. When we learned that it also had a built-in Android TV-powered NVIDIA Shield blew us away. In person, these are basically televisions without the TV tuning capabilities, since they're meant to be used as massive gaming monitors. Sub-millisecond latency and support for GeForce NOW and Gamestream only make the prospect enticing for gamers, but we're a bit concerned with its inevitable high price.
NVIDIA partners with Acer, ASUS and HP for new 65-inch 4K HDR gaming displays that run Android TV
Best of CES Honor View 10
A Huawei Mate 10 with a slightly different design and a much lower price? You had us at hello. Alongside the limited-edition red 7X, Honor also talked up the View 10's impending U.S. release, and while we don't know specifics at the moment, we can safely say that it will come in under $500 and remain one of the best "affordable flagships" of 2018.
In the meantime, lucky souls in the United Kingdom, France, Germany, Italy, and Spain can pick up the Honor View 10 right now.
Honor View 10 goes international Jan 8, Honor 7X announced in limited-edition red
Best of CES BlackBerry KEYone Bronze Edition
It's a BlackBerry KEYone with a new color. Not exactly the most exciting pitch, but this BlackBerry is the first dual-SIM KEYone, and the bronze color goes great with a thumb of good whiskey, in our opinion.
New BlackBerry KEYone Bronze Edition goes really well with whiskey
Get the Android Central Newsletter
Instant access to breaking news, the hottest reviews, great deals and helpful tips.
Daniel Bader was a former Android Central Editor-in-Chief and Executive Editor for iMore and Windows Central.