Android Auto's wireless mode to work on non-Pixel phones running Android P [Update]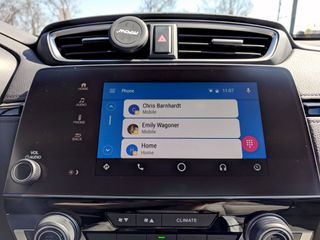 Updated 5/17/18 — Since issuing its press release at I/O, Kenwood was told by Google that it's "working with several smartphone manufacturers to bring wireless compatibility to devices with Android 8.0 OS. According to Google, this compatibility will be available on select non-Google smartphones soon."
In mid-April, Google finally launched its wireless mode for Android Auto that was announced back at CES in January.
The feature's currently exclusive to Pixel and Nexus phones, but later this year, it will open up to many more people.
According to a press release issued by Kenwood –
Google previously noted that it was "actively working" with other OEMs to bring Android Auto's wireless option to more devices, and rather than having to wait for individual brands to be supported, it looks like any phone running Android P or higher should work just fine.
Wireless Android Auto enables you to use your phone to power a supported infotainment system in your car with the Android Auto interface without having to physically plug in your phone. It's a pretty slick setup, so it's exciting to see that more people will get to join in on the fun once Android P's officially released later this year.
What's new in Android P at Google I/O 2018
Joe Maring was a Senior Editor for Android Central between 2017 and 2021. You can reach him on Twitter at @JoeMaring1.
anyone at AC have a wireless Android Auto setup and a supported phone?

There are only a few Kenwood aftermarket head units that have Wireless Android Auto at the moment. Most of the AC crew that have Android Auto purchased their head units before the option was announced at CES this year, or they bought a new car (like me), and don't intend to replace the included head unit for a long, long time. I mean, look how pretty my CR-V's head unit is in that photo up there! I'm not ripping that out for something most phones won't support until at least the end of the year! ((Though I am secretly hopeful that Honda will give us an update that gives us Wireless Android Auto since the head unit does have Wi-Fi in it.))

Ara, I too am a CR-V owner and Android Auto user. Which phone do you use? I have a Pixel 2 Xl and the disconnects are driving me nuts! I'm seriously considering selling my Pixel 2 XL and getting another phone, perhaps a Pixel 1, but many 1 owners are reporting AA issues...

I had a lot of disconnect problems in the beginning in my Civic but I changed the USB cable I was using and it's been 8 months and not a single disconnect. If it's really a Pixel 2 XL problem not sure. I'm using a Galaxy S6.

My Pixel 2 XL was having disconnect issues like crazy in my Honda Civic. Then little by little my home charging cable would start to disconnect. I saw a post on Reddit that said to use a staple (straiten it out) to clean out the charging port on the phone. It took quite a bit of gentle 'scraping' to get lint out, but haven't had a problem since!

I'm also hoping Honda will update their current headunits to support AA Wireless but I really doubt that is going to happen :(

I would like to see some sort of dongle to make wireless work with any Android Auto setup.

Have no need for wireless as I like to charge my phone at the same time.
Last update of AA has made it very slow to connect.
Hope this isn't due to wireless coming?

I thought I was the only one that saw no value in this...I usually charge my phone while I'm driving

Some people like me think that this should've been offered since day one on AA. Plugging a phone every time you get in your car in short trips is stupid if you ask me. Charging your phone while driving all the time is not that necessary if you have a decent phone really, do you really need to charge your phone every minute while in the car??? I don't get it. Commuting, running errands, go to the bank and stuff, who needs to be dealing with stinky cables?

Each to their own. Takes about 1/2 a second to plug in and a little extra charge can come in handy, especially when using maps, music and calling.
It's also been quick and 100% reliable which Bluetooth won't be.
I agree it should be an option as long as they don't break it.

I agree, I have an iPhone X but I'm in the same boat. I never plug my phone in to use CarPlay unless I'm using it for Apple Maps for navigation. Bluetooth connects automatically and plays my audio fine. If CarPlay was wireless I would use it every time. I get that people don't mind to plug their phones in, but it is more convenient to leave my phone in my pocket and just drive. Similar to push to start vehicles, leave your key in pocket and hit a button. By the way, I switch regularly between iPhone and Android devices and Android Auto is a much nicer interface and I prefer it to CarPlay.

My commute is less than five minutes. I will plug in if I'm running errands or making a longer trip, but I don't bother plugging in for a super short commute, but I also don't bother switching from AA to BT on my radio for so short a trip. Wireless would be nice, but it's a luxury, and I'm fine with wired Android Auto for longer trips so long as it doesn't wear out the USB-C port on my phone.

I agree. And because of this, sometimes I forget and end up leaving my phone in the car. Frustrating.

I also like to charge my phone while driving, but I'm still excited about this. Car USB outlets always charge SO slowly. I'd rather be able to charge using the USB-PD charger that plugs into the cigarette lighter and connect to AA wirelessly than plug into the car itself.

So this will impact all of maybe 12 people in the country who have a Kenwood head unit. And since you can't really put aftermarket head units in modern vehicles anymore, this is all but useless as it will not be "backwards" compatible with most car models prior to 2019 stock infotainment units since it requires some kind of built in wi-fi connectivity. I would be happy if Mazda would get off their ass and make it available to all cars with their infotainment systems.

Is it me or has AA been really buggie recently?
Takes an age to connect and looses connection after every phone call.
Was fine until a couple of weeks ago I hope they don't break it.

I noticed my radio will often shut off while using AA.

I thought it would also be available with Oreo.

Great! Now if I could get it on my S7A...and afford a new head unit for my car....
Android Central Newsletter
Thank you for signing up to Android Central. You will receive a verification email shortly.
There was a problem. Please refresh the page and try again.