Android Auto eventually will get Waze, work on your phone, and be built in to cars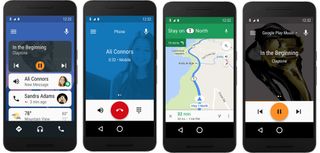 One of the more exciting (if downplayed) announcements at Google I/O has to do with Android Auto. We've long lamented the slow iterations of Android Auto. And they're going to continue to be slow. But we've now got a basic roadmap for what's to come.
If you don't have an Android Auto-compatible head unit in your car, you'll be able to get a similar experience on your phone. It'll have the same features as Android Auto in the car, Google says, including voice-enabled calling, media playback, messaging and navigation. (Those are, of course, all things you can do on a phone currently. But now they'll have an Android Auto-friendly user interface.)
Android Auto also will be able to baked into cars as the default infotainment experience, including support for the AM/FM radio, air conditioning, calling and media streaming. It'll be based on Android N, which supports multi-channel audio and digital instrument clusters. Google has been working with Qualcomm on this, and it's rigged up a Maserati Ghibli with a 15-inch 4K display (and 720p instrument cluster) as a proof of concept.
On the software side, Waze will finally come to Android Auto — something Google says has been its top requested feature. Drivers will eventually be able to use hands-free "hotwords" to activate voice commands ("OK, Google," naturally), and auto manufacturers will have their own apps for car-related services. (Honda and Hyundai will be two of the first to showcase theirs.)
More: We take a look at Waze on Android Auto!
And in cars that support Wifi, Android Auto will be able to wirelessly project itself into those infotainment systems.
When's all this going to happen? We've got no idea. (Android N's not going to be released until the back half of the year anyway.) So sit tight, with both hands on the wheel, and keep your eyes on down the road.
Let's hope it takes away texts. Posted via the Android Central App

This is already possible. Go to the Play Store and buy an app called Auto Mate which is based on Android Auto. Posted via my glorious Nexus 6P

thank you for sharing! I'll check it out.

I was just about to say. It also has a ton more options that Google's version will probably ever have. Fires up automatically when it connects to my car bluetooth and can even automatically start the song you were listening to.

POW! And I'm back! Thanks for posting this little gold nugget. I am struggling to use Maps with my AA because of road closures (that Waze new about dammit).

Sure it will. This is one of those promises you never hear about again.

Yet another Scott J comment with one word with nothing to back it up. If anything, you are consistent. Posted from my Nexus 6/Nexus 7 2013/Surface Pro 3

Whole lot of eventually from Google and no finished product. Posted from my Nexus 6/Nexus 7 2013/Surface Pro 3

Using Android to control my car's HVAC... Yeah, I'm going to be that guy and say I want my knobs back.

+1 Posted via Android Central App

As someone who has both in my Ford I still use the regular knobs over the touch screen. I like the idea of touch controls but I really think manufacturers should be providing both.

Yep. I agree. I hate touch screen controls in vehicles. They are distracting.

Agreed 1000% Posted via the Android Central App

Only reason I want Android Auto is to have a larger touchscreen to mirror my phone, apps, etc.

That's not what Android Auto does, though. Posted via the Android Central App

The only problem Waze has, is it can not be used off line, you can't download off line maps to use when you have no cell service. Here and Sygic have the ability to use downloaded maps when not in tower range. Admittedly more than one person has said that Waze has better or up to date directions / maps in the city. Posted via the Android Central App

Because waze is more of a live social app that works of live current traffic conditions. If there was no internet connection then it would be pointless. Just use gmaps off offline. Posted via the Android Central App

Google maps recently started working offline if u download the maps. Posted via Android Central App

Actually, I have noticed that Waze does automagically cache the map in your area of operation, and it will plot a route for you to a destination, even w/out internet access (I have done this a few times). You just won't get any of the live traffic features or re-routing around traffic. I don't know how far the map cache extends, but it seems to be pretty substantial. Obviously, if you're on a long trip you're going to drive out of the cached area at some point (but you would probably pick up cell data before that happens).

Waze on Android auto YES YES thank you Posted via the Android Central App

I can't wait for that Android Auto app!!! Posted from one of my various Nexus devices.

apple users would be jealous, Navigating Apple Music or Podcasts while driving is horrible.

"And in cars that support Wifi, Android Auto will be able to wirelessly project itself into those infotainment systems." - so does this mean if your car supports Wifi, then you don't have to plug in your phone anymore for Android Auto?

That is how I'm interpreting this comment and I think that is a good thing because my wife is already tired of having to plug her phone in every time she gets into the car to use Android Auto.

That's what I'm hoping. I just got a new car 5 days ago, and Android Auto was a must. The car has wifi, so I'm hoping this will work. I don't want to have to wait 5 years until I can get that feature. I can't afford to replace my car every year like my phone.

Apparently I've been living a lie for years now thinking that Waze was built in to Google Maps.

Nope. Only incident data from Waze shows up in Maps (as far as I can tell). Waze is the better app, as you get speed traps, red light cameras, road hazards, better re-routing around traffic, etc. I only use Maps for point-of-interest lookup now; it still beats Waze in that respect.

If your using the GPS you pretty much have to plug in your phone anyway...burns through the battery. Posted via Serenity
Android Central Newsletter
Get the best of Android Central in in your inbox, every day!
Thank you for signing up to Android Central. You will receive a verification email shortly.
There was a problem. Please refresh the page and try again.