Android Auto eventually will get Waze, work on your phone, and be built in to cars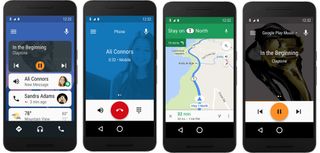 One of the more exciting (if downplayed) announcements at Google I/O has to do with Android Auto. We've long lamented the slow iterations of Android Auto. And they're going to continue to be slow. But we've now got a basic roadmap for what's to come.
If you don't have an Android Auto-compatible head unit in your car, you'll be able to get a similar experience on your phone. It'll have the same features as Android Auto in the car, Google says, including voice-enabled calling, media playback, messaging and navigation. (Those are, of course, all things you can do on a phone currently. But now they'll have an Android Auto-friendly user interface.)
Android Auto also will be able to baked into cars as the default infotainment experience, including support for the AM/FM radio, air conditioning, calling and media streaming. It'll be based on Android N, which supports multi-channel audio and digital instrument clusters. Google has been working with Qualcomm on this, and it's rigged up a Maserati Ghibli with a 15-inch 4K display (and 720p instrument cluster) as a proof of concept.
On the software side, Waze will finally come to Android Auto — something Google says has been its top requested feature. Drivers will eventually be able to use hands-free "hotwords" to activate voice commands ("OK, Google," naturally), and auto manufacturers will have their own apps for car-related services. (Honda and Hyundai will be two of the first to showcase theirs.)
More: We take a look at Waze on Android Auto!
And in cars that support Wifi, Android Auto will be able to wirelessly project itself into those infotainment systems.
When's all this going to happen? We've got no idea. (Android N's not going to be released until the back half of the year anyway.) So sit tight, with both hands on the wheel, and keep your eyes on down the road.
Get the Android Central Newsletter
Instant access to breaking news, the hottest reviews, great deals and helpful tips.