Windows 11 finally brings native Android app support — but there's a catch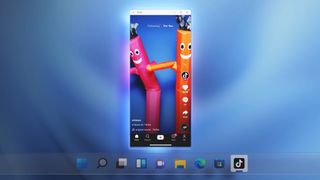 (Image credit: Microsoft)
What you need to know
Windows 11 was announced on Thursday with new design elements and features.
The new update will bring official, native support for Android apps.
These apps will be discoverable through the Amazon app store on Windows 11.
Windows 11 is coming. The big new update was announced during a live stream on Thursday morning with tons of new features and design changes. One of the biggest additions coming to the platform is official support for Android apps on Windows.
Soon, users will be able to find popular Android apps directly from the Microsoft Store and download them via the Amazon Appstore. You likely won't find the entire Android app catalog through Amazon's fairly limited store, but out of the roughly 500,000 apps, you'll find popular ones like TikTok and Spotify. Nonetheless, this move represents an important step for Microsoft and Windows.
The experience will be powered by Intel Bridge technology which is a runtime post-compiler that will allow these apps to run natively on Windows machines. There wasn't too much information given about what the app experience will be like, and there are plenty of questions that we have about how well it will work, but Microsoft says it will have "more to share about this experience in the coming months."
Bringing Android apps to Windows isn't a completely new idea. It's been rumored for some time that Microsoft was working to bring this functionality, and it's already been present in some shape or form. With the Microsoft Your Phone app, Windows machines can essentially stream many Android apps directly from the best Android phones, particularly if you have a Samsung device like a Galaxy S21.
Other Windows 11 announcements include better gaming support, Microsoft Teams integration, and widgets, which seem to be the new big thing for 2021. You can read all about the changes coming to Windows 11 over at Windows Central.
Derrek is a long-time Nokia and LG fanboy who loves astronomy, videography, and sci-fi movies. When he's not working, he's most likely working out or smoldering at the camera.
So you first have to install the Amazon App Store from the Microsoft Store? Confusing.

I don't think so. Sounds to me like Android apps will be discoverable directly in the Microsoft store, but it's just based on what's in the Amazon app store. No need to download the Amazon app store separately to my knowledge.

Thanks man. So the Microsoft Store links to the Amazon Store behind the scenes. That's clever though as Microsoft won't need to be licensing Google's GMS. Youtube is really the only app on my phone I'd like on my Surface Pro though.

I wonder why, considering we have the perfect my tube! That works 10,000 times better than the POS default android app. Oh, and ad free videos too.

I've used myTube and Awesome Tube. Impressive for what they are but still poor. Not close to the Android app.

I'll just say the MyTube is better, in every way, to the Android app. It particulary shines on a big screen where the Android app just does not scale.

MyTube was trash on my Lumia 535 on the piece of trash that was Windows Phone. The official YouTube Android app is the best mobile version of the app, or rather the Android version is, because the iOS version is limited not because of the limitations of iOS but because YouTube refuse to add PIP and landscape mode while browsing YouTube channels.

Actually you do have to install the Amazon app store first but then the Microsoft Store will seamlessly use it. At 6:30: https://youtu.be/VaSstf9VJGQ

"The experience will be powered by Intel Bridge technology which is a runtime post-compiler that will allow these apps to run natively on Windows machines. " I hope this means Windows on ARM is supported?

That isn't what that means, no.

How do you know? It's an Intel technology.

Because I know what Intel Bridge technology does, and it isn't that. It facilitates applications that were written for other platforms to run on x86 machines. Like you say, it's an Intel technology... Why would Intel support ARM processors?

…I would hope that the system would be smart enough to serve arm native code to an arm device. I don't know why but I doubt the workflow will be download android app to arm pc, translate to x86 through intel bridge, and then translate back to arm via the native windows emulation.

I wouldn't be surprised if that was what happened, Windows isn't known for efficiency lol. To be fair, I'm not saying they won't run, I'm just saying they won't run because of this. Although, I wouldn't hold my breath.

That makes me speculate that the surface duo 2 might run windows?

I highly doubt it. It may just have the Amazon AppStore also installed in addition to google play so you can sync purchases. More likely to me is one day surface duo becomes a fork of aosp and uses Amazon store.

I don't consider Amazon apps as true Android apps as they're not Google's Android which is the REAL Android not Amazon's fork of Android.

That's ridiculous. Android is open source. Forking and competition should be ENCOURAGED. If Google can't compete then let them get pushed aside. Can't wait until the current antitrust action kills the OHA and that silly rule that if you want to make a GMS device you can ONLY make GMS devices.

One thing is certain, the Surface Duo will range will run Android, always Android. Microsoft could well release a second range of devices (or a replacement range) running Windows but it will not be called the Surface Duo.

I was interested until Amazon was mentioned, I don't like Amazon Tablets due to their extremely limited selection of apps and Fire OS being another walled garden like Apple so thanks Microsoft but no thanks, I'd rather get a Chromebook (or Pixelbook in my case) as I'll be able to get access to the Play Store and the full selection of Android apps.

How is Amazon a walled garden any more than Google? Google's the one who couldn't be bothered to show up and be on Windows.

I can't wait until someone figures out how to point straight to Google App Store and get away from Amazon Store
Android Central Newsletter
Thank you for signing up to Android Central. You will receive a verification email shortly.
There was a problem. Please refresh the page and try again.