Android App Review: Sandisk Memory Zone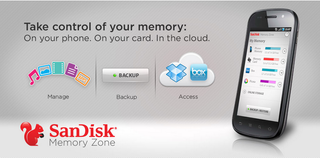 Better known for its microSD cards, Sandisk has released its own memory management application onto the Android Market. Whereas popular file management apps like Astro allow you to dive deep into the file system on your device, Sandisk aims to cast a wider net by linking into cloud storage services as well.
The underlying intent is to assist you with backing up your device's contacts, photos, music, videos, documents and even apps to either your memory card, or to your Dropbox and Box.net accounts. It also works the other way allowing you to restore from these locations. You can set up your backups to occur automatically at different time intervals using the "Backup/Restore" function. This only allows you to utilise automatic backups over wifi by default, so you don't need to worry about gigabytes worth of data uploading in your pocket while you're sat on the bus. There is still an option to allow upload over cellular data though should you want it.
The app also allows you to access your Picasa and Google Docs accounts. Through both of these services you can both upload to and download your content from the cloud to your device as well as deleting files from your cloud storage.
The app has a really nice looking UI, and splits all your files into type; music, images, videos, documents, and applications. If theres something specific you have in mind that you're trying to find, a little of the work is taken care of.
It comes at the moment with the beta tag, but feels really polished and could well replace a number of memory management applications by combining so many services into one.
Sandisk Memory Zone is available free in the Android Market. Download links and screenshots available after the break.
Android Central Newsletter
Get instant access to breaking news, the hottest reviews, great deals and helpful tips
LOOKS LIKE ICE CREAM SANDWICH TO ME!!! look at the top pic! its a nexus S!!!
and it has purpleblue in the bar!!! SWEET!!!

and the top picture is a photoshop fail( pulldown bar from SGS)

Custom theme on whoever's phone was used for screenshots

That's correct :) Honeybread theme for CM7 on my Optimus 2X

A variant I used to run on my Samsung Captivate
http://forum.xda-developers.com/showthread.php?t=958788

ah damn.my hopes were to damn high hoping ICE wont be ugly as rumored.

Like it. Now if Mozy would do this we would have a complete backup scheme for phone, tab, and PC! One backup to rule them all.

Very Beta, but showing great promise. BTW, wait a long time when you are setting up Box.net. (it really is working)

Anyone know how to get it to show all of your internal storage?

When a program such as this backs up an app, does it also back up the app's data (settings, etc)?

will not access any cloud service over 3G/4G only via WiFi and until it will allow for 3G/4G access to cloud then it is a totally worthless app - Removing.
Android Central Newsletter
Get instant access to breaking news, the hottest reviews, great deals and helpful tips
Thank you for signing up to Android Central. You will receive a verification email shortly.
There was a problem. Please refresh the page and try again.