Android 8.1 Oreo is now rolling out to all Essential Phone owners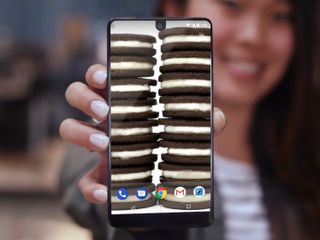 No matter what you think about the Essential Phone, one area that it dominates all other Android OEMs at (aside from Google, of course) is with its software updates. Less than a month after launching a beta for Android 8.1 Oreo, Essential's now pushing the software to all of its users.
This marks the first public Oreo update for the Essential Phone as Essential chose to skip 8.0 after discovering some bugs towards the end of its beta, but even so, Essential's still beating Samsung, LG, and other big players in these regards.
If you didn't jump on the Oreo beta for the Essential Phone, you'll find a lot of new toys to play with, including picture-in-picture, Android's new emoji design, a dark theme for Quick Settings that changes based on your wallpaper, Google's Autofill API for faster password entry, and way more than I have time to list here.
Essential says to "check your phone now" for the 8.1 Oreo update, and if you don't see it yet, you should be able to download and install it over the next couple of days.
If you've got an Essential Phone, what are you looking forward to the most with Android 8.1?
Essential Phone users can now join the Oreo beta with a simple OTA update
Android Central Newsletter
Get instant access to breaking news, the hottest reviews, great deals and helpful tips
Joe Maring was a Senior Editor for Android Central between 2017 and 2021. You can reach him on Twitter at @JoeMaring1.
Too bad it doesn't include double tap to wake, like they promised way back in one of the AMAs. I'm not interested in a phone without it.

Dt2w would be great. If you have lift to wake enabled it sort of works. My last 3 phones had dt2w so I know how you feel.

Available as an app?
Or is it a principal thing?

My phone has dt2w, and I never use it. With the FPS on the back, dt2w means you need to enter your password - unless you just want to take a quick peek at the temperature on your lockscreen's weather notification.

Phone has different implementation of double tap to wake, works only from the moment you see clock/notification on the screen. Need to enable pick up to check for notifications feature. Then you double tap when the clock/notification comes up when you pick up the phone and voila. It works.

Did they add in aptX or any other high quality bluetooth codec support yet?

This, holding off on buying BT headphones until I know for sure.

My Bluetooth headphones show options for HD audio and LDAC so I think it's working.

Already running the beta. Haven't had any problems, but it's nice to see an officially stable release just the same.

Isn't this phones software filled with bugs? So nah, OEMS should not follow suit then

Nope, it's a damn good phone now at an amazing price. Cant fault it really for the money I paid for mine.

That was a pretty long time ago. They ironed those out months ago.

No your thinking of One+, Oppo and a few others.

This comes after they had to pull the 8.0 update because they couldn't get it running stably... I'm not criticising them, pulling it was the right thing to do, but that being the case this means, as you say, their first Oreo update is in march...7 months after it's original release. Basically, I hardly think they should be praised for their alleged "dominance" when it comes to software updates.

Ikr? I mean OnePlus and Nokia did better jobs. Plus even S8 is getting the update now which is an Year old.

You fail to notice none of those have treble support.

That's not something that can be added as part of an OTA. The storage needs to be partitioned as System, Vendor and User and none of the phones have been partitioned that way as they shipped with Nougat.

Not only that, One+ likes stealing your data, as well as your credit card numbers.

Been running the beta for a while and it's been very stable. Looking forward to installing the first officially stable release!

On the beta so the update is only 275 mb. A few quirks with the beta but not bad overall. This explains the delay for the March update.

I don't own the Essential PH-1 but I think I remember reading that the Oreo update includes March's security update as well. Can anybody confirm this, I don't know why I'm so curious.

Confirmed, it has the March update.

So impressed with the Essential phone. Where are all the haters from a couple weeks ago that were ******** when they announced they're skipping 8.0?

Don't worry, they'll find something else to nitpick on this great phone.

It really is a nice phone. I actually get compliments on it, which is unusual to me for a phone. I had a couple people ask me if I got the "X" :-).

bad camera even with the updates. selling right now at the price it should have been initially selling. how did i do?

Lol 😁 laugh of the night.

Yep for sure. All you need to do is put a galaxy branding on it (since it has no branding at all), and all those haters will be in a corner jerking to the essential.
Android Central Newsletter
Get instant access to breaking news, the hottest reviews, great deals and helpful tips
Thank you for signing up to Android Central. You will receive a verification email shortly.
There was a problem. Please refresh the page and try again.