Android 7.1.2 beta now available for Nexus and Pixel devices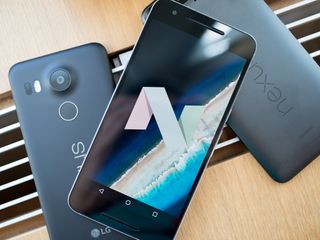 Update, January 31: According to several commenters and sources on social media, Google has begun rolling out Android 7.1.2 through an OTA update to those who have signed up through the Android beta program! The build versions are NPG05D and NPG05E, depending on the device. Go get it!
Android 7.1.2 is rolling out to Nexus and Pixel devices through Google's beta channel, according to a post on the company's developer blog.
Called "the next maintenance release" for Android 7.x Nougat, Google says that "refinements," including "bugfixes and optimizations, along with a small number of enhancements for carriers and users."
Google says the beta, like all previous versions, is compatible with Pixel, Pixel XL, Nexus 5X, Nexus Player, and Pixel C devices, with an update forthcoming for the Nexus 6P. The final version of Android 7.1.2 will roll out to the same devices when it is ready "in just a couple of months."
How to enrol in the Android Beta Program
Android Central Newsletter
Get instant access to breaking news, the hottest reviews, great deals and helpful tips
Daniel Bader was a former Android Central Editor-in-Chief and Executive Editor for iMore and Windows Central.
Does this patch fix the battery issue on the 6P or the boot looping on the 5X? If not, then no one gives a flying F***.

My brothers 5x was fried by the bootloop issue. Off to an iPhone 7 Plus he went to. Incredibly disappointed in Google and LG smh. My 6P has been wonders on 7.1.1 though, thankfully, with no battery issues, but these days, I take updates with a grain of salt from Google.

Glad your post is relevant to the topic

It's pretty much relevant. I'm an android guy but it makes sense that so many people are frustrated with the state of android.

Frustrated why ? You talking about any general Android user or Pixel/Nexus user?

Any android user. Many people buy an android phone and expect updates and because the phone market is watered down they get a bad experience because they buy a lower cost phone. And then they buy a phone that's supposed to be a flagship and the don't get updates after 2 years while iPhone users are getting updates for up to 4 years. I still love my android, but I know dozens of cluster friends that gave up and switched to iPhone. In fact most of my family except for my wife all use iPhones.

I don't have any problems with my 5X. So, you are wrong... I do give a flying F...

Neither do I have any problems. I give a flying, swimming, crawling and even a time traveling F***.

I give a flying F as well. I am assuming that you meant to say that YOU do not. No battery issues on my 6P.

Can't fix a hardware issue with software (speaking about the 6P)

I do betas for Chrome, Google, and Maps, but I think I'll leave it at that for now. I'm not very fond of the part where it wipes your phone if you decide to un enroll from the beta program. Not a huge deal, but I'd rather not spend the time getting everything "just right" afterwards.

I do betas for almost every app in the Play Store that offers them, but I agree with you I would stop there unless I had another phone. Beta builds can be unstable and sometimes not be suitable for a daily driver. And then there's that fact that if you change your mind it wipes your phone.

Will it roll out to Nexus 9?

Nope. Nexus 6 and 9 are not going to receive 7.1.2

Really? I bet so. Hey this is not big update, and Nexus 6 going to receive this 7.1.2 a little late but going to receive it. 😉👍🏼

Nope, they've already stated the Nexus 6 & 9 will not receive the update. Security updates only going forward.

Still waiting for 7.1.1 for Nexus 6...

Exactly... Nexus 6 and waiting... Pretty disappointed in how slow things have been for 7.1.1

Still waiting for 7.1.1 on my Nexus... Been waiting since they said it would be released early January :(

I got tired of waiting so I flashed it my self. I gotta tell you. SO worth it. Little issues with Bluetooth are gone, GPS is more stable and I do get much better battery life.

Remember back when having a nexus meant you got update day one despite what model you had.

Been running 7.1.1 on my Google Nexus 6 since the day it came out. Smooth as butter, with improved battery life.

Lol, aw you're gonna be sad.

My 5x had the boot loop, sent it to LG and they actually fixed it and sent it back all within a week and it's been as good as new and with each and every update my 5x feels like a new phone, I'd love to jump ship and get the pixel but with the updates ATM I've no need to as the camera on the 5x just keeps getting better!

Has anyone gotten it yet? I'm still waiting.

Not yet on my Pixel. Keep hitting that button and so far nada.

I got it on my Pixel XL, also. Today I tried to open the camera app and it crashes. I tried to wipe camera app data...no luck. Back to stock for me.

Just got mine as well. Hope it fixes the Bluetooth connection issue.

Still waiting here... Push it Google.

Ah, push it - push it good
Ah, push it - push it real good
Ah, push it - push it good
Ah, push it - p-push it real good

Still waiting on 7.1.1 on my 6P and the January security update.

Sign out the beta program, and you'll receive the January update, it's what I did last night and I was able to get the January 5th security update.

I'm not in the beta program, I think it has something to do with Verizon.

6P here on 7.1.1 and Jan. security update. I am also on VZW. I cannot remember how long, but it has been updated for weeks.

Verizon doesn't hold back updates. Ever since marshmallow.

Is that fix the issue on sound when you doing call ?? Nexus 6p

Just updated, in WiFi settings, selecting the gear icon, the app crashes. Other than that I don't really notice anything different.

You try clearing your cache? I always do a full reset before and after just I case and I seldom run into any problems...

I get the same result. Clearing my cache didn't fix it.

I'm running it on the Pixel Xl..Rooted and Running smooth as always...

So far the speakerphone is louder and more clear, but I'm still dropping the Bluetooth link to my car (Honda crosstour).

Still not seeing 7.1.2 on my Pixel C.

I'm going to hold off when it's released for the 6P, and wait to see what calamity it causes this time.

This is so exciting....no, not really. Whatever, a beta for an upgrade in 0.0.1. Just roll it out.

No boot loop issues with my 5X.

How it works? any bug you noticed?

Got the update on the 5X this morning. They've added in 'moves' the sliding on fingerprint to pull down notifications - like it.

Any with the 6p got the "night mode". God I miss that one! Hoping for the fingerprint "moves" as well
Android Central Newsletter
Get instant access to breaking news, the hottest reviews, great deals and helpful tips
Thank you for signing up to Android Central. You will receive a verification email shortly.
There was a problem. Please refresh the page and try again.