Android 5.1 starts rolling out to HTC One M8 Google Play edition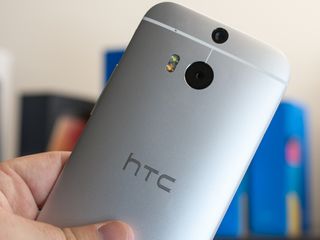 We've received some tips pointing to an Android 5.1 rollout to the One M8 GPe, and a number of users on both Reddit and XDA Developers have reported receiving the update as well.
The update, which looks to clock in at just over 244MB large, brings Android 5.1 features such as tweaks to the way notifications interruptions are handled, as well as numerous other little bug fixes and animations and cosmetic changes.
It's unclear how wide the rollout is right now, so it may still be a bit before your One M8 GPe to scores some Android 5.1 love. If you have snagged the update, however, be sure to head on over to our HTC One M8 forums and let us know how the update is treating you.
Discuss the HTC One M8 GPe update in our forums
Sources: Reddit, XDA Developers Thanks for the tips, Mike and Brett!
Android Central Newsletter
Get instant access to breaking news, the hottest reviews, great deals and helpful tips
I have a Sprint HTC One M7 with lollipop. How do I add another user account?

Go into the Forums and ask there. Rooted Galaxy S III Stock Galaxy Note 4
Rooted LG G2
If it ain't Tech, it ain't Right!

Meanwhile my Nexus 9 device that is supposed to be getting updates directly from Google faster than anyone else is still on 5.0.1..... Poor form, Google.

I did speak to a tech support person. She tried to give me crap initially from something along "Devices will only be updated if necessary" and I told her 5.1 actually had feature enhancements. Then I got "it should come soon". I pestered when the "soon" would be and I got "in a few weeks". LOL. I so look forward to it now :0

Maybe she just told you what you wanted to hear so you would go away. :-)

One day before I get my Xperia Z3 Posted via the Android Central App

When will 5.1 drop on the M8 for Sprint? Posted via My htc One M8

When HTC finishes development of Sense 7 for developer unlocked M8's, in which the OS version should be 5.1 U WOT M8

Android Central, please add notifications so that we know when someone replies to our comments. Thanks! Posted via My htc One M8

Really! Posted via the Android Central App

It's already added. It's the green circular box below the text entry box and above the comment button.

Lies Posted via My htc One M8

Last but not least any word on Sense 7 for the M8? Posted via My htc One M8

Other than HTC's confirmation of the M8 slated to receive Sense 7, no word so far. If you're adventurous however, Sky Dragon is already running unofficial Sense 7 via ROM U WOT M8

Does 5.1 fix the camera not saving to external SD card? Posted via the Android Central App

It's not saving to your external microsd? Odd, when did this issue show up for you? U WOT M8

Camera never saved to external SD. Its been one of my few upsets about the GPE. You can however use EX File manager and move you pictures over to a photos dir you make and use its viewer. Thats been my solution.

Gpe wouldn't unless HTC changes it. Google hates SD cards and does not have that in 'stock' which is basically what gpe is. Regular HTC roms have the ability to save to SD cards if I remember correctly Where was Rick Grimes when we needed him a few 1000 years ago. He could have prevented all this stupidity.

I just got the initial Lollipop update from KitKat on my AT&T M8 today lol -_- Posted via my HTC One M8 from AT&T finally running Lollipop!

I got the update early this afternoon.

https://twitter.com/moversi/status/585628339269984258 It's official. AND the M7 GPE too :)

And yet devices like the nexus 7 2013 and nexus 9 still on Buggy 5.0.2...and please ac don't defend google here again by saying it doesn't matter it's only a number. 5.1 fixes many bugs in lollipop etc and actually has user interface changes too so it's not just a number. You cannot say things like the nexus is for people who want speedy updates etc and then when google are slow, say it doesn't matter. Google have been pathetic with the lollipop updates. Someone seriously needs to write an article about this. After all these years of nexus fans saying get a nexus if you want a apple like experience but this is anything but speedy updates. You can't even say go flash a image because there isn't no 5.1 image for those devices because if there was I would flash it. Posted via the Android Central App

Man all I see is a bunch of cry babies about updates. If your device doesn't have the latest version of google, probably means they are testing for stability. If they release it early then people will be crying for buggy releases. Never ending cycle of cry babies about updates.

What do you expect, the promise of nexus has been timely updates. When Non nexus devices get updates faster than a nexus device than there's every reason to complain. You can't have it both ways by saying if you want fast updates get a nexus but then not deliver. It also doesn't help when they don't even say anything, just leaving everyone in the dark. One of the biggest pro of getting a nexus is supposedly speedy updates, if you can't even deliver than what good is it. It's like to some people, google can't do no wrong. Lollipop was released over 5 months ago and was Buggy as fuxk and it still is. It's time to admit Google dropped the ball with lollipop, speed updates? No, reliable software? No. Flagship devices like the nexus 9 left untouched. Seriously i/o is round the corner and by then we will be talking about the next version of Android and yet some of the nexus devices are still not even upto date. I got a galaxy device so I'm use to not being on the latest update, got a nexus tablet which needs regular reboots just to run smoothly and not kill my music or podcast when it's playing in the background. Seems like to many people want to just give Google a pass for everything. Posted via the Android Central App

I got my update yesterday afternoon. It's got some interesting new tweaks and looks like it *may* have fixed the slow charging problem that was introduced in 5.0.

So if the M8 GP edition is updating to 5.1 right now, can the rest of us M8 owners expect the same sort of 90-days-later timeframe for this update that HTC tried to honor for the 5.0 update? Or should we figure on 90 days after the M9 gets the 5.1 update, since the M9 is running the new version of Sense and the M8 is supposed to receive that update sometime too?

Just went to Settings and there was a prompt above Check For Updates. Clicked it and is started downloading the update
Android Central Newsletter
Get instant access to breaking news, the hottest reviews, great deals and helpful tips
Thank you for signing up to Android Central. You will receive a verification email shortly.
There was a problem. Please refresh the page and try again.