Android 4.4.4 Release 2 for Nexus 5 published for Australia, New Zealand, and India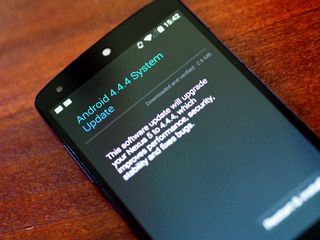 Google has posted the factory images for Android 4.4.4 Release 2 — but only for a few specific carriers in a few select countries. And only for the Nexus 5. The release, which carries a build number of KTU84Q, is available for download from Google's Android factory images page, is only good for the Nexus 5 on Telstra in Australia, 2Degrees in New Zealand, and unlocked in India.
There's no word of what's included in 4.4.4 Release 2, but we know that there's some tweaks to address carrier-specific radio needs (hence the limited release) and maybe a few bug fixes.
Look for an over-the-air update imminently. But if you happen to have a compatible Nexus 5 and just have to have Android 4.4.4 Release 2 installed right the heck now, well, that is something you can do.
You can grab both the factory image (again, only bother with this if you're on the right carrier in the correct region) at the source link below, and get instructions for installation in our definitive Nexus updating guide.
Source: Google
Derek Kessler is Special Projects Manager for Mobile Nations. He's been writing about tech since 2009, has far more phones than is considered humane, still carries a torch for Palm (the old one), and got a Tesla because it was the biggest gadget he could find. You can follow him on Twitter at @derekakessler.
So it's like 4.4.4.1 Posted from my Nexus 7 2013 running Android L or Samsung galaxy S5

Will it be worldwide? Posted via Android Central App

Read the title. Posted via Android Central App

I'm On the Telstra network, but with a Google Play unlocked handset. I have noticed a significant reduction in battery life "recently". I can't honestly say it defiantly coincided with the last roll out but perhaps that is the issue? Will it be an OTA roll out for all or do I need to flash?

I too on my N5 as well. I'm thinking it may have to do with Google Play Services. Just after my N5 updated to 4.4.4 I was getting a delta 1% of ~ 45-50min; now I'm getting a delta 1% of ~ 20-25min! I wish Google could get the fundamentals right. I'm sick of this battery roller-coaster.

I have noticed it is exponentially worse when streaming bluetooth. Even after you have stopped if you don't restart (sometimes) the battery will deplete very quickly. Play services and media server need some project Volta love!
Posted via Android Central App

That small a difference is easily within margin of error unless you're shutting down all background processes & syncs to test that while keeping the phone in a lead box...

During the working hours my phone usage is low and my app installs are static beyond the occasional update, so any change in battery consumption is noticeable since I have Batter Widget Reborn in my notification area. There are periods of time when my phone gets a delta `1% of 35-40min and then something mysteriously changes and I start getting d1% of 20-25min. Google Play Services (GPS) has generally been the largest consumer of power but lately its been Wifi. Again, my usage patterns haven't changed and I have my Wifi set to only be on all the time when charging, but it now runs as though Wifi is set to be on all the time. This change occurred shortly after receiving 4.4.4; about when the new GPS was rolling out. At least they fixed the Hangouts battery consumption issue.

I thought the Nexus was a world wide product not carrier specific.. Posted via my Motorola Startac

Hopefully this gets released worldwide - after when abroad we may well roam onto these networks! I had major issues with my N5 in France - kept dropping the mobile signal after a few minutes, worked OK when back in the UK.

What is a factory image? Posted via Android Central App

It's a photo of a factory.. Just kidding, now someone is going to pick this response apart as it will not be accurate enough, it is a digital copy of the source files for a specific handset if you know how you can install them on your phone and get the upgraded software. It's not a patch however it's a complete replacement.
Posted via Android Central App

Well, I'm on Telstra so I just flashed the modem from the new release - nothing else.
Ordinarily at my house I get one bar of signal strength - after flashing it went up to three, so it seems to be a modem related release to me. Sweeeeet.

I got this update today morning. I am from India and using Nexus 5 over Airtel network. My build version got updated to KTU84Q as mentioned and update is around 2.2 MB size

Cyanogenmod Rom. Enough said
Android Central Newsletter
Get the best of Android Central in in your inbox, every day!
Thank you for signing up to Android Central. You will receive a verification email shortly.
There was a problem. Please refresh the page and try again.