Android 4.4.3 begins rollout to the Google Play edition Samsung Galaxy S4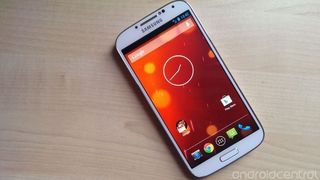 After the rollout of Android 4.4.3 to Google's Nexus line of devices, it looks like the software update may be beginning to hit Google Play edition devices as well. At this time, our forum member is informing us that his Galaxy S4 is starting to get a notification that Android 4.4.3 is being pushed to his smartphone.
It's unclear still which Google Play edition devices are getting the updates as there are multiple manufacturers that makes GPE phones, including HTC, Motorola, Sony, and Samsung. Our forum member says that his Galaxy S4 isn't the stock Google Play edition device that's sold through Google's Play store, but rather an SGH-i337m model that had been flashed to run a GPE ROM.
On a side note, Motorola announced that its rollout of Android 4.4.3 will happen this week for its Moto X, Moto G, and Moto E smartphones.
Are you running a Google Play edition smartphone? If so, are you getting a push notification to download Android 4.4.3? Let us know in the comments!
Thanks Christophe for the tip.
It's also showing up for the GPE HTC One M8. My Nexus devices are jealous.. lol

Both my n4 and n5 got it already lol sorry about your luck

And if you can't or are unwilling to flash that's a personal problem. It's really not that tough and waiting for the OTA is a bit silly. Posted via Android Central App

Can you root it already using the usual method? I'm talking about the Nexus 5. Posted via Android Central App

so everything goes before nexus 4? pffft.. Posted via an AT&T Galaxy S III LTE

Wtf why not my nexus. :( Posted from my new Nexus 5

What is the point of having a NEXUS device??? Come on google Posted via NEXUS 5

These are practically Nexus devices. The rollout is gradual for everyone. Some people are getting OTA on Nexus devices right now.

Impressive. And also promising with the Android silver concept in mind. I'd happily get a G3 gpe instead of a new LG made nexus. Posted via Android Central App

Vanilla Google Play S4 from the Google Store, not showing for me yet.

Nothing for my nexus 5 yet Posted via Android Central App

This is ridiculous my n7 2013 doesn't have it yet Posted from my Nexus 7 2013 or Samsung galaxy S5

I can already tell my verizon s4 is going to take a while to get the update might not happen until either the fall or winter. Oh well at least I have 4.4.2 kitkat. Posted via Android Central App

your not missing anything

My Nexus 7 still doesn't have this :( . Been waiting all day since OTAs were reportedly being distributed. Posted through my Nexus 7!

Google Play Edition Moto G doesn't have it yet but I hope it comes out soon because there's a volume problem with the phone app that should be fixed by now. Posted from my fast, furious, better than an iPhone, Moto G GPe

I'm wondering if anyone else has received this update on their GS4 GPE i9505G yet? Anybody else out there get it? I'm hitting "check now" button every 15 minutes, but no luck...lol

No nothing found on it yet. I'll check every couple days.

Wao..Google Edition Re getting so fast updates....great Posted via Android Central App

Just got it on my Nexus 5 on Sprint. Also my Friend just got it on his Nexus 5 on T mobile. Looks like Google is pushing it out for Nexus 5 now regardless of carrier. Posted via Android Central App from a Nexus 5

I got the update on my S4 on virgin mobile 2 days ago . Why is everyone fussing about it? It doesn't seem to do anything more or less than the previous os. Posted via Android Central App
Android Central Newsletter
Get the best of Android Central in in your inbox, every day!
Thank you for signing up to Android Central. You will receive a verification email shortly.
There was a problem. Please refresh the page and try again.