Amazon Fire TV can now show live video feeds, but the lag remains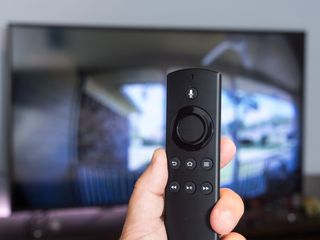 Tucked amid all the new hardware announcements from Amazon this week was a little nugget about Amazon Fire TV. Specifically, that you can now view live video feeds from Alexa-enabled cameras. That's the same sort of functionality we have on the Echo Show, of course. And as it turns out, it's exactly the same functionality. Just on a much larger display.
Here's how it works: You'll need a second-generation Fire TV or Fire TV Stick. (The new Amazon Fire TV won't be available until Oct. 25.) And you'll need to be in either the United States, UK or Germany. And you'll need to have a security camera that's got an Alexa Video Skill enabled. In my case, that's the Ring Pro Doorbell.
Just like with the Echo Show, all you have to do is say "Alexa, show me my front-door camera" to get things rolling. (Or whatever your camera's named, I guess.)
https://twitter.com/mdrndad/status/913447191800369154
And this is where things start to fall apart. There's still a ton of lag in the process. It takes a few seconds for the Skill to fire up on the Fire TV. Then it takes a few more seconds for feed to start streaming. (In the example above, I'm running out of the bedroom to the front door in real time — and it actually took me maybe half as long as it seems, because of the lag in the feed.)
Then there's also the issue of showing mediocre 1080p footage on a 55-inch 4K display, but that's another gripe for another time.
Just like with the Echo Show, this is a cool feature that works. It just needs to much work better before it's something you'd actually want to use.
I've been considering getting a Ring Doorbell. I believe it would work my Nucleus intercom system. Is the Ring doorbell system still the one to get or will the new Nest one be better?
Android Central Newsletter
Get the best of Android Central in in your inbox, every day!
Thank you for signing up to Android Central. You will receive a verification email shortly.
There was a problem. Please refresh the page and try again.