New Amazon Fire 7 is a modest upgrade and still a top cheap tablet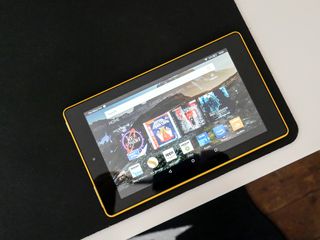 That the 'all-new' Amazon Fire 7 would be a good, cheap tablet was probably never up for debate. We've been recommending its predecessor for some time because you can actually spend just $50 and get a good tablet.
That hasn't always been true of the Android hardware ecosystem, and the Fire 7 is still probably unique in its recommendation at that price point.
So, Amazon made it a little bit better and kept the price the same. It's a modest upgrade, but an upgrade nevertheless, though whether you should ditch your old one is a tougher question to answer.
See at Amazon (opens in new tab)
What's new?
The changes are mild, but still important and the sum of the parts makes for something more meaningful. We're looking at a slightly slimmer, lighter tablet that boasts improved battery life, a better display, and dual-band Wi-Fi. The microSD card slot has also been upgraded to allow the use of the largest storage options currently available.
On paper, all those sound like small, but decent upgrades. In reality, some are more useful than others. Yes, the newer model is slimmer and lighter, but it doesn't really make a noticeable difference outside of numbers on a spec sheet. It still feels basically the same as the previous model.
The display is a different story. It retains the same size at 7-inches and the same resolution at 1024 x 600, but it's noticeably better looking. It's brighter and the colors boast more contrast, which is enough to offset the low resolution. On the older model the display was OK, but not a lot more. On the newer model it's actually very good and makes using it in brighter light less frustrating.
The dual-band Wi-Fi support is also something that would be easy to ignore in most cases, but for the Fire 7 it's a notable inclusion. The old model was limited to just 2.4GHz Wi-Fi, the newer model adds in support for 5GHz bands as well. For a tablet based around media consumption, better connectivity is a sure win.
Alexa on the Fire 7
One of the biggest new features on the Fire 7 isn't to do with its hardware. As is now the case with all of Amazon's current hardware options, the Fire 7 comes with support for Alexa, the AI assistant behind the Echo.
A word of warning on that front is that you'll probably need to accept a software update first. In the UK, Alexa wasn't enabled when the device arrived, and Amazon was telling its customers that it would be a day or two before it rolled out. So if it's not there at first, don't panic too much.
The OS update to look out for is version 5.4.0.0, so if you're not on that when then keep checking for updates.
Accessing Alexa requires holding down the home button and then talking to it. Just as you would with Google Assistant. If you're new to Alexa, there will be a little bit of a learning curve, but essentially you can use it to do all the same great stuff as you can an Amazon Echo. That means controlling your smart home, checking the weather, setting some music playing and a whole host of other interesting things.
It's basically the same Alexa you would find inside an Echo product. Except it's on a tablet. A tablet that costs the same as an Echo Dot, no less.
Fire OS hasn't really changed
Fire OS made a pretty decent jump forward when Amazon introduced the direct predecessor to this version of the Fire 7. Amazon has always done things differently to the rest of the Android crowd, but eventually it brought in some more familiar aspects like the regular on-screen buttons and notifications. What it didn't and still doesn't have is Google services.
The Fire 7 is cheap but it's also a total upsell for Amazon's content and its retail store. You'll have to pay more to get rid of the lockscreen ads by getting the tablet without them, and the home screen is partly your apps, mostly still Amazon content.
It's not really a bad thing, in the sense that if you're buying one of these there's a good chance you're already using at least some of Amazon's stuff and likely even a Prime subscriber (opens in new tab). It's tidy, at least, but nothing to get excited about.
The Amazon Appstore keeps on keeping on as the best alternative out there to Google Play. It's still not as well stocked, but the days are long gone of you struggling to find most of your favorite apps and games. You'll see big titles like Hearthstone and VainGlory in here, for example, and the only elephant in the room remains the lack of Google. There's no YouTube app, and that's not great for a lot of people.
The reading credentials of Amazon hardware also isn't forgotten, and even on this entry-level tablet you get Blue Shade, a blue light filter that makes it less strenuous on your eyes at night.
The bottom line
Despite being labelled as "all-new" the latest iteration of the Fire 7 really isn't. It's an upgrade, for sure, and though modest it all adds up to a better experience than its predecessor. It's also still, hands down, the best cheap tablet you can buy. If you only want to spend $50 just don't even look at anything else, get this. It's got a good screen, decent enough battery life and a microSD card slot that makes it easy to add tons more storage for apps and media content.
It's not the only improvement Amazon has made to its tablets, though, and for not a lot more you can get the Fire HD 8, which is a little larger but has a nicer looking screen and even better battery life. Of the two that's probably the better tablet, but when it comes to just great, cheap tablets, you still can't go wrong with the Fire 7.
See at Amazon (opens in new tab)
Get the Android Central Newsletter
Instant access to breaking news, the hottest reviews, great deals and helpful tips.
Does it support adoptable storage for the SD card?

Not that I can find. I have the 5th generation FireHD8, and it's still running their flavor of Lollipop (5.1). Also sideloading is your friend. Still chokes on direct Google services and Play Store in my experience.

I read yesterday that it does! I have a S2 tablet, but if you're really immersed in Amazon Prime,it might be a nice second tablet. It does have Alexa baked in. I use that for smart home tech. I would go for the 8 though.

I hate that Fire OS is so restricted still even though it runs on Android.

Do some googling and you will see that you can add the Play Store and Google apps to it, without any crazy rooting.
Although in my experience that might be what is making my Fire 8 quite laggy. I'm not sure but it is my suspicion.

I used to really like FireOS in 4.x days when it had that nice "cover-flow-esque" design. Now it looks like any boring old Android tablet... actually more like an iPad as you can only have icons and no widgets. Was great when the kids were little and all these kid games like Toca Town and Dr Panda were often the Free app of the Day. But now the kids are older and want to do things like snapchat and other apps that don't work natively in the Amazon eco-system. So it is time to bid adieu to kindles for us. Moving on to Sammy Tab S2s.

Or you could just sideload the Play Store. It doesn't even take 5 minutes and you can do it in the Silk browser.

Yes I have.. but the fire hd7 chokes on snapchat's funny face overlays. So I got them the older but faster Kindle fire hdx 7. But that can't easily sideload the playstore since it's fire is 4.5. Amazon just releasing mid range tablets now. 4 year old kf hdx still the best they make and it's limited. Sammy Tab S2 is at least a former high end competitor with the full experience.

My daughter's Fire HD 8 is okay but she still prefers the iOS to Fire...she is 3, but quite the techie...
It is time to add the Google stuff though...

For me, the biggest upgrade in the new Fire 7 doesn't seem to be in the tablet specs, but only appears in the description of Amazon's optional cover - the wake/sleep function, which the older version lacked. I have a bunch of devices with wake/sleep covers, appreciate the usefulness, and am irritated by devices lacking that feature (like the Fire 7 5th Gen) - especially when I close a cover having forgotten the lack of wake/sleep, and come back to a dead battery. The function may be listed for the case, not the tablet, but making it work requires a (cheap) component in the tablet as well as a (cheap) activating magnet embedded in the proper location in the cover.