Alphabet Q1 2018 earnings: $31 billion revenue leads to $7 billion income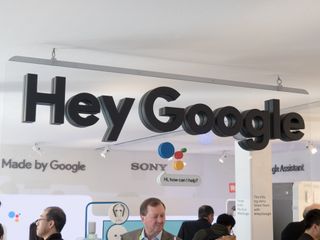 Alphabet, the parent company comprised of Google and various other subsidiaries, has just released its Q1 2018 earnings. The top-level numbers are strong: $31.1 billion in revenue, leading to $7 billion in operating income for the three months. Those numbers are increases of 26% and 22% over the previous year, respectively, and earnings per share were $13.53. In short, Alphabet continues to have amazingly large growth for a company of its size.
Alphabet's stock quickly spiked after the earnings release, but quickly leveled off to about $1070, just shy of where it last closed before the earnings release.
The "Google" part of the business obviously continues to be the primary driver of revenue and income for the company, with the "Other bets" segment — a combination of small, speculative endeavors — delivering a relatively tiny amount of revenue and another quarterly loss. Other bets had revenues of just $150 million, leading to a $571 million loss — though that was an improvement of $132 million from last year. Google's "other revenues," which includes segments like its hardware business, the Play Store and Nest, had $4.35 billion in revenue, up over $1 billion from Q1 2017.
Advertising, primarily from Google's properties, is the most substantial portion of Alphabet's earnings, making up $26.6 billion of the revenue. Traffic acquisition costs (TAC, what Google pays to gain traffic to ads) went up once again, by 2 percentage points, up to 24% of advertising revenues. Paid clicks were up by 59%, and the cost-per-click was down 7% from a year earlier. This continues to be the trend for Google (if not the entire online advertising system): paid advertising clicks keep going up, but the cost for each is going down.
6 months after Pixel 2 launch, Google has nothing to say of its success
Alphabet's cash position hasn't changed much, now standing at $102 billion, and its effective tax rate was 11% — though that number is mostly lower due to a change in accounting standards. Outside of the money, Alphabet now has over 85,000 employees worldwide, which is a considerable jump of 11,000 from Q1 2017 — 2,000 of those new employees came from HTC at the start of the year.
The Q1 2018 earnings release conference call can be listened to below.
Andrew was an Executive Editor, U.S. at Android Central between 2012 and 2020.
When you do earnings in the future please note actual vs expected for revenue and net profit thanks

Congrats to Google....however, when big oil makes that kind of money the Ds scream....last time I looked all 50 states, plus some cities, and the feds have a "fuel tax", alcohol tax, tobacco tax, and a marijuana tax (where it's legalized) ...its way past time for a "tech tax"...unless of course one wants to do away with the other taxes. I am tired of the D's (especially in CA and WA) protect the tech companies while at the same time SCREAM about nearly every other industry in America...Just saying...Oh and I enjoy my tech as much as I enjoy fossil fuels and booze...Like so many of the folks that have made FORTUNES in the tech industry!

I think those states protect the tech companies because that's a big industry in those States and those Representatives are basically just doing their job for their constituents regardless if we agree with it or not

Ah, no more taxes. Guess what, they will just pass them on. Corporations do not pay taxes anyways. All taxes are passed on to the consumer.

How does ad revenue keep going up with the advent of so many ad blockers out there? Are the vast majority of people not using them? Just wondering since so many websites were predicting ad blockers would be the end of content on the web...

I was wondering the same. I watch more YouTube than TV at the moment but always skip the ads as soon as possible. Even the ones that you can't skip I don't pay any attention to whatsoever.

Thanks! Really appreciate it, nice to be able to read both about the earnings report as well as the article above regarding the non existent pixel info and company info from a tech perspective. More news in the like of this, please! I like the nuances between serious journalism and more straight forward tech news, although of course not implying that's not serious ;)
Android Central Newsletter
Thank you for signing up to Android Central. You will receive a verification email shortly.
There was a problem. Please refresh the page and try again.