Almost 20% of the U.S. population owns a smart speaker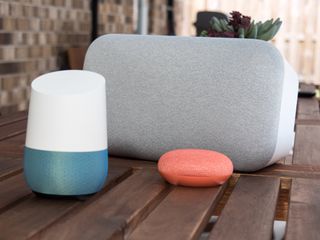 (Image credit: Phil Nickinson / Android Central)
Over the past 3 years, smart speakers have blown up as one of the biggest markets in the consumer tech space. Amazon, Google, Apple, and others are all racing to get as much market share as possible, and it looks like these efforts are working.
Voicebot recently teamed up with PullString and RAIN to see just how many people are actually buying/using smart speakers, and after interviewing 1,057 adults across the United States, it was found that 19.7% of them said they own a smart speaker.
Assuming that 19.7% translates to the entire United States, that would mean 47.3 million of the country's 252 million population own a smart speaker. Of those interviewed, it was also found that 42.2% of smart speaker owners are female and 57.8% are male.
Per RAIN's VP of Emerging Experiences, Greg Hedges –
In addition to those two main findings above, Voicebot was also able to conclude the following:
65.7% of people own just one smart speaker while 7% own four or more
The living room and kitchen are the most popular locations for smart speakers (45.9% and 41.4%, respectively)
Amazon has 18.4% market share, Google has 18.4%, and the remaining 9.7% goes to Alexa, Google Assistant, and Cortana-powered speakers that are made by other companies.
iPhone owners are 22% more likely to own a smart speaker but 30% less likely to have one made by Google
I personally own a Google Home and Home Mini, and I honestly don't know how I got by without one. I use these gadgets every single day for setting timers, listening to music, making calls, and so much more, and it really is fascinating to see so many people already eager to adopt this new technology.
Do you own a smart speaker? If yes, which ons(s) did you choose and why? Sound off in the comments below!
Joe Maring was a Senior Editor for Android Central between 2017 and 2021. You can reach him on Twitter at @JoeMaring1.
I know one person who recently got Google Home, didn't have any idea they have grown so popular.

I converted from Echo to Home (Mini / Home / Max) and despite some differences, I am glad I did. Just works better when you are invested a lot in the Google ecosystem.

I'm the other 80% that does not own one. I just don't see the usefulness of smart speakers. Too many electronic devices are becoming "smart". Even our cars are "smart". Advancements in technology are dumbing down our society as we know it.

"I honestly don't know how I got by without one. I use these gadgets every single day for setting timers, listening to music, making calls, and so much more..." I can do all of these things via Google assistant on my phone. Tell me again why I need a dedicated speaker for Assistant.

The author did not tell you that you need one. Sheesh.

LOL Sheesh. How dense are you? Not everything is meant literally. I wasn't implying that he literally told me I needed one. My comment was a rhetorical phrase commonly used in colloquial American English. If you're a native English speaker and you don't understand that then you should give up on life...you're not going to make it very far.

Your phrase was correct. Your usage of it on an article that that did nothing at all to imply that people needed it was incorrect.

I quoted the line I was referring to. Again, I know he did not literally say "you need this". But in the article he expressed the sentiment that it was indispensable. That's what my comment was directed at. I'm sorry if you can't follow something that is not 100% literal (I'm not literally sorry lol but you are literally dense).

I bought Alexa powered speakers for my elderly parents. It is much easier for them to get use out of a voice activated assistant than using other technology for many things. Music, timers, quick answers, and reminders to take medications are a few things that they do everyday with them.

Considering the size of the U.S, that is still a lot of people without one. also, how many of these 20% are still using theirs? i only know of two people in my close circle of friends that have a smart speaker, on have an alexa, another have a Google Home, one of them do not use the speaker now. The other still uses theirs, it is funny that when I visit , he offers to turn it off. which is nice of him, but as i said before it is fine, it is his house after all.

My young daughters love Google Home one is 2 and the other is 5 and they interact with it everyday, playing music, stories, and asking questions. There favorite question is "what does a sound like?". Although watching my 2 year old yell "Google!!!" is a bit eirry lol

The problem is they may get to reliant on it.

When is Google going to allow owners to name their personal smart speakers?

So you can say computer and have the voice from the Lcars computer network in startrek, now that would be interesting.

Majel Barret's voice can synthesized. I'm surprised Paramount has not done a licensing deal yet to do a Star Strek smart speaker. I'd consider buying one.

I too have a Google Home and Home Mini. The Google Home is in the living room and the Home Mini is in the bedroom. I use the Home Mini almost every night to turn off the lights in the bedroom when I'm on my way to work.

We upgraded from the original echo to a Sonos One in our kitchen and love it. The sound is so much better, and with the promise of Google support this year, I love the flexibility of not needing to chose sides (Amazon vs Google). For those commenting wondering about the use case, ours is in the kitchen and we have 3 main uses: 1) Shopping List: "Alexa, add strawberry jelly to our shopping list" is something I actually said this morning. I love being able to have my head in the pantry or fridge and just update our shopping list so easily. 2) Timers - helps with cooking etc. Both of those could be done with Google assistant on my pixel, but (a) I have found it isn't as reliable, (b) I might not hear it in my pocket to know it heard me, and (c) I don't want to take my phone out of my pocket to solve those issues because I'm cooking, doing dishes, etc. so my hands are dirty/occupied. 3) Music. Even my 2 year old can ask Alexa to play a song, and my 5 year old is addicted. He often starts his own dance party and it's just hilarious and fun. I love being able to listen to music while doing the dishes, and again, voice control is great. My only comment on all of this is why doesn't the Sonos One get more attention in these articles? (AC mentions it a bit, I'm speaking generally about internet smart speaker articles). It's just so great compared to the standalone Echo / home, and I'd argue still in the same budget category (the Max/Play 5/HomePod are not).
Android Central Newsletter
Thank you for signing up to Android Central. You will receive a verification email shortly.
There was a problem. Please refresh the page and try again.