Allo and phone numbers: Everything you need to know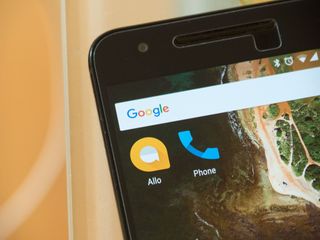 Allo is tied to both your Google account — for intelligent predictions and Google Assistant — and your phone number, for helping friends and other contacts find each other. But the phone number requirement also introduces a few limitations in the way you can use Allo.
Here's a thorough breakdown of how things currently work.
Can I use Allo without a phone number?
No. Allo is tied to your Google account, but it also uses your phone number to discover contacts. You'll need to activate Allo by receiving an authentication code by text message during the setup process. You can, however, use Allo — including the Google Assistant feature — without a Google account. But if you don't link your account, your Assistant interactions won't be saved when you switch phones.
Can I use Allo on more than one phone at once?
No. Right now signing into Allo on a second phone signs you out on the first. You'll see a message like this:
You'll also need to re-authenticate via SMS on each new phone you activate. (Just like WhatsApp.)
What happens to my chat history and group chat memberships when I switch phones?
When you sign into Allo on a new phone, your group chat memberships — but not your chat history — will go with you. Allo chats live on your device, not in Google's cloud, and there's currently no way to back up chat history, like there is with WhatsApp. (Any undelivered messages will appear on your new device, however.)
It's a pretty major oversight, and a feature we'd expect to be added to Allo before long.
Can I use Allo on tablets?
Android tablets appear to be unsupported through the Google Play Store at present. Google lists iPad support on its official site, so it's likely Android tablets will be coming soon to the platform. However, if and when this happens, the same phone number restrictions are likely to apply.
Can I use Allo on desktop, Chromebooks or the web?
There's no desktop app or web interface for Allo yet. In theory you could use Chrome OS's Android app support, when it launches, to use the app on your Chromebook, but even then you'd have the same phone number restricitons. (Logging in on your Chromebook would sign you out on your phone.)
Do I have to use Allo with the phone number of the SIM in my phone?
Not necessarily. As we discuss in greater detail in this article, you can activate Allo on one phone number, then switch SIMs and continue using the first number for Allo messages.
What if my phone number changes?
You can unregister your phone number through the Settings menu. Unregistering your phone number will remove you from any groups, and permanently delete your chats. Your Google Assistant interactions won't be deleted, so long as you've also added a Google account.
If you're changing phone numbers permanently — for example changing carriers — you'll want to make sure you unregister your number beforehand. That's because Allo messages are tied to your phone number, and in theory your old number could be allocated to someone else in future.
There's currently no way to port chat history or group chat memberships between numbers, as there is for WhatsApp. (Because right now there's no way to transfer or back up chat history at all.)
Get the Android Central Newsletter
Instant access to breaking news, the hottest reviews, great deals and helpful tips.
Alex was with Android Central for over a decade, producing written and video content for the site, and served as global Executive Editor from 2016 to 2022.
I humbly suggest it's time for an intervention for the Google execs who think this feature adverse app is a step-forward. Allo is clearly stillborn.

I'm going to have to agree on this. First it is late to the party. It really does not add much to the plethora of chat apps currently available. Last because it is Google my friends and family with iPhones won't use it meaning that I won't either and I see this going the way of BBM

I was looking forward to aniMessage equivalent. This app fails on every level.

Google probably regards Allo as a beta app. Not touching it yet because I don't want to be a beta tester.

So...might as well use SMS?

What a mess.... Why couldn't they just get people to use Hangouts. You can use it from every device at the same time, all is backed up in the cloud... I don't get it.

Also agreed! I know people knock hangouts but it fits my needs!

This is truly embarrassing.

It amazing that they took THIS LONG to launch this thing, and the resulting app has these archaic restrictions. Sometimes Google is amazing, others...? Also, iPad support? Needs a phone #? Explain how ...

You'll have to use your actual phone# for the code to log in to a device that doesn't have the ability to make calls or send SMS messages over a voice line. Even so, it'll still log you out of your current device.

Yeah, I tried it on the S6 and HTC M7 which doesn't have a SIM card. Initially logged in on the S6. After setting it up on the HTC, it logged out of the S6 and took my name and profile pic with it. Had to set it up again when I got back to the S6. At least the chat history is still there, but there's no backup solution.

I am concerned about using an app to talk to people that won't let me back up my messages. You should be able to have cloud backups of conversations - especially since conversations aren't massive files.

I assume I can't use allo if I'm using Google Fi, right?

As long as you have a Number you should be able to use it. Unless I'm missing something.

I have Google Fi and just installed allo. Looks like allo and Hangouts can coexist on the same device, so you can send or receive from either, it's just allo messages won't show up on your multiple devices like Hangouts messages.

And you need to use both apps because if someone initiates an SMS to you, it doesn't show up in Allo. The app is basically useless.

So I have an Old HTC M8 that is NOT active on any Carrier. I have it in Airplane Mode with WiFi Active. I have the phone setup with a different Gmail account then my normal primary account. I set this account up with a Google Voice Number. I have Googe Hangouts and Dialer installed. I have the Google Dialer Configured with the Google Voice number and can send and receive calls over WiFi. I setup Allo with the Google Voice Number and received the verification code on Hangouts and was able to setup Allo with no issue. I can send a receive from Allo with no problem. I may try this same setup on a tablet as see if it works

Can Allo be used as both a platform and SMS message app? Can it be a hangouts replacement that can do both?

I didn't receive, nor was I asked to input, a verification code? It looks like it setup fine without it - phone # and Google account are in there. At any rate, the only real problem I see, so far, is a rather huge one - friends who don't have Allo can receive my sms, but it doesn't show as coming from my name or phone number - just 5 digit proxy code. That will kill this app before it even gets started if it isn't fixed. Why would I want a messaging app if no one without Allo knows the messages are coming from me?

When I sent an allo message to my wife's iPhone, she received it and it had my name as part of the code (allo asked for my name when I set it up). That said, I agree with you.

Really? Weird, maybe I need to put my whole name in (I only put my first)? I'll give it a try. Thanks for the response.

It will also send regular SMS messages if the person doesn't have Allo.

Not regular SMS. The recipient relieves an SMS from a short code, not from your number which is what the recipient would expect.

One of the main reasons I use hangouts for texting and calls is because I'm on an old Verizon plan where minutes and texts are not unlimited. Hangouts allows me to text and call via data and keep carrier minutes/texts to a minimum. Will Allo use carrier minutes and texts or transmit them via data?

I think it is data but I'm not certain

I get it Google you don't want to copy Apple. What apple did with imessage 5 years ago was more than a little shady.. Even today, most of my iphone using family doesn't understand the distinction between imessage and SMS. To them its just texting. But it worked. They all use the imessage app, and they get advanced imessage abilities even if they don't understand what they are. The only chance to get allo off the ground was to copy Apple. To bad.

"there's currently no way to back up chat history," Google is totally clueless about backup. We're on the 7th generation of Android, and there's still no way to completely back up your phone: apps, app data, OS data, messages, etc. Apple figures this out ages ago, and it's appalling that Google doesn't think backup is important. I had to factory reset my phone recently, and in spite of my best efforts that was a bunch of stuff I had to rebuild from scratch, because I either had no backup, or the backup was cleared out by the reset. Stupid, stupid, stupid. It's almost enough to make me try an iPhone. Almost.

What? Clueless about backup? How do you mean? When I switch phones, the moment I log in with my Google account the new phone starts downloading my old apps, it has all my calendar data, all my contacts, all my music, and every photo I've ever taken. That's pretty good. At the moment it's basically just Allo, an essentially beta app that's been public for less than a day, that isn't there yet, but that's it.

This should work on multiple devices. Silly that you can't have it on a phone or two and a tablet.

is there anyway to stop allo from sending people you message the "you should download allo too!" Everytime?

So do my contacts have to have allo to respond to me in allo? Or is this an sms app?

If the recipient receives your allo message in whatever app they are using, they can respond to you without using allo by replying to the same thread.

I simply don't understand why I can't have a messenging app that works on all devices simoltaneously, is also an SMS client, and also will send an SMS to anyone who doesn't have that app installed from any device I'm using. I see no reason to install this over Whatsapp.

...for now. I'm pretty sure that sooner or later Google will cripple that functionality in Hangouts as part of an effort to drive people to Allo.

Sms/MMS should have been developed further. These redundant text apps are "meh" .

So this article does not explain Google Allo with Google voice. In hangouts I can use my carrier and my Google voice number. Another reason not to use Allo. It seen Google is going in the wrong directions.

Sticking with Textra, no need for Allo to be installed

I'm using the Google assistant more and I believe that's all I'll be using at this point in time. The message side of things needs works and it's will soon be the animal we hoped for.
It's still early days unfortunately.

If I install Allo on one phone, and then get a new phone and install (and activate) Allo on that phone, will the messages from my first phone be deleted?

Yes, deleted. It's similar to BBM when switching devices Posted via Android Central App

I was excited and now I'm not. I downloaded it and started messaging people, some responsed with Allo and i got excited - I'm not the only one. Those I messaged on SMS I thought were getting messages from me... Nope some other random number. They were confused and thought that the feature was dumb and by extension Allo is dumb. I understand it's still early but making non users annoyed at an app they haven't even really heard of let alone thought of using means that Allo is going to have a long long uphill battle.

Well, this makes me not want to install Allo at all. It's like using Whatsapp five years ago. oO
Thanks! :)

Way to waste efforts, Google. Hangouts is your best bet, yet you still treat it like a 20% project. One of the most frustrating features on these new chat apps is being tied to a phone number, without working across all devices. At least make these features a version update to Messenger. And as a Fi user, Hangouts is my only option for cross device text/calls. So PLEASE fix the constant crashes on 7.0.

Wtf. iPad is supported but not android tablets? Come on google what are you even doing?

You cannot install Allo using Play Store on a Chromebook. It is treated as a tablet and Allo will not appear in the store.

Does it at least work with pushbullets forwarding feature so I can respond from my tablet?

I guess I understand the necessary separation of SMS and data based apps and maybe there's no way around that. But please send my Allo conversations to my desktop and allow me to read/type from there, as I currently do with Hangouts. I know my phone and Chrome are in pretty tight communication. Google, please don't REMOVE nifty features.

I love this app, especially the assistant.

What is Google trying to do here? The assistant feature is a nice but I don't see myself needing this over Textra and Google Now.

You can use Allo
with a Google Voice number. I have an old phone with no service, but I have it connected to my Google Voice number so I can use it as a home phone via WiFi. I put Allo on it and it works fine.

I love allo it's the best app I have discovered on play store and superior over all the other message app.