Alcatel One Touch Fierce review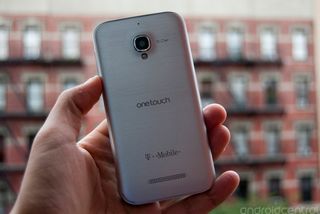 In the flurry of recent top-notch Android releases, you might have missed the announcement of T-Mobile's latest budget-friendly devices, the One Touch Fierce and One Touch Evolve. No, they're not blood glucose monitors, but rather the latest installments from Alcatel, a company that has struggled to find its place here in the US. But with its Evolve and Fierce, Alcatel hopes to make waves in the entry-level market, beckoning T-Mobile customers with dirt-cheap price tags of $100 and $164 respectively.
But if we've learned anything from 2013, it's that the current state of entry-level Android has finally reached a balance of affordability and usability, and the days of settling for cheaply-made Gingerbread-powered devices are behind us. But in the case of the One Touch Fierce, it appears that Alcatel made all the wrong cuts in all the wrong places.
Pros
The Alcatel One Touch Fierce delivers admirable performance and a nearly-stock Jelly Bean experience. The Fierce is one of the more handsome entry-level devices we've seen in a while, and the size is just right.
Cons
The Fierce's 4.5-inch qHD display is downright atrocious, from its underwhelming resolution to its frustrating unreliability. The camera is also pretty terrible due to its lack of autofocus, which makes it next to impossible to capture a decent shot.
The Bottom Line
Alcatel got part of the formula right for a solid entry-level contender: great build quality, fluid performance and an unbelievable $169 price tag. But it also got a few things wrong, and in a big way: both the display and the camera are some of the worst I've ever seen. The Fierce's $169 price tag goes a long way in making the One Touch Fierce an attractive entry-level choice, though be wary that with that steep discount comes some major sacrifices.
Swipe to scroll horizontally
The hardware
Appearance isn't everything, though if it were, the One Touch Fierce would have already won half the battle. It's one of the more handsome entry level devices we've seen in a while, leveraging a sleek design, premium (albeit plastic) finish, and solid build quality. At 5.13 inches tall, 2.64 inches wide and weighing only 130 grams, the Fierce feels great in both your hand and your pocket -- those who shy away from the behemoths flooding the market will feel right at home here.
I'm a firm believer 4.5 inches is an ideal size for a smartphone display -- not too big, not too small – but Alcatel hasn't taken full advantage of that fact, mucking up the Fierce with an obtrusive bezel and outdated capacitive keys. Moreover, this is one of the weakest displays on the market today. Its 540 x 960 qHD resolution is far from the best, but shouldn't actually look this poor – I experienced awful color reproduction, dismal viewing angles, and noticeably jagged edges around text. All in all, it's one of the most washed-out displays I've laid eyes on in quite a long time.
But the resolution is only half of the problem here. Call me crazy, but I noticed that the Fierce's display is far more fingerprint-prone than most others, causing the display to seem blurry. I also noticed extremely disappointing responsiveness, having to press twice or even three times before the screen would recognize my input (ironic, given the One Touch name...). We've seen other companies manage to improve their entry-level displays, including ZTE on its stunning 720p Sprint Vital , so it's fair to be frustrated in how little attention Alcatel has paid to its screen technology.
Luckily, the display is the only major sore-point in terms of the Fierce's hardware. Its 1.2 GHz quad-core processor, coupled with 1 GB of RAM, produces admirable performance in nearly every situation. You probably won't want to do much heavy-duty gaming here, but in nearly every other task, the Fierce is both nimble and reliable.
The Fierce lacks LTE, but coupled with T-Mobile's excellent HSPA+ network here in New York, the Fierce is fast in every sense of the word. Sure, it's a little disappointing that the Fierce can't take advantage of T-Mobile's mind-blowing LTE speeds, but it's an acceptable omission, especially at this bargain-basement price.
Rounding out the hardware side of things is the Fierce's 1,800 mAh non-removable battery, which produces truly remarkable usage and standby times. I managed to eek out at least 12 hours with the Fierce, usually even a bit more, before I found myself hunting for an outlet. Without getting into the nonsensical battery drain tests and HD video rundowns, I can say without a doubt that I never thought twice about leaving my house in the morning without packing a charger.
Software
Cheers to Alcatel for shipping the One Touch Fierce with Android 4.2.2 Jelly Bean, and a lightly-skinned version at that. Alcatel has added a coat of paint atop most of the application icons, but launch stock applications like Email, Messaging and the Gallery and you'll notice they're largely left untouched. The tweaks that Alcatel has made, such as a Facebook chatheads-style notification system on your the lockscreen, add fun functionality to an already solid user experience.
I would have rather seen Alcatel release the Fierce as a purely stock experience, but in reality, the colors and shapes it has splashed here and there aren't really that offensive. Alcatel isn't really in a position to launch its own dedicated UI, so it really allowed Jelly Bean to do its job here with smooth performance and familiar navigation.
More good news – aside from a minimal amount of preloaded software, limited to T-Mobile's own WiFi Hotspot and Calling, Name ID and TV apps, the Fierce is largely bloatware-free. It's also free of bells and whistles, custom apps, and other goodies we're seeing more and more of tacked onto Android. Whether that's a pro or a con will ultimately be your personal preference.
The cameras
Someday the high-quality optics we've seen on recent flagships will trickle down to entry-level devices, but today's not that day. The One Touch Fierce sports a 5 MP shooter utilizing Android's stock camera experience that produces mediocre photos that suffer from a whole host of problems. But that's not the deal breaker here -- what makes the One Touch Fierce truly frustrating to shoot with is its lack of autofocus. It's an almost unforgivable sin that makes capturing a decent photo next to impossible. The camera's built in features like face detection, HDR mode, and manual settings can only go so far in remedying the experience. Forget about catching fast moving children or pets, or night shots, or just about anything aside from a well-lit, stationary subject.
The Fierce's front-facer and camcorder are equally disappointing, hidered again by that lack of autofocus. All in all, the optics here are a tough sell, and are good for nothing more than shots bound for heavy filtering.
The bottom line
It's an exciting time for the smartphone market when you can walk out of a big-name carrier with reliable device for less than $200 off contract. And the One Touch Fierce is just that – at $164 outright, it's surprisingly well equipped with a fast processor and a lovely (and nearly up-to-date) Jelly Bean experience.
But at a price like that, sacrifices are unavoidable: the Fierce's camera is utterly disappointing, and its lack of LTE is a bit of a bummer. The largest sore spot here is the display, though – its one of the worst on the market today, and may just be a deal breaker for some -- myself included. Even if you're able to get past that awful color reproduction and quality, the nail in this display's coffin is its wonky responsiveness.
Don't let this turn you off of entry-level models all together. LG is doing great things with its entry-level Optimii, like the F3 and the F7, both available on T-Mobile as well. There's also a host of former flagships that have undergone dramatic price cuts, like the Galaxy S II and S 3. You might have to fork over a bit more than the super-low price of $164, but the improvements you'll see are well worth the extra few bucks.
That said, I'm pretty excited to see what Alcatel comes up with next. It got a few important things right with the One Touch Fierce, and with some tweaks and lessons learned, One Touch 2.0 might actually have what it takes to compete. But until then, be warned that that too-good-to-be-true price tag comes with some serious drawbacks.
Image 1 of 9
Be an expert in 5 minutes
Get the latest news from Android Central, your trusted companion in the world of Android