Action Launcher 1.8 lets you choose widgets, improves support for Ice Cream Sandwich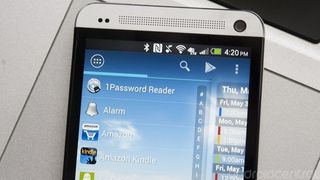 Action Launcher today has dropped Version 1.8 on us in Google Play, bringing with it a few welcomed improvements. You're now able to choose which widget you want associated with a Shutter action (that's the one where you swipe an app icon to open its widget), which gives you far better control over what's being shown. It also lets you associate any widget with any icon, whether or not it actually is supposed to have a widget. Neat trick.
And because of the way that works, you're now able to use Shutters with Ice Cream Sandwich devices. More backward compatibility is always a good thing.
Look for the Action Launcher update in Google Play any time now (hit the link above, or just go to Google Play, where it should be listed as a Featured App soon), and be sure to check to the changelog and demo video after the break.
Action Launcher v1.8 changelog
NEW: The widget displayed on a shutter can be changed by clicking 'Change widget' on the shutter's popup menu.
NEW: Any app shortcut can be configured as a shutter, whether that app has a widget or not. Just pick up and put down the shortcut in the same grid location, then select 'Create shutter' from the popup menu.
NEW: Shutters are available for Ice Cream Sandwich users. Given ICS's restrictive widget APIs, users are required to select the widget to display in a shutter, but this is better than nothing.
NEW: Increase the max grid size to 12x12 for phones and tablets.
NEW: Add the ability to scale the size of Home screen icons.
NEW: Desktop layouts can be backed up and restored to and from an SD card.
NEW: When importing a layout, display a 'SD card backup' import option.
NEW: If an SD card backup exists, assume this is a returning user and don't display the tutorial on the app's first run.
NEW: Swiping up on a Home screen will reveal the Recents window.
NEW: Added a donate option (as requested by multiple people).
NEW: Sense layouts can be imported.
CHANGE: Reorganize the sections in the settings. Quickdrawer, Home screens, and Dock now all have their own dedicated settings pages.
CHANGE: Shutters have graduated out of Labs and into the Display settings group.
BUG FIX: Adjusting the grid size no longer radically adjusts the height of the Home screens.
BUG FIX: Swiping down to open the notification window works on HTC One devices running Android 4.1.
BUG FIX: The bundled Stock Jelly Bean icon pack correctly applies for the HTC Phone app.
Android Central Newsletter
Get instant access to breaking news, the hottest reviews, great deals and helpful tips
Best launcher hands down, the only launcher coming up with new ideas.

WAIT--We can finally have a bigger grid? About friggin' time.

I tried Vire Launcher and haven't look back.

Does blinkfeed work with this?

Not impressed at all. It's a creative twist on doing things but not more useful. It greatly lacks the customizations of Go Launcher (laggy) and the sweet spot like Nova Launcher (best performance). The "action" part is mostly redundant and useless. It takes cues with the HOLO design and that's okay but it needs to offer more to compete

I initially thought there wasn't much special to Action Launcher. I didn't care for it when it was first released largely due to lag. However, when shutters came out, I gave it another try and haven't looked back. I am down to one homescreen and use more widgets than I did before. There is absolutely no quicker way through your app drawer. Unlike many of the most popular launchers, it isn't just the stock Launcher with themes.

Icons are getting smaller on each update. Why that??? They are so small now... Something is not right.

You can edit icon size in settings now.

It always seems to be optimised for larger screens whenever I try it. Icons & Icon label's are always chopped off no matter what I do to adjust everything. Samsung Galaxy SIII Mini BTW.

I had that problem on my Note 10.1 but past updates have fixed it.

It doesn't seem as bad after the 1.8.2 update this morning, just got the left hand edge of my Live Calendar Widget slightly chopped off along with the left hand edge of the S Voice icon and some of the Pocket Casts icon label chopped off.

It's nice that they have added shutter features for ics users....

Friggin useless - just wasted $3.99 on a launcher that keeps reloading the home screen / dock on each return from app. On a Note 2 with 2GB RAM that is. Not pleased.

Have you got Auto memory cache ticked in the Labs menu of Settings?

It's getting better with every update. But it also seems, with every update, something gets removed or disabled. Screen redraws are getting better. My main issue right now is with uninstalling apps. On my S3, I can only uninstall apps by dragging from App Drawer or using Androids Application Manager. My uninstall issue..To organize, if I have an app on my home screen, I hide it from the app drawer (why have it in 2 places right?). Prior to update to 1.6, I could long press the app on home screen and drag to Uninstall or Remove. Since 1.6 all I get is Remove when dragging from desktop. So to uninstall, I have to either, unhide the hidden app (since I hide my home screen apps from app drawer) or have to go into App Manger to uninstall. Until that is fixed, I have switched back to Nova.

The deal breaker for me against this app is the inability to set custom icons. I love the app drawer though... Totally helpful and in an intuitive spot.

Crashes nearly every time I exit an app. Used to be a lot better than it is now
Android Central Newsletter
Get instant access to breaking news, the hottest reviews, great deals and helpful tips
Thank you for signing up to Android Central. You will receive a verification email shortly.
There was a problem. Please refresh the page and try again.