Acer Chromebook R11 vs. Acer Chromebook R13: Comparing two very good Chromebooks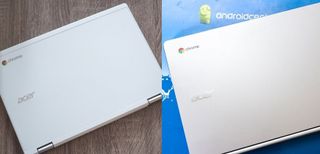 If you're looking to buy a Chromebook, whether it's your first or not, Acer has two great models that will fit most people's needs. We're talking about the Acer Chromebook R11 and the Acer Chromebook R13, and we're going to compare the two head to head so you can see which one might be the right one for you.
In many ways, both of these great Chromebooks are very alike. That stands to reason, as they are both made by Acer as products that are a step up from entry level in the space. Right away you can see that they look a lot alike — there aren't a lot of ways you can differentiate your look in the laptop market without going to extremes, but every product line has a signature design. The Acer R series of Chromebooks have all shared some great design features, but there are some readily apparent differences, starting with the materials used.
Design and construction
The R11 is plastic, while the R13 is aluminum. I can't knock Acer for building the R11 out of plastic — it's the best way to cut down on the weight and overall mass when you build something well-suited for using on-the-go. Being made of plastic doesn't mean it's not durable or well built. From our original review of the Chromebook R11:
On the other hand, there's something to be said about how a well-built aluminum laptop feels while you're using it. And the R13 is certainly well built. The full aluminum frame is solid and designed to take a bit of roughhousing, though we wouldn't recommend treating your electronics poorly. The finish rivals products from Apple and Sony and has slightly textured brushed feel. Even the specially built solid hinge is aluminum and cast as part of the frame itself. You'll be satisfied that you have a premium product that was worth the extra money if you go with the Chromebook R13.
Image 1 of 2
Both models have a 180-degree hinge so that they can convert into what Acer calls Display Mode. While in display mode the keyboard is disabled and all navigation is done via touch or with an attached keyboard and mouse. While neither can provide the optimal tablet experience with the rest of the body still attached, the R11 is hands down the better experience in "tablet mode."
It's a matter of size. While there are instances where a 13-inch tablet would be great, they are few and far between. The R11 is easier to hold, lighter and just not as awkward as the bigger R13 when you're trying to use either as a tablet replacement. One area where the R13 does have a Display Mode advantage is using it in the upright position that resembles a tent (see the image above). This is great for watching a movie or show, and the 13-inch display has an advantage here.
Both models work exactly as described when in Display Mode and we've seen no problems with the keyboard and trackpad properly switching on and off, even when repeatedly flipping things back and forth.
The Display
Image 1 of 2
The Acer Chromebook R11 has an 11.6-inch 1366x768 IPS display, while the Acer Chromebook R13 sports a 13.3-inch 1920x1080 IPS display. Both are touch-enabled, and responsive while using the multi-touch digitizers. While you may be tempted to think the R13 has the better screen simply because of the resolution, you shouldn't jump to conclusions.
The R13 has a very good display with excellent color reproduction and comfortable viewing angles. The lone drawback is the very high-gloss finish which can be distracting in certain lighting. There's nothing to complain about and even the pickiest user (speaking from experience) will be satisfied. But the display on the R11 is simply better.
Resolution aside, anything you're looking at will look better on the R11's display. It's more vibrant without being overly saturated and the contrast ratio almost mimics real life. There is little to no difference in the viewing angles, and the R11 holds that bright display even when not facing it directly.
Granted, we can't dismiss the resolution. A 1080p screen will be the better measurement for most things we do on the web, for watching a video and looking through a photo album. But the quality of the R11's panel surprised us. In a good way.
The trackpad and keyboard
Image 1 of 2
There are two things you need to know about the trackpad and keyboards on the two. Neither is backlit, which disappoints us as much as it does you. The second is that the R13 is a good bit better at both.
The R11 has a nice keyboard, and no matter how hard you type the keys will still bounce back and not wiggle like we see some other chiclet-style keyboards do. But the keys are made from a hard plastic and the coating isn't enough to completely overcome it. When you have a flat chiclet key with no contour, the material matters when you do a lot of typing. The R13 has about the same bounce and travel, but with a nice soft coating over each key. Yes, this is a bit of a nitpick, but if you do a lot of typing, it makes a clear difference. The R11 isn't bad, not at all. It's just that the R13 is a lot better.
The same can't be said of the R11's trackpad. It's fully functional with full multi-finger gesture support, but the finish not as smooth as it needs to be. We noticed right away that there's too much drag when gliding your finger across the trackpad and intricate or precise pointing can difficult. It works, and for the majority of pointing and clicking it's OK. Just OK, not great. A solution could be a good wireless mouse when you need to do anything with a lot of detail.
The R13 trackpad doesn't suffer from the same issue. It's not at the level of a MacBook or the Chromebook Pixel was, but it's smooth and you'll not have any complaints.
The hardware and specifications
Image 1 of 2
Both models have relatively inexpensive but completely adequate processors paired with fast memory. Chrome OS is designed to run very well on this type of setup, as processor demands are kept to a minimum while RAM is used to hold processes longer rather than clear itself. Chrome OS is very good at processing a thing once and keeping it alive for the fast access the next time. Here's a look at the specifications of each.
Swipe to scroll horizontally
| Category | Chromebook R11 | Chromebook R13 |
| --- | --- | --- |
| Display (Touchscreen) | 11.6-inch 1366x768 IPS | 13.3-inch 1920x1080 IPS |
| Processor | Intel Celeron N3150 | MediaTek M8173C |
| Memory | 2/4GB DDR3L | 4GB LPDDR3 |
| Storage | 16/32GB SD card | 16/32/64GB SD card |
| Connectivity | 802.11ac Wi-Fi, Bluetooth 4.0 | Wi-Fi 802.11ac, Bluetooth 4.0 |
| Ports | USB 3.0, USB 2.0, HDMI | USB-C 3.1, USB-A 3.0, HDMI |
| Est. Battery life | 9.5 hours | 12 hours |
| Charger | Proprietary 45W/19V | USB Power Delivery (USB-C) |
| Camera | 720p | 1080p HDR |
| Weight | 2.76lb | 3.3lb |
For the most part, they match up as you would expect a smaller, more portable laptop and larger and heavier laptop would. The R13 can be had with more storage, has a larger battery and better camera. The larger size of the R13 is what allows it to have a bigger battery, and the R11 comes in a budget-friendly 16GB / 2GB option while the R13 has a higher-priced option with more storage.
The R11 uses an Intel processor while the R13 uses a MediaTek ARM processor. If we were looking at these just a year ago, we would advise you to shy away from an ARM Chromebook in most instances. But a year is forever in the tech world, and today Chrome runs as well on an ARM CPU as it does the quad-core Celeron. We suspect this is because Chrome has been further optimized for the ARM instruction set and ARM chips have gotten a lot better. In any case, don't let the ARM processor in the R13 scare you off.
While neither are the powerhouses the expensive Core M Chromebooks are, both have enough of what it takes to power Chrome and the things you'll be doing with no problems.
One other thing to note is that the R13 has a USB 3.1 Type-C port in addition to a USB Type-A port. It also supports the USB Power Delivery standards, so it acts as the charging input as well as a charging output for any other USB-PD device. That's starting to matter more now, and chances are the next thing you buy will also use USB-C with Power Delivery for charging and data transfer.
Both Chromebooks give you access to the web and everything Chrome has to offer as well as access to Google Play. This gives you over one million apps that can help fill any gap in productivity or fun you'll come across while using Chrome.
The winner?
It's tempting to say the Chromebook R13 is the better laptop. But that's not taking into account the size and weight, and reasons why you might want something smaller or want something bigger.
If you'll be using your Chromebook at home or in the office most of the time, and want something with a bigger display and a roomier keyboard, the R13 is definitely the one to buy. Conversely, if you spend most of your time with your Chromebook at Starbucks or on a plane, the R11 has a clear advantage when it comes to portability because of it's smaller footprint and lighter weight.
And if you plan to use your Chromebook as a tablet very often, there is no question the R11 is the better option.
I'm not on the go without a full bag of gear very often. Being able to carry more stuff is one of the few perks of being in a wheelchair, as you can throw a bag across the handles and go. I would choose the Acer Chromebook R13 because of the bigger (if not better) display and superior trackpad. But if things were different and I spent more time commuting or liked to work in the park or coffee shop, I would pick up the Acer Chromebook R11. Nothing else makes enough difference to use the R13 while on the go or to use the R11 at your desk all day.
One thing we're sure of is that it's great to have such good choices in the mid-range when it comes to Chromebooks. Not too long ago you were stuck with only the low-end and high-end when it came to buying, and for many, the quality and performance from expensive models just didn't justify the high price.
Android Central Newsletter
Get instant access to breaking news, the hottest reviews, great deals and helpful tips
Senior Editor — Google Ecosystem
Jerry is an amateur woodworker and struggling shade tree mechanic. There's nothing he can't take apart, but many things he can't reassemble. You'll find him writing and speaking his loud opinion on Android Central and occasionally on Twitter.
I just received the pixel c. It just feels so solid and smooth. Uncompromised quality. I would rather stick with windows instead of Chrome OS. Compatibility issues and the OS lags at times. Ex of the new Samsung chrome books, the pen is very laggy. The pixel c can do everything Chrome OS can do and its not all cloud based.

Wtf. The author is talking about the R11 v. R13 - both mid-range Chromebooks.

The Pixel C can't even do everything my phone can, let alone everything my Chromebook can.

Great comparison article. I actually bought the R11 just before Christmas and have been very happy with it and it is gradually replacing the Samsung S2 9.7 tablet that I have for most functions. Lightweight, portable and really good battery life are major pluses. Android apps run not too bad but they need more work to adapt to the laptop space. For me, the R11 will be great for travelling and I've learned how to edit documents both with Google docs and Microsoft online with no major issues. One of the better purchases that I've made and it complements my higher powered Windows laptop really well.

Awesome. We often forget that the best doesn;t always have to be the newest/biggest/most expensive. The way you use your R11 is exactly what I was thinking when I wrote this. It's the better Chromebook when you're taking it out of the house.

It would be just insane to consider buying any of these two devices, with the avalanche of much better Chromebook just announced or coming down the pipe.

I think "insane" is pretty harsh for wanting to buy the Chromebook that I chose. It was on sale for $300.00 CDN which, with the current exchange rate, a good price for what I wanted to use it for. The newer ones coming out may be the latest and greatest, but quite a bit more expensive as well. When you're looking at $400-$500 US or more, it translates to be a fairly expensive purchase for a sometimes marginal increment in specifications. Have a good day!

My Acer R13 Chromebook has quickly become my second device at home. It has completely replaced my Nexus 9 tablet. And my Windows PC gets used maybe once a month and only because of some legacy Windows software like map updates for my Garmin GPS. I occasionally use tent mode, and tablet mode almost never... It's too unwieldy to hold. It's mainly a laptop and it works quite well. Performance and battery life are fantastic too. I've had it 2 months now and I couldn't be more pleased.

I've watched a few review videos and the R13 looks fantastic - except for a very noticeable screen wobble. Do you find the screen wobbles a lot during use?

I received my R13 64gb a week ago and I have to say I'm very impressed. Excellent build quality and the battery life astonishes me. It's my first Chromebook and I have to say that for my use cases, I'm not missing Windows at all.
My Nexus 9 has has been collecting dust since I received this thing.

I love my R11. It fits my lifestyle and meets my needs just fine at a good price/specs.

Who the hell holds their tablet like that? [portrait} Even for reading an Ebook . Of course they are both way to heavy to hold them for long in any orientation. Pass!

I don't use tablet mode at all, but the tent and attend modes are great for catching up on some shows

R11 has served me well for nightly surfing while watching tv...

Nice article. I read it in the AC app on my Nexus 6p. However... I read down to the bottom. Then I click the amazon link for the R11. Ok. Then I return to the article to click the amazon link for the R13. The return is ALL THE WAY TO THE TOP. !!!!!!!!!!!!!!!! My gawd, guys, can't you fix this?

I would consider the r13 for the 64GB alone

Why, when you can use an SD card to expand storage much cheaper?

I currently own the R11 with 4GB of RAM and I'm loving it. I picked it for the Android app functionality and I'm glad that I did. Apps are not able to access the SD card, but I'm hoping that will change with an update. I agree with Jerry about the screen. It is very nice considering its lesser resolution. Keep up these Chromebook articles, Jerry! You're my favorite writer on this site.

I'd like to see a comparison between the R13 and Samsung's new Chromebook Plus.

I bought an R11 last summer. To this day, I have been unable to run Android on it unless I tether it through my mobile. Whenever I try to access the Play Store using my home network, I receive a "GMS services are unavailable" error. I haven't found a fix for this after six months of trying. Google needs to get their act together to make these 2-in-1 chromosome what they are made out to be.

If you do a factory reset and update the device, the Google Play Store should be there. Otherwise there is a major defect in your device and I would definitely use the warranty.

I've ran it in standard, beta and developer modes. If you do a Google search, you see that it's not an uncommon problem. Like I said, it works when tethered but not on the home network. If I had unlimited data, it wouldn't be an issue. When I got my Note7, it was such an awesome device that I rarely used anything else. Downgrading to the S7 Edge made me use my Chromebooks again.

I got my brother the R11 for X-Mas and my family got me the Asus Flip which I returned immediately, too small. I was going too get an R11 for the $250 it has been during the holidays but supply was low so I checked out the R13 for $350 and I love it. I think the screen is definitely better than the R11. Battery life is nuts. Feels like a great laptop as long as you aren't gaming or editing.

I also tried the Asus Flip. It had better specs and reviews and I liked the aluminum body. I may have been fine with it, had it had an 11" screen. I returned it & bought the Acer R11. I switch back and forth between that and my HP14, depending on what I'm doing & where I'm at.
Android Central Newsletter
Get instant access to breaking news, the hottest reviews, great deals and helpful tips
Thank you for signing up to Android Central. You will receive a verification email shortly.
There was a problem. Please refresh the page and try again.