Acer announces the 7-inch A110 tablet, Tegra 3, 8GB, and microSD card slot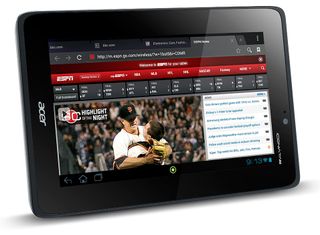 Acer has unveiled their take on the 7-inch Android tablet, and the Iconia Tab A110 will be available October 30 for $229.99. The 7-inch form factor has turned out to be fairly popular, but is there room for one more tablet with an entry-level price? We think there is, and this one has one thing going for it that plenty of you will love -- a microSD card slot.
The full specs are as follows -- Tegra 3, 1GB RAM, 8GB internal storage and a 1024x600 display, all running Android 4.1 Jelly Bean. The A110 weighs in at 0.86 pounds and is less than .5 inches thick, and certainly sounds ultra-portable. Add in features like Bluetooth 3.0, HDMI out via the dedicated microHDMI port, and a standard MicroUSB 2.0 port and you might have a recipe for success.
Acer certainly thinks so, and we're excited to have a look at another "real" Android tablet in the 7-inch size. The Iconia A110 goes on sale in the US and Canada on 12 short days. Read the full press release and see a gallery of press pictures after the break.
Image 1 of 18
Pocket Size Power Player:Acer Introduces Iconia A110 Tablet
SAN JOSE, Calif., (Oct. 18, 2012) Acer America today expanded its Iconia™ Tab lineup with the A110, a lightweight, pocket-sized 7-inch multi-touch tablet. Available Oct. 30 in the United States and Canada, the compact and stylish Iconia Tab A110 is perfect to tote around at all times to read, browse, play games and enjoy media.
"Today's consumers are increasingly mobile and want easy and instant access to entertainment at all times," said Paul Tayar, senior director of product marketing for connected devices, Acer America. "The Iconia Tab A110 is another example of how Acer is meeting the needs of consumers, by providing tablet form factors that combine portability and performance for fun and gaming, at affordable prices."
More comfortable to browse on than a smartphone, the trim A110 tablet is just 0.86 pound and less than a half-inch slim. Easy to hold in one hand for hours of comfortable enjoyment and slender enough to fit in a pocket or handbag, the tablet delivers bright and crisp images for movies, photos, books and games. Featuring a vibrant capacitive multi-touch display with 1024x600 resolution, the A110 ensures optimal screen viewing from every angle – up and down
and left to right.
Powered by the latest Android™ 4.1 "Jelly Bean" operating system, the A110 tablet provides faster and smoother performance for applications and widgets. Users can customize and expand their tablet experience with ease using the Android™ Market to choose from hundreds of thousands of apps to enjoy the A110 any way they want. Also preloaded on the A110, Google Play provides users with an entertainment hub and allows one place to find, enjoy and share apps, music, movies and books from across the web. Google Currents provides free online magazines from hundreds of publishers and online.
The A110 comes equipped with the NVIDIA® Tegra™ 3 quad-core processor, delivering industry-leading performance and responsiveness for running multiple apps, smooth HD video, fast web browsing and console-like gaming. The tablet's NVIDIA Tegra 3 processor features a unique Super 4-PLUS-1™ Quad Core CPU design with a fifth Battery Saver Core, which handles less demanding activities, ultimately using less power and improving battery life. The A110
supports long battery life with smart power management providing up to 7.5 hours of battery life.
Offering superior expansion and connectivity, the Iconia Tab A110 has a micro-USB 2.0 port for hooking up other devices, and a MicroSD slot providing additional storage up to 32GB and easy file transfers. For showcasing entertainment in a larger format, users can easily connect to an external LCD or HDTV via the A110's MicroHDMI output, with dual display support.
For added enjoyment, a two megapixel front-facing web camera enables face-to-face chats or quick snaps for still photos. Bluetooth® 3.0 technology allows users to wirelessly connect to other devices such as Bluetooth printers, keyboards, headsets or speakers. The A110 also includes 1GB of memory and 8GB internal storage.
Pricing and Availability
The Acer Iconia Tab A110 will be for sale on October 30 at leading U.S. and Canadian retailers with pricing beginning at $229.99 USD and CAD.
About Acer
Since its founding in 1976, Acer has broken barriers between people and technology, enabling users to explore, create and grow. Acer ranks No. 2 for notebook PCs globally. The Acer Group employs 8,000 people across the globe, and revenues for 2011 reached US$15.7 billion.
Acer's channel business model is instrumental to the company's success, while its multi-brand approach integrates Acer, Gateway, and Packard Bell brands in worldwide markets. Acer designs environmentally friendly products and, with its vendors, has established a green supply chain.
Acer is proud to be a Worldwide Partner of the Olympic Movement. That includes supporting the Vancouver 2010 Olympic Winter Games and London 2012 Olympic Games.
Android Central Newsletter
Get instant access to breaking news, the hottest reviews, great deals and helpful tips
Senior Editor — Google Ecosystem
Jerry is an amateur woodworker and struggling shade tree mechanic. There's nothing he can't take apart, but many things he can't reassemble. You'll find him writing and speaking his loud opinion on Android Central and occasionally on Twitter.
Just what the world needed.

Man, whats with the gigantic trim from screen to edge?

Avoiding issues with the fruit company?

You had me at mSD... ...Then you gave me cold feet at 1024x600... -Suntan

Exactly! The N7 set the bar for specs and price. I'll pass

The reapers, er I mean the competition is definitely bested by Google & Asus when it comes to the 7" inch tablet market. But you can't blame them for trying. Still, MicroSD and a microHDMI port does seem beneficial to those wishing the N7 was a better multimedia device.

What makes the Nexus 7 better?

Well for one, the Nexus 7 is a NEXUS. So you KNOW you are going to get the latest Android for a long time, with no bloatware, strange changes by a manufacturer, or additional bugs. Two, it has a higher resolution screen. Three, it costs less. And other than the SD slot, the Acer is isn't faster, doesn't have more built-in storage, doesn't have more memory, doesn't have a rear camera. In short, it has one and only one better feature, with several worse AND a higher price..... FAIL

indeed. i would do $250 with a proper resolution, but even $200 with 1024x600 is too much.

Plus, it has horrible viewing angles just like the A100. I sold my A100 when the N7 was released.

Couldn't have said it better.

I'll pass. That resolution is terrible.

SD Card AND HDMI Out Are The Two Things I Still Wish My N7 Had.

Has anyone else noticed that in some pictures, it's in the normal tablet format (with the back, home, and recent apps button with the inevitable Acer skin on the bottom left, and the status bar on the bottom right), while in other pictures it's in the Nexus 7 format (with the stock back, home, and recent apps button on the bottom and the status bar on the top)? I wonder what this means. Maybe you could switch modes on the tablet?

Those extras like expandable memory and HDMI out might be able to sway a few for the extra $30, but the screen resolutions pretty much cancels that out. It looks like they're going to stick with the A100's tradition of terrible screens. Acer, sometimes I wonder if you're even trying.

Considering that HD isn't relevant until screens of 32" or higher, what's wrong with the screen? Whiners, whiners, whiners.

No rear camera is the only real downside I can see, Screen res isn't great, but I still might get in on this one....

Why microSD? Why a dreadful resolution? It seems there is a target market that is not being addressed. Photographers that want a good way to view shots in the field. That calls for an external standard slot and decent resolution. Aren't most DSLR cameras equipped with standard sized SD card slots? I can see a microSD for a phone, but for a tablet?

microSD card adapter, your argument is invalid.

Who looks at the display anyways, right guys and gals? Keep up the good work acer.

My biggest issue is with the screen resolution. I currently have the original Samsung Tab and the biggest reason I'd have for "upgrading" would be to get better resolution. Hence, I'll pass on this one.
I agree that the addition of the mSD slot is a great benefit and is a killer against other small tablets without it.
I'm not fond of the Acer brand but that is because of some ancient dealings with them in the 80s when they were primarily a OEM component company; IE CD-ROM Drives. Their support stunk. However, they are a different company, now, so perhaps (hopefully) they are better at that.

Anyone care to inform me why i should pick up any android tablets instead of waiting for any windows 8 tablets? i own a HTC EVO LTE so you can sort of say im already in googles 'play ground' but im talking about deep into the future maybe a year or two in (if i buy a tablet now i wont buy another one for 3 years lets say) so yeah... i know android has the apps going for it and will continue to. But any other reason?

I don't see what the advantage is of Windows 8 at this point. Windows RT will have very few apps and if you want full Windows 8 on a tablet it'll cost you well over $800. Android at least has some tablet apps and if you like the 7" form factor all of the phone apps look fine.

Perhaps there are people that don't like MS-Windows? Or don't like Microsoft? Or just PREFER Android? And then there is the HUGE price difference between the two...

tI love the fact that it isn't crippled with fixed memory, but unfortunately the rest of the specs are too compromising.

All tablets and phones have fixed memory. You mean "storage".

Acer's A100 didn't sell very well because of the screen with horrible viewing angles and the short battery life.
Alot of bad reviews and returns because of those issues. Hopefully, this time they have learned from past mistakes
and put out a better device. If not, the same thing will happen again. With the Nexus 7, kindle fire HD, new nook tablet HD, and the new smaller ipad coming out , the competion will be fierce this holiday season.
Android Central Newsletter
Get instant access to breaking news, the hottest reviews, great deals and helpful tips
Thank you for signing up to Android Central. You will receive a verification email shortly.
There was a problem. Please refresh the page and try again.