It's easy to think of the BeeDrive as a portable SSD, but it's so much more than that. It's the software features you're paying for here, and you get quite a lot on that front. The BeeDrive lets you seamlessly back up data from your Windows machines, but where it truly comes into its own is the ability to back up photos and videos from your phones over Wi-Fi. All of this is extremely easy to set up and use, and once you do so, it's all automated — any new photos and videos will be automatically backed up. The hardware itself lacks ingress protection, and there's no encryption here, but if you want a hassle-free way to back up your data, it doesn't get any easier than the BeeDrive.
Pros
+

Straightforward to set up and use

+

Backs up data from Windows machines seamlessly

+

Powerful software features

+

Automatically backs up photos and videos from your phone over Wi-Fi

+

Easily portable
Cons
-

Only goes up to 2TB

-

Misses out on encryption

-

No macOS utility just yet
Why you can trust Android Central Our expert reviewers spend hours testing and comparing products and services so you can choose the best for you. Find out more about how we test.
I do a decent job backing up data on all the devices in my house. Photos and videos taken on my phone and my wife's phone are uploaded to Google Photos (in the storage saver tier), and the originals are saved to a DiskStation DS1522+. All the data that's on my work machine and my wife's gaming rig is also backed up to the same NAS, and all this is done automatically.
This data is then backed up to another NAS — a DiskStation DS3622xs+ — and from there, a chunk of it is saved online to a Google Drive instance. I've been doing this for a while now, and I'm already using over 150TB of data locally and about 40TB in Drive (which I'll be migrating to another cloud provider soon). A NAS provides the best way to store and access your data, but it needs a hands-on approach, and you'll have to factor in the costs of the NAS server itself and the associated hard drives.
What if you don't want to do all that? Say you just need a reliable way to back up your photos, videos, and documents, and have that data available anywhere you go.
That's the premise of the BeeDrive. At its core, it is basically an external SSD that can be connected to your Windows machine, and back up the data on that device. But you can do that with any of the best external SSDs already available in the market today. Where the BeeDrive differentiates itself is the software. It comes with custom software features that let you back up photos and videos from your phones and other devices, and the best part is that you just need to configure it once — after that, data is backed up automatically
So if you don't want to invest in a NAS and hard drives but want an easy way to safeguard your data, the BeeDrive may just be the product you need.
Synology BeeDrive: Specs, pricing, and availability
BeeDrive launched earlier this year, and it is now available direct on its website and at Amazon. There are two variants on offer: a 1TB model that retails for $119 in the U.S. and £130 in the U.K., and there's a 2TB version that's available for $199 Stateside and £215 in the U.K.
Now, SSD prices have nosedived over the last 12 months, and the retail price of the BeeDrive is more than what you'd pay for a traditional portable SSD. What you're paying here isn't for the hardware, but the software features. As with the brand's NAS servers, you get a standard three-year warranty for the BeeDrive.
Swipe to scroll horizontally
| Category | Synology BeeDrive |
| --- | --- |
| Storage | 1TB/2TB |
| Connector | USB-C |
| Interface | USB 3.2 Gen 2 (10Gbps) |
| Dimensions | 65 x 65 x 15mm |
| Weight | 43g |
| Price | 1TB: $119, 2TB:$199 |
Synology BeeDrive: Design
At a first glance, the BeeDrive looks like any other portable SSD in the market today. It's a diminutive puck-sized device that easily fits in your palm, and coming in at just 43g, it's designed to be used anywhere. The drive has a USB-C port that uses a USB 3.2 Gen 2 interface, and it goes up to 10Gbps.
The design itself is unassuming, and other than the BeeDrive logo, you don't get any markings on the chassis. There's a white status LED tucked into a corner, and it lights up when the drive is in use. You get a USB-C to USB-C cable in the box as well as a USB-C to USB-A dongle that lets you plug in the BeeDrive to a full-size USB-A socket.
I used the BeeDrive for over a month now, and most of the time, it's been plugged into my gaming rig. While I didn't see any issues with the design or build quality, the biggest downside to the BeeDrive is that the chassis isn't rugged. Most portable SSDs have aluminum casings that provide a layer of protection to the SSD housed within, but that isn't the case here.
The BeeDrive is made out of plastic, and while it has decent build quality, I'm not sure of its ability to withstand tumbles of any kind. It also lacks ingress protection of any kind, so you're better off taking care while using the SSD.
Synology BeeDrive: Software features
Just like Synology's best home NAS servers, the biggest reason for picking up the BeeDrive is the software features. Just plug the drive into a Windows machine and run the installer (the .exe is pre-installed), and once it's done, you'll get to the home screen. BeeDrive has three core features when plugged into a Windows machine: Computer Backup lets you back up folders on your computer with ease, File Sync allows you to sync files between your computer and the BeeDrive, and Mobile Backup lets you automatically transfer photos and videos from your phones to the drive.
Mobile Backup is particularly great because it lets you transfer photos and videos from your phone over Wi-Fi. Setting it up is straightforward; download the BeeDrive app — it's available for Android and iOS — and scan the QR code that shows up on the Mobile Backup page of the desktop client.
Doing so will pair the app with the desktop client, and then you can seamlessly transfer photos and videos over your home Wi-Fi network. You don't even need to use Wi-Fi; I plugged in the BeeDrive to my gaming rig that's connected to the router over Ethernet, and it had no issues transferring data from my phone.
This is all done automatically, and the fact that you don't need to connect the BeeDrive to your phone is a huge differentiator. You can set it up to transfer data from all the phones in your household — up to five — and configuring to do so is about as straightforward as it gets. The best part about all this is that whenever I take a photo or video on my phone, it's automatically backed up to BeeDrive.
Of course, the machine it is connected to needs to be powered on at the time, but other than that, the feature-set is identical to what you get with Photo Backup in Synology's NAS servers. I talked about how a Synology NAS server is the ideal alternative to Google Photos, and I'll now include the BeeDrive in that list — the drive offers a seamless way to store your photos and video in their original quality.
Another feature I like a lot is the ability to send photos and videos to your Windows machine via a feature known as BeeDrop. I used Pushbullet for this in the past; nowadays, I transfer photos to a folder on my NAS and then pull them up on my machine, and it tends to be a bit tedious. BeeDrop is a much more elegant system, and I'm continuing to use the drive daily just for this feature alone.
Computer Backup is also a standout feature, and it comes with versioning and the ability to delete archived files. You can also set it up so that files that exceed a certain size aren't included, and you can exclude files by their extension. File Sync is similarly handy in its own right, and it offers two-way sync — so that any changes made on your machine will be reflected in the BeeDrive — or standard one-way upload. You'll find the same options to limit files based on extensions or size, and the feature automatically syncs selected files between the two devices.
While there's clearly a lot to like, the BeeDrive misses out on hardware encryption. Most products in this category offer AES 256-bit encryption as standard, and that's missing — there's no way to encrypt the files stored on the drive. Synology needs to do better in this front, and it should consider rolling out the same level of protection as its NAS servers.
And finally, there's no way to use the BeeDrive with a macOS client at the moment; a native app is currently in the works, and it's said to be available before the end of the year. For now, if you're interested in using the BeeDrive, you'll need to connect it to a Windows machine.
Synology BeeDrive: Performance
I set up the BeeDrive with my gaming rig, and configured it to back up photos and videos from my phone and my wife's phone. I'm also backing up two folders on my machine to the drive, and in just over a month of use, I've already used up 150GB of data. I was sent the 1TB model for testing, and if you're interested in picking up the BeeDrive, I highly recommend going the 2TB route — you get a little more headroom that way.
As for the hardware, the BeeDrive uses a custom-built SSD paired with a USB controller, and it's touted to go up to 1,050MB/s for transfers. In my testing, I found the drive to hit 972MB/s for sequential reads and 707MB/s for sequential writes, and these are broadly in line with other portable SSDs I've used.
There are absolutely zero issues in daily use, and the BeeDrive consistently uploaded photos, videos, and synced documents automatically. It took just over 30 minutes to back up all the data on my Galaxy S23 Ultra (around 60GB), and the drive took less time than that to back up a similar amount of storage that's on my Windows machine.
Now, while a lot of the features outlined here are similar to what you'll find on a full-fledged NAS, the biggest limitation for the BeeDrive is that it needs a host device. The defining feature of a NAS is that it runs 24/7, and that allows for data to be backed up instantly. With the BeeDrive, however, you can only do so when the machine it is connected to is powered on.
Synology BeeDrive: The competition
Samsung is the biggest player when it comes to portable storage drives, and the T5 continues to be a stellar choice. The drive has a rugged design, proven reliability, is straightforward to use, and affordable. The downside is that you miss out on all the software features on offer with the BeeDrive.
If you need a similar feature-set, Amber X is a drive that has a software suite that lets you easily back up data from several devices. It has more ports and doesn't need to be connected to a host device, but the downside is that it's much more costly — the 500GB option is available for $249.
Synology BeeDrive: Should you buy it?
You should buy this if:
You need an easy way to back up data from your Windows machines
You want to back up photos and videos from your phones automatically
You want an external SSD with useful software features
You want a portable drive that's easy to set up and use
You shouldn't buy this if:
You need more than 2TB
You need a rugged portable drive
You want to use the BeeDrive with a MacBook
While I don't really use external SSDs that much, I have a half-dozen lying around in the house. The biggest issue with most of these drives is that you have to manually transfer data from the target device. That isn't the case with the BeeDrive, and the ease of use combined with the portability makes it a stellar choice for backing up data.
Synology deserves a lot of credit for the software features on offer here; it managed to bring the best features from its NAS servers to a much more portable form factor, and that is the BeeDrive's biggest selling point. The hardware you're getting with the drive is immaterial — you're buying this thing for the software, and there is a lot to like in that area.
If you need a hassle-free way to back up your photos and important documents automatically, I can't think of a better option than the BeeDrive. Sure, it's missing out on encryption and only goes up to 2TB, but those shortcomings are easily offset by the stellar feature-set.
Thanks to its strong feature-set and portable design, the BeeDrive is the best way to back up photos, videos, and other data from your phones and other devices in your home.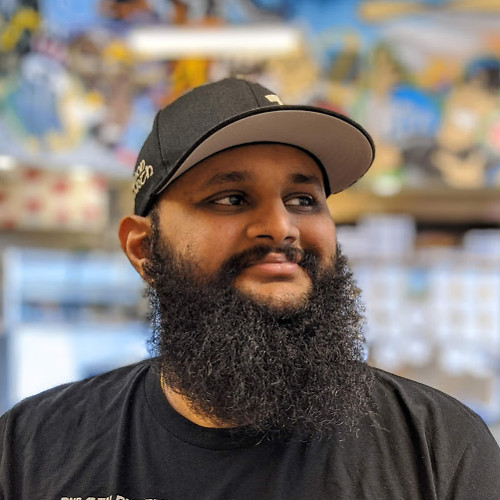 Harish Jonnalagadda is a Senior Editor overseeing Asia at Android Central. He leads the site's coverage of Chinese phone brands, contributing to reviews, features, and buying guides. He also writes about storage servers, audio products, and the semiconductor industry. Contact him on Twitter at @chunkynerd.