The DiskStation DS3622xs+ is the most powerful Synology NAS yet, delivering a laundry list of useful features. You get dual 10GbE networking, 16GB of RAM out of the box, 12 drive bays with enough extensibility to add 24 more, and the best set of software features you'll find in this category. In short, the DS3622xs+ is a phenomenal server for home users as well as businesses looking to get the most out of their storage needs.
Pros
+

More than enough drive bays for demanding users

+

Dual 10 Gigabit Ethernet ports out of the box

+

Intel Xeon hardware

+

16GB ECC memory installed

+

High degree of hardware extensibility

+

Class-leading software features

+

Five-year warranty
Cons
-

No M.2 slots

-

Limited to Synology's branded HDDs

-

Very costly
Why you can trust Android Central Our expert reviewers spend hours testing and comparing products and services so you can choose the best for you. Find out more about how we test.
Synology makes the best home NAS servers, and the brand also has a strong portfolio of models that are aimed at businesses. While standard DiskStation models are versatile for office use cases as well, there are a few models that are designed for prosumers, and the DiskStation DS3622xs+ falls squarely in that category.
This is a gigantic 12-bay NAS server that has a laundry list of features. It is powered by Intel's Xeon D-1531, has two Gigabit ports in addition to two 10 Gigabit Ethernet ports, the ability to add a further 24 drives via two DX1222 units, 16GB of RAM out of the box — going up to 48GB in total — and class-leading software features.
Retailing for $2,999, the DS3622xs+ is among the costliest products the brand has to offer, so is it worth the asking figure? I loaded up the DS3622xs+ with six 8TB HAT5300 drives and used it for the better part of a year, and here's why it is the ultimate NAS server.
Synology DiskStation DS3622xs+: Pricing and availability
Synology launched the DiskStation DS3622xs+ in Q4 2021, with the server going up for sale in January 2022. The 12-bay NAS is available in all regions where the brand has an official presence, and in the U.S., you can pick it up via Amazon, B&H, and other major retailers. The DS3622xs+ costs $2,999 in the U.S. and £2,999 ($3,695) in the U.K.
Synology's NAS servers usually have a three-year warranty, but given the target audience for the DS3622xs+, you get a five-year warranty as standard.
Swipe to scroll horizontally
| Category | Synology DiskStation DS3622xs+ |
| --- | --- |
| Internal drive bays | 12 (18TB each bay), 3.5-inch HDD, 2.5-inch HDD/SSD |
| Network interface | 2 x 10 Gigabit Ethernet, 2 x Gigabit Ethernet, Link Aggregation |
| USB ports | 2 x USB 3.2 Gen1 |
| Extensibility | 2 ports, connectable to DX1222 |
| PCIe | 1 x Gen3 x8 network slot |
| CPU | Six-core 2.2GHz Intel Xeon D-1531, 64-bit |
| Plex transcoding | No |
| RAM | 16GB DDR4, four SODIMM slots, up to 48GB total |
| M.2 slots | No |
| File system | Btrfs, EXT4 |
| Cooling | 2 x 120mm, 25.8dB(A) |
| Dimensions | 270 x 300 x 340 mm |
| Weight | 21.6 lb (9.8 kg) |
Synology DiskStation DS3622xs+: Design and features
The DiskStation DS3622xs+ has a similar design aesthetic to the rest of the brand's portfolio, but due to the number of drive bays, it looks gargantuan — it looks like an oversized DiskStation DS1621xs+. That said, it isn't too big considering you get 12 drive bays here, and that's a good thing. You get good passive airflow thanks to vented sides, and there are dual 120mm fans at the back that ensure the drives don't heat up too much under load.
While 2-bay models like the DiskStation DS723+ have a chassis that's largely made out of plastic, the DiskStation DS3622xs+ is entirely milled out of aluminum, and it adds a lot of weight. The drive trays are still plastic, and they have a tool-less design for installing 3.5-inch HDDs; you'll need to use the bundled screws to mount 2.5-inch SSDs.
Image 1 of 4
The front panel has the power button located in the middle, with LEDs for system status, alerts, and the four LAN ports located on the sides. The DS3622xs+ weighs an absurd 21.6 lb (9.8 kg) and a key contributor to the weight is the internal PSU. I'm not a big fan of the move as an external power brick is straightforward to switch out if there's an issue, but considering the NAS has a five-year warranty, it isn't a huge drawback.
Due to the size and the number of drives it can hold, the DS3622xs+ gets very loud. I set up the NAS in my home office with six HAT5300 drives, but I had to move it to another room due to the noise levels generated when the drives are in use. This isn't a huge deal for businesses as the NAS will be housed with the rest of the networking gear, but if you're considering the NAS for home use, you will need to figure out where to install it.
Synology DiskStation DS3622xs+: Ports
The DiskStation DS3622xs+ is the best NAS from Synology yet, and there is a lot to like here. You'll find two 10 Gigabit Ethernet ports at the back, and they can be bridged via Link Aggregation — same goes for the dual Gigabit Ethernet ports that are above the 10GbE ports. The 10G BASE-T connections give the NAS plenty of potential for future headroom, and there's PCIe Gen 3 x8 connectivity for adding further networking interface cards or installing M.2 SSDs.
There's also an out-of-band (OOB) management port that provides a dedicated way to troubleshoot the system. Another useful addition is the dual expansion ports, and you can add a total of 24 drive bays by attaching two DX1222 units for a total of 36 drive bays. That should be more than adequate for a medium-sized business, and the extensibility on offer — by expansion slots and PCIe — allow the DS3622xs+ to be future-proof.
You'll find two USB 3.2 Gen 1 ports as well, but they're limited in usability and don't serve a lot of use. But on the whole though, the DS3622xs+ does all the right things on the connectivity front, and you get all the ports you need out of the box with the ability to add more should you need to down the line.
Synology DiskStation DS3622xs+: Performance
Synology has used Intel's ageing Xeon D-1531 in its business NAS servers for some time now, and that's the case with the DS3622xs+ as well. Newer Xeon variants like the W-1250 fare better for most workloads, but it's clear that Synology doesn't want to switch to the platform just yet. And while the D-1531 debuted in 2015, it still does a brilliant job in daily workloads.
The NAS comes with 16GB of DDR4 RAM out of the box, and the four SO-DIMM slots allow for a total of 48GB of RAM to be added should you need to increase memory.
Now, a big issue with the DS3622xs+ is that it is limited to Synology's HAT5300 3.5-inch and SAT5200 2.5-inch SSDs. You're still able to create storage pools with the likes of IronWolf Pro or WD Red drives, but you'll get a warning message when you use an HDD that isn't whitelisted. Synology clearly said this would be the case for its business NAS servers following the introduction of its own hard drives, and I'm not going to fault the brand here.
This would have been a bigger issue if Synology started enforcing a similar policy for its home servers like the DiskStation DS723+, but that thankfully hasn't materialized, and the brand says it has no intention of going that route. Given the retail cost of the DS3622xs+ and that the NAS is aimed at businesses looking for on-premises data storage solutions, it makes a lot of sense for Synology to require the NAS use its own hard drives.
The downside here is that HAT5300 drives are roughly double the cost of standard NAS drives. A 16TB IronWolf Pro currently costs $279, and the same drive in the HAT5300 series retails for $615. So if you're a home user and are interested in the DS3622xs+, know that there is significant outlay when it comes to picking up drives.
That said, I used the NAS with IronWolf Pro drives before switching to HAT5300, and they worked just fine. The warning message in DiskStation Manager (DSM) is annoying, but the DSM 7.1 update fixes that to an extent. The biggest issue with using a drive that isn't whitelisted is that you miss out on the warranty.
In a similar vein, there's no SHR here — unlike most home NAS servers. Synology doesn't offer the feature on its business servers branded in the xs/xs+ category, and while that affects scalability to an extent for home users, it isn't a hug factor for businesses buying drives in bulk.
As for day-to-day use, the DS3622xs+ is phenomenal. The NAS is touted with sequential reads that go up to 4,719MB/s and 4K reads of 260,691 IOPS, so you get a lot of headroom here in terms of scalability. The dual 10GbE ports play a big part in that, and while there's no M.2 slots, you can easily saturate the bandwidth of the 10GbE ports with the HAT5300 drives.
The power you're getting here is intoxicating, and the DS3622xs+ hits all the right notes in this regard.
Synology DiskStation DS3622xs+: Software
The biggest differentiator with Synology's NAS servers is the software, and the DS3622xs+ has an exhaustive feature-set that makes it a great choice for home users as well as businesses. DiskStation Manager 7.1 has all the utilities you need for virtualization, backing up data to the NAS and external cloud services, offline mail and office collaboration suite, and a lot more.
DSM has far too many features to cover everything individually, so I'll share some of the highlights and what I've used with the DS3622xs+ over the course of the last year. Active Backup is a fantastic utility that lets you back up virtual servers, Windows and macOS clients, and Microsoft 365/Google Workspace accounts with relative ease. The best thing about the utility is that it has deduplication to reduce file sizes and has multi-versioning. I use the feature to back up the Windows machines in the house, and it does a thorough job with little intervention from my side.
Drive and Office are two services that are ideally suited for businesses. Office provides a similar set of tools as Microsoft's office suite, and as the content generated is stored on the NAS itself, you have more control over the data. It's also great for running virtual servers, and I've spun up Windows 11 VMs for testing the initial builds without having to install anything on my gaming rig.
That's just a limited overview of what's possible with DSM 7.1; there's no shortage of options if you want a NAS with good hardware, but when it comes to the software side of things, Synology has a huge lead.
Synology DiskStation DS3622xs+: The competition
If you want a high-end server for business use, the QNAP TVS-h1688X has a lot going for it. It has better hardware in the form of Intel's Xeon W-1250, 12 drive bays for 3.5-inch HDDs and four bays for 2.5-inch HDDs or SSDs, 32GB of RAM installed out of the box, and comes with two 2.5 Gigabit ports in addition to dual 10 Gigabit Ethernet connectivity.
You also get two M.2 slots here, the ability to add Thunderbolt 3 connectivity, and an HDMI port. The software isn't as refined as the DS3622xs+, but there's no denying that the TVS-h1688X is a hardware powerhouse. It retails for $3,189, and while that is more than the DS3622xs+, you are getting more features.
Synology DiskStation DS3622xs+: Should you buy it?
You should buy this if:
You want a NAS with plenty of drive bays
You need 10GbE connectivity out of the box
You want an easily extensible design
You need a powerful NAS for business use
You shouldn't buy this if:
You want to use M.2 drives for storage
You need a home server for multimedia use
All things considered, the DiskStation DS3622xs+ is a fantastic NAS server. It has all the hardware features you could ask for, and the best part is that it is easily scalable. The only thing missing on the hardware front is M.2 drives, but other than that, the DS3622xs+ nails the fundamentals.
I'm not too bothered by the limited options for hard drives as this is a NAS that's primarily aimed at businesses. And in that setting, it does a magnificent job, providing all the features you need for managing user data and storage requirements for a medium-sized office. While it is an overkill for home users, the hardware on offer makes it a great choice if you want a high-end server.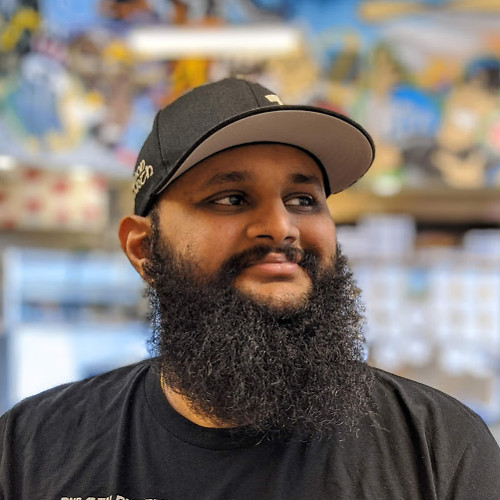 Harish Jonnalagadda is a Senior Editor overseeing Asia at Android Central. He leads the site's coverage of Chinese phone brands, contributing to reviews, features, and buying guides. He also writes about storage servers, audio products, and the semiconductor industry. Contact him on Twitter at @chunkynerd.