Fiio's R7 is one of those products that immediately makes sense once you start using it. The versatility on offer is incredible, and the R7 has so many features that takes it beyond most other products in this category. The 5-inch screen is great for browsing the vanilla Android interface, and you get full access to the Play Store. Fiio did a great job with its custom tweaks, and you get a lot of added features that make the R7 an excellent network streamer, including Wi-Fi 6, Bluetooth 5.0, Roon integration, a MicroSD slot, and USB-C connectivity. The built-in DAC/amp is great on its own and allows the R7 to deliver a clean sound without any distortion, and overall, this is a truly outstanding product.
Pros
+

Vanilla Android interface with useful Fiio additions

+

Clean sound with no distortion

+

All the wired and wireless connectivity options you could ask for

+

Brilliant as an all-in-one player

+

Drives all IEMs and headphones without an issue

+

Robust design

+

MicroSD slot for up to 2TB of storage
Cons
-

Screen limited to 720p

-

Won't get Android updates
Why you can trust Android Central Our expert reviewers spend hours testing and comparing products and services so you can choose the best for you. Find out more about how we test.
Fiio was on a roll in 2022, with the Chinese brand introducing 15 products across a variety of categories. I reviewed most of the products introduced last year, including the terrific K9 Pro high-end DAC, BTR7 portable Bluetooth DAC, FA7S IEMs, the budget-focused K5 Pro DAC, and the M11S audio player.
Fiio isn't taking its foot off the gas in 2023 — far from it. The brand is venturing into new categories and is set to roll out exciting additions to its burgeoning portfolio, and I'm kicking things off with one of the most innovative products it has launched to date: the R7. Fiio calls this a desktop audio player, but it's so much more than that: it has a high-end DAC featuring ESS and THX components, headphone amp, all the ports you could ask for, and comes with Android 10 out of the box.
It connects to just about anything, has the power to drive any headphone, and includes a pre-amp that allows it to work with powered speakers. The highlight is that thanks to a clean Android 10 interface and large screen at the front, it serves as an all-in-one network streamer that plays just about any file and from any source. Honestly, the feature-set on offer here is unique, and if you're looking for an all-in-one solution for listening to high-res music, the R7 may just be what you've been waiting for — it definitely has been a revelation in the three weeks I used it.
Fiio R7: Pricing and availability
The R7 is the first product in a broader push by Fiio aimed at desktop audio, and it debuted alongside the vendor's first speakers, the SP3, and the FT3 wired over-ears. The R7 debuted in China in January 2023 and is making its way to global markets over the course of February, where it is retailing for $699.
Fiio sent the standard black model of the R7 for review, but there's also a white version that looks really good. That's launching a little later, and if you're eyeing this streamer, you should wait for the white model.
Fiio R7: Design
The R7 is diminutive considering the sheer amount of features on offer, and at 2.9 lb (1.3kg), it weighs half as much as the K9 Pro. What's unique about the R7's design is the vertical orientation, and this makes a lot of sense considering it has a similar-sized 5-inch screen as the M11S. There are three navigation buttons below the screen, with Fiio branding at the bottom.
Much like the M11S, the screen on the R7 is decent enough for its intended use case: music streaming. The 720p resolution doesn't give you the best pixel density, but is more than serviceable for browsing the likes of Tidal or Qobuz, playing locally-stored songs (there's an SD card slot), or via a media server.
What I will say though is that it a large portion of what makes the R7 so good to use is the screen; the product takes the best features of the M11S and K9 Pro and brings it together in a unique form factor. On that note, while I like the fact that there are physical nav buttons, Android 10 introduced system-wide nav gestures, and they work just fine in daily use.
Continuing with the design, there are two knurled knobs to the right of the screen, with one serving for power and volume control and the other used for source selection. The versatility on offer means the R7 works with four distinct outputs: headphones and pre-amp, allowing you to use both headphones and active speakers at the same time, headphones out, just pre-amp, and a standard line-out option.
Like the K5 Pro and K9 Pro, both knobs on the R7 have RGB lighting, with the color changing based on source. For lossy music from sources like Spotify, the knobs light up in blue. Source files at 16-bit and under 1000kbps are classified as Standard Quality, and the knobs go cyan to indicate the same. Anything over that is High Quality, and you get a yellow light, with green for DSD playback and magenta for MQA.
The headphone connectors are behind a dust cover, and you get a full-size balanced 4-pin XLR port, balanced 4.4mm port, and single-ended 6.35mm jack. There's a smaller dust cover in the box that can be used for the XLR port when not in use, similar to what you get on the K9 Pro. On that note, Fiio bundles a decent number of accessories in the box, including a 3 meter USB-A to USB-C cable, two bases — one flat and one angled — along with adhesive, and a 3.5mm to 6.35mm connector.
Image 1 of 4
The design aesthetic is in line with other devices Fiio has introduced in recent months, and the white color option in particular looks stunning. The standard black variant looks good enough in its own right thanks to the all-metal chassis, and the vented sides ensure the R7 gets good passive airflow — there's a dust filter underneath to prevent dust ingress.
The rubber base bundled in the box provides a five-degree angle, and makes using the R7 just that little bit easier. As the R7 I have is an early unit, I didn't get a remote control in the box, but it should be bundled with retail orders. Overall, I really like the design of the R7, and Fiio did a fantastic job in this regard.
Fiio R7: Connectivity
The R7 has the most extensive set of connectivity options of any music streamer I've used yet, and there really isn't anything missing here. There's an SD card slot that lets you use up to 2TB SD cards, and you'll find a MicroSD to SD connector already included. There's a full-size USB-A port along with USB-C connectivity, dual RCA line outs, 3-pin balanced XLR out, optical and coaxial in and out, and a 100Mbit Ethernet port.
Image 1 of 5
You get the option of switching to DC power provided you use something that can deliver 36W (12V/3A). On the wireless front, you get dual-band Wi-Fi 6 connectivity, and I had zero issues connecting to my home Wi-Fi network.
Continuing with wireless connectivity, you'll find Bluetooth 5.0, AirPlay, DLNA, and a smorgasbord of audio codecs that include SBC, AAC, AptX, AptX HD, AptX LL, AptX Adaptive, LDAC, and LHDC.
Regardless of whatever wireless earbuds you're using, you will be able to get the highest fidelity out of the R7. Similar to wired audio, there are a range of lighting modes that provide a visual indicator as to what codec is being used over Bluetooth: blue for SBC, cyan for AAC, purple for AptX/AptX LL, yellow for AptX HD, white for LDAC, and orange for LHDC.
Fiio R7: Features
One of the best parts of the R7 is that it runs Android 10 with GMS, so you get full access to Google services, including the Play Store. Fiio has a store of its own where you can install most music streaming services, and Fiio Music continues to be a brilliant choice for music playback if you have files stored offline.
On the hardware side of things, the R7 is powered by the Snapdragon 660, and it includes 4GB of RAM and 64GB of storage. There's 44GB of storage available to the user, but given that this is aimed at the enthusiast segment, a better option would be to use the SD card slot at the back if you want to play locally-stored music.
Fiio is using the AOSP Android 10 build here, and while the interface itself is unchanged, there are several audio-focused tweaks given the R7's intended use case. There's Roon integration out of the box, a DSD mode that converts PCM playback to DSD, and five gain levels. Changing the volume surfaces a large volume indicator on the screen, and you'll be able to see the gain level here.
You can use the R7 in a multitude of modes: Android mode is the standard and you get all the features on offer here, USB DAC mode turns it into a DAC, Pure Music Mode switches to Fiio Music and shuts off the Android interface, and there's Bluetooth, AirPlay, and coax/optical modes as well.
I used the R7 in Android mode throughout the testing window, and the interface itself is lag-free and fluid. Given the fact that it has a screen, you can stream videos on the R7, and it works pretty well in this regard — although the orientation means you will have to lay it on the side. On that note, you can plug in a monitor via the USB-C port and use that as an external screen for viewing videos, and it works pretty well for that use case.
Now, the R7 will get firmware updates, it is unlikely to switch to a newer version of Android or get security patches. That said, the usage will largely be limited to music streaming, so it isn't as big an issue as with a phone.
Fiio R7: Sound quality
Fiio products in general tend to produce a clean sound, and the R7 is no different. It features the same ESS Sabre ES9068AS DAC that was used in the Q7 DAC, and includes THX AAA 788+ linear amplifiers, which have been a mainstay on a lot of Fiio products, including the K9 Pro.
The R7 has more than enough power to drive just about any source, and it has DSD512 and MQA 8x decoding. The low noise floor means there's no background hiss or distortion even with sensitive IEMs.
Thanks to the hardware on offer, the R7 is able to deliver a clean sound with plenty of resolution. A good DAC should fade into the background and allow the music to shine, and that's what you get here. I tested the R7 with the FA7S, Audeze Euclid, Thieaudio Wraith, and Focal Elex, and the clarity combined with analytical sound and good resolution means the R7 pairs well with a wide variety of products.
Fiio R7: The competition
You won't find many network streamers with a built-in DAC/amp — at least not in this segment — so you won't find much in the way of alternatives. If you're looking for a network streamer to add to your existing audio stack, there are a few options available. Bluesound Node does a good job, offering decent connectivity and a good feature-set.
You could also build a custom streamer for a lot less by going the Pi route and using a service like Volumio, but you'll just get a streamer; you'll then have to furnish your own DAC/amp.
Fiio R7: Should you buy it?
You should buy this if:
You need an all-in-one solution for high-res music playback
You're looking for Wi-Fi, Bluetooth, and AirPlay connectivity
You want a music player with a clean Android interface and large screen
You need a good source to connect to active speakers
You shouldn't buy this if:
You want a high-res screen
You need a music player that will get Android updates
It's not often that I get this excited about an audio product, but the R7 isn't an average network streamer — it does so much more. The versatility that you're getting here is phenomenal, and Fiio deserves a lot of credit for delivering an all-in-one solution with such an exhaustive feature-set.
Of course, $699 is a lot of money for a desktop audio player, but the R7 has so much to offer that it is an easy recommendation. It has a robust design that's built to last, you get all the wired connectivity options you want along with Wi-Fi, Bluetooth, AirPlay, and Roon integration, and the clean Android interface combined with the large screen makes it easy to navigate and play your favorite music.
The R7 does a brilliant job as a DAC/amp in its own right, producing a clean sound without any distortion. There aren't any downsides to the product; sure, I would have liked a 1080p screen and a more recent version of Android out of the box, but other than that, the R7 has been fabulous in every regard.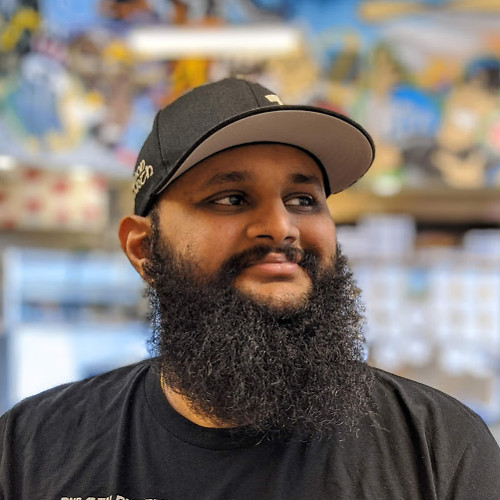 Harish Jonnalagadda is a Senior Editor overseeing Asia at Android Central. He leads the site's coverage of Chinese phone brands, contributing to reviews, features, and buying guides. He also writes about storage servers, audio products, and the semiconductor industry. Contact him on Twitter at @chunkynerd.