About our Nexus 5X and Nexus 6P reviews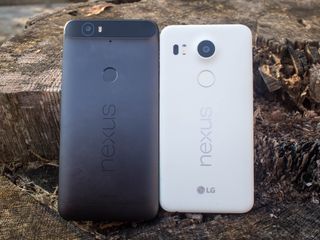 The 2015-16 era of Nexus phones is upon us. Much virtual ink is being spilled today over the new Nexus 5X and Nexus 6P smartphones — and rightfully so. We're excited as hell for these phones.
A new Nexus device is always a big deal, but this is the first year we've gotten two at the same time. Both are strong in the specs department, but this time we have a choice between a monster 5.7-inch metal beast from Huawei, or a smaller 5.2-inch, light-as-a-feather phone from LG. And for the first time in a long time we have good reason to be excited about the cameras. Perhaps for the first time we as users won't have to compromise as much as we have in the past if we want to carry a Nexus phone in our pocket.
But we at Android Central also decided a long time ago that we'd no longer compromise on our reviews. We received our review units from Google on Friday morning. And while two days is enough time to get a decent feel for a phone, it's just not enough to do a true review. At least not in the way that we're comfortable with. Android 6.0 Marshmallow is a big deal. This new hardware is a big deal. And we're going to do this right and take a few more days to present reviews that we're comfortable with. Reviews that we're proud of, and that we believe will more accurately portray the phones to those who are deciding how to best spend their hard-earned money.
We've been down this road before, of course. We were in the same boat with a slew of new Nexus hardware just a year ago. Like I said last year, this isn't our first Nexus rodeo. We'll have plenty more to share between now and the time our reviews go live. And we're all as excited to write it all as you are to read it.
So don't go anywhere. There's lots more to come. Stay glued to our Nexus 5X and Nexus 6P pages, and be sure to join the discussion in our Nexus forums. We'll have our reviews out soon.
Can't wait. Hail Putrid Pile

Very much agree Phil. Waiting patiently for the review. ;) Posted via the Android Central App

Delayed Nexus reviews??
rabble-rabble-rabble

We demand battery life and camera ratings RABBLE RABBLE RABBLE Posted via the Android Central App

Camera samples 6P http://www.droid-life.com/2015/10/19/nexus-6p-camera-review-and-sample-b... 5X Camera Samples http://www.droid-life.com/2015/10/19/nexus-5x-camera-review-samples/

Samples, yes. The point though was that 48hours isn't enough to evaluate the camera. Or the battery. Posted via the Android Central App

We've waited this long, anticipation is mounting. Can't wait to read your reviews on both devices. Posted via the Android Central App

Waiting for details on 5x battery and performance before I decide which model to purchase. Rather you take the time to do it properly as this is why I read AC more than other sites. Trust. Posted via the Android Central App

WAIT!?!? are you saying you do a review for a phone usually after only 48 hours????

No, he is saying they used to get caught up in that game. a few ears ago they shifted mind set and decided to give the reviewer a amount of time with a device before writing their review. I think it has worked really well for them.
Early reviews are a dime a dozen and you will be able to find a plethora. I just wish ALL Nexus reviews came from Jerry, he is the best IMO.

Absolutely agree with Phil, appreciated. Please take your time to review them thoroughly, given the importance of the devices. I cannot stand the reviews done after one day of using the phone, as for my experience they are rarely accurate. Thank you. Posted via the Android Central App

Take your sweet time...they look like they're amazing products so just have fun with it.

thanks for the hard work. that is always a question I have, wht is a phone like one or two weeks later when the new rubs off? thanks again Posted via AC app on my X 14

Please take your time. I expect no less than a quality review from you guys.

Verbose as fuck Posted via the Android Central App

Thanks for the editorial restraint in not rushing your reviews; yet another reason why AC is my site of choice for Android information! I'm really torn between the new Nexus phones and the Moto X Pure. Any in-depth comparisons of all three would be greatly appreciated!

+1 on the first part but I'm not torn. I want my Nexus 5X Posted via the Android Central App from my LG G4

I'm in the exact same boat right now. I could kind of go either way. They are both very similar overall but they also both bring their own unique features to the table. I was very close to pulling the trigger on a Moto X Pure, until I saw the sample photos from the 6P this morning. Now I am patiently waiting for the full review because that awesome camera has me leaning back in the direction of the Nexus.

Anyone hear, or have any idea of when the play store will be getting more stock in on the 6P's? I'm jonesing on my daily 6P store checking visits!

Take your time. Do it right. Looking forward to it.

Definitely two great phones. Posted via the Android Central App

What's a few more days to do review right?

Could you guys do a speaker test vs HTC, Sony and Nexus 6? Posted via the Android Central App

Can Jerry review the 5x please? He is my android spirit animal.

I have no qualms with taking your time on the reviews. Thank you for putting in the time and effort. Just please post them by October 24th. After all, there are those of us who are waiting to purchase the device until after we've read your review, but we also want that sweet $50.00 Google Play promotion that expires on the 25th :)

I look forward to it. I can't decide between the 5x and keeping my very capable 2013 nexus 5 another year. 32gb for $350 (which is what I think the 5x is worth) would have been perfect.

Do ya thing, Phil and the rest of the AC crew. Posted via the Android Central App

It was striking me very odd the rush of reviews around the web. Always glad that the AC team doesn't march to the beat of that drum. In the end we always get great articles and reviews.

5.7" is now "monster"?? LMAO Posted via Android Central App

Hoping the screen and battery life is good. Im kinda wishing they went with lcd for the 6p, prefer the clarity.

As far as the 6P is concerened, from what I have gathered, the screen quality is really good. The batter life isn't really as awesome as expected but it is better than almost any other phone (except Note 5) in the market. And if you prefer an LCD display, you can go into the developer option and select the sRGB mode. This will make your diplay more inclined towards the IPS LCD colour scheme.

It's been much loger than 48 hours! I simply don't undersatnd. Does it take this long to review a phone?

Please, please, please - review the call and sound quality of the 5X as it seems it might be an actual deal breaker.
THANKS! :)

This is also a great way to get people to come back to the site over and over.

These devices look great, but I don't like the fact their fingerprint scanners are on the back, I feel like it'd be better if they had it either on the side or the front, for now I'm content with my nexus 5 :)

Greate device
How it be cost?
Android Central Newsletter
Get the best of Android Central in in your inbox, every day!
Thank you for signing up to Android Central. You will receive a verification email shortly.
There was a problem. Please refresh the page and try again.