5 chill games to help you de-stress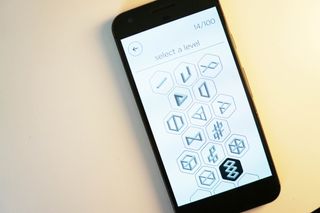 Traditionally, the best games are jam-packed with nonstop action and explosions. And those can certainly be fun, but sometimes you simply need an ambient and relaxing experience to take your mind off the worries of the world. No timers, no lives — just gaming bliss.
We've compiled some of our favorite games with a chill vibe that'll help you relax for those times when you need to.
Hocus
Hocus is a cerebral puzzle game that really requires you to work a cube through puzzles that may well have been designed by M.C. Escher himself.
The aesthetic here is clean and relaxing, with all focus put on the puzzle itself, with calming music playing in the background. There are a 100 mind-melting puzzles included in the core game, but you'll also want to tap the pencil and ruler icon to create or play levels designed by the Hocus community. This is a great pick-up-and-play game that will leave you feeling calm and accomplished.
Download: Hocus (Free) (opens in new tab)
Alto's Adventure
Alto's Adventure is one of the absolute best gaming experiences for Android, as you play a llama herder who must snowboard down a mountain chasing down his lost flock. The visuals here are stunningly beautiful and the gameplay is smooth as silk. After a while of playing this game, you may fall into a trance-like state.
This is probably the most action-packed game on the list, as you must grind and jump over huge chasms and outrun mysterious mountain men in your journey down the mountain. While the gorgeous visuals and fun gameplay will draw you in initially, you'll keep coming back to complete the run objectives.
Download: Alto's Adventure (Free) (opens in new tab)
Monument Valley
It may come as little surprise, but puzzle games are typically the best for relaxing and de-stressing, since they allow your brain to block out everything around you and focus on completing one specific task.
In Monument Valley, that task requires manipulating impossible structures to help your sprite get through each level. It's a celebrated mobile game on Android featuring a sleek minimalist design. If you've never played it it's still absolutely worth checking out years out from its initial release.
Download: Monument Valley ($3.99) (opens in new tab)
I Love Hue
I Love Hue is a newcomer to the Google Play Store, but it's as simple and calming a game as you'll find. The goal is to reorganize the colored tiles so that all the hues flow from shade to shade like a fanned out paint sample book.
Things start out easy in the Beginner levels but gradually get more and more complex. You must spend Prisms to play levels, but the game is very generous with those, so you won't run out of them unless you're down for a major marathon session
Download: I Love Hue (Free) (opens in new tab)
Infinity Loop
So far we've shared puzzle games with impossible structures and architecture and reordering color hues, so how about some challenging shape puzzles? Infinity Loop requires you to complete closed shapes by rotating pieces until everything falls into place.
This free game features minimalist visuals with a very ambient soundtrack, which combines to create a very calming and relaxing gaming experience.
Download: Infinity Loop (Free) (opens in new tab)
Marc Lagace was an Apps and Games Editor at Android Central between 2016 and 2020. You can reach out to him on Twitter [@spacelagace.
After all this time I still love Monument Valley. Great pick.

Infinity loop has been my jam for a few months now!

I dislike games like hocus which make you stay logged into data.

I found Hocus to be a battery drain. I haven't opened the app today and it's used 20% of my battery in about 4 hours.

Love playing Duet. I think I seen it featured here once.
https://www.androidcentral.com/e?link=https2F2F...

I like playing duet but it drives me crazy after a while

Duet used 13MB of data every time it was opened. i contacted the dev to ask what was being sent/received and never received a response.
Paid version. Deleted.

One that immediately came to mind that I'm surprised didn't make the list was Prune: https://www.androidcentral.com/e?link=https2F2F... Also, World of Goo is pretty classic.

#6: Egg, Inc - https://www.androidcentral.com/e?link=https2F2F...

I still enjoy 10Tons game, King Oddball and Sparkle.

forget this boring games , play something proper like final fantasy brave evxius , ridge racer slipstream or r-type , some of the best game on android/ios

Our vote go's to 'Alto's Adventure' as the favorite for chilled-out ;)
Android Central Newsletter
Thank you for signing up to Android Central. You will receive a verification email shortly.
There was a problem. Please refresh the page and try again.