4 things the Garmin Vivoactive does better than the Fitbit Ionic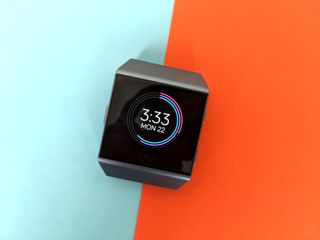 Both Fitbit and Garmin have long had a presence in the consumer electronics market, with both companies focusing on fitness gear and GPS accessories. In 2018, that means both companies are producing fitness bands, with notifications and other smartwatch features present as well. Fitbit's latest device is the Ionic, while Garmin's current flagship is the Vivoactive 3.
I've been wearing the Vivoactive 3 for a little over a month, primarily as a smartwatch. I don't do any fitness tracking in my normal use, but did for the purposes of this article. Here are some things the Garmin Vivoactive 3 does better than the Fitbit Ionic!
The design
Tastes are subjective, but I think most people would agree that the Vivoactive 3 looks significantly better than the Fitbit Ionic. With the right watch face, it doesn't look any different than a regular wrist watch. The Ionic looks… unique, to say the least. Whether that's good or bad will depend on the wearer, but if you want a fitness tracker that can blend in with any wardrobe, the Vivoactive 3 is the device for you.
Flexibility
Both the Ionic and the Vivoactive 3 have swappable bands, but the Vivoactive 3 uses standard 20mm connections while the Ionic uses a proprietary system. Fitbit has had a history of quality issues with its watch bands, so a standard connection is much more comforting. Third party bands for the Ionic are about the same price as standard 20mm bands, but the standard bands will work on more devices.
Flexibility...again
With its round display and single button, the Vivoactive 3 can be worn on either wrist. Even better, the interface can be flipped so that the single button is on the left or right side of the watch. This may not sound like a big deal, but when I had the button on the right side of the watch, I kept accidentally pressing it when I would hinge my wrist up. Meanwhile, the three buttons on the Ionic mean it can really only be worn in one orientation, so you'll have to adjust how you wear it if you accidentally press one of the buttons.
Price
The Vivoactive 3 retails for $269, while the Ionic runs for $300. A $30 difference isn't much in the long run, but money saved is money saved.
A few places that are equal
In my experience, the Vivoactive 3 was perfectly accurate for fitness tracking, and most reviewers have found the Ionic to be equally great. Both watches have tap-and-pay option for NFC-enabled payment terminals. Both Fitbit and Garmin allow users to customize their watch faces, with a healthy store of third party options. Both watches support iOS and Android, but Fitbit actually goes one further by supporting the tens of Windows 10 Mobile users.
What say you?
Have you used the Fitbit Ionic or Garmin Vivoactive 3? Share your experience below!
Android Central Newsletter
Get instant access to breaking news, the hottest reviews, great deals and helpful tips
"the tens of Windows 10 Mobile users". Ouch. Ha ha

Well it's more true now than ever. W10M is on the way out/is out, but fitbit's support for windows 10 generally speaking is nice. Whatever Andromeda/future devices coming out should benefit as well

Honestly, in stuck deciding between the ionic and vivoactive 3. This article didn't help me decide any better haha. I've read reviews on both sides and I'm still in limbo.

I was on the same boat with you but ultimately chose vivoactive 3 music version, a bit newer. I still preferred round face vs square-ish face that's what made me chose the vivoactive 3, and has nothing to do with features and price. Just my 2 cents.

Sure Vivoactive 3 looks better than Ionic but they Garmin would have to come up with something to compete with Fitbit's new teased and cheaper Versa (or whatever it will be called).

I have the vivoactive 3 for about 6 months now (in grey slate bezel, not the shiny stainless steel) and absolutely love it. If you don't need music playing on the watch, the VA3 is great (it does let you control the music on your phone from your watch).
Garmin also support the 20 W10m users.
Garmin ecosystem is great if you do more than just step tracking (choose, customise and load tons of workout for FREE).
The "connect" app is also well done and easy to use while providing detailed information.
Smart notification/calendar works well too... On android, If the notification has button (delete...) on your phone they will show on the watch. You can reply to SMS using customisable predefined message on the app. There are some good app in Connection (garmin watch app store)
The fact that the reflective screen is always on is brilliant... The screen is not as high resolution as the ionic, but certainly good enough for a watch...
I also get a good 4 days of battery life (depending on app installed).
If you do cardio workout (running, walking, swimming, biking, elliptical etc) this is a great watch. The strength training works on (detect your movement and guess what strength exercise you are doing and count the reps automatically). You can also edit the reps and weight directly on the watch.
There are some good video review online (YouTube vivoactive 3). Note: Vivoactive 3 is the top of the mid range. Garmin's top of the range is the Fenix watches (for athletes).

I disagree about the elliptical. If I do a 30 minute workout it takes 20 minutes for the HR to get up to speed (It's showing half of what my HR actually is), whereas the elliptical machine and my Scoche band get there immediately. Don't get me wrong, there are a lot of things to love about the Vivoactive 3, but it has areas that still need a lot of work (but I think that applies to all of the different brands). The good news is that Garmin is issuing regular updates so I have hopes that it will eventually be all that it has the potential to be.
Android Central Newsletter
Get instant access to breaking news, the hottest reviews, great deals and helpful tips
Thank you for signing up to Android Central. You will receive a verification email shortly.
There was a problem. Please refresh the page and try again.