4 reasons you should get into the Sonos ecosystem right now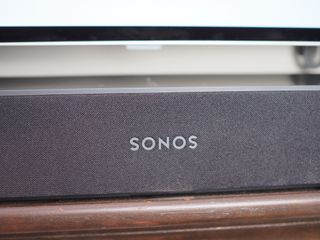 (Image credit: Daniel Bader / Android Central)
Thanks to gadgets like the Amazon Echo and Google Home, smart speakers have quickly become one of the hottest consumer tech gadgets around. It's been great fun seeing this new product category come to life, and in addition to new brands emerging to jump aboard this train, other companies have been learning to adapt and change their ways to beat Amazon and Google at their own game.
One such company is Sonos.
Although Sonos has been around since 2002, the company's recently been given a whole new light thanks to the rise of smart speakers. Gadgets like the Sonos One and Sonos Beam are speakers featuring Alexa, but when compared to competing devices, the high price tags that accompany Sonos's gear often deters people and leads them to look at cheaper, more affordable options.
That's perfectly fine, but if you've got the cash to spare, there are a few big reasons you should seriously consider picking up a Sonos speaker for your house — or two or three. Maybe even 10.
Here's why you need to get into the Sonos ecosystem right now.
The sound quality is amazing
The Amazon Echo ($99) (opens in new tab) and Google Home ($129) (opens in new tab) might be considerably cheaper than the $199 Sonos One (opens in new tab), but if you're familiar with the phrase "you get what you pay for," it applies perfectly to this scenario.
While sound quality on the Echo and Home is fine, it absolutely pales in comparison to the One.
The Sonos One doesn't sound like a smart speaker — instead, it sounds like a really, really good speaker that just happens to have built-in voice controls. There's noticeably more punch and clarity with the One that you just don't get with more affordable options.
See at Amazon (opens in new tab)
There's a big lineup of different speakers
There's no doubt the Sonos One is one of the best-sounding smart speakers available right now, but if you find yourself needing more volume, bass, or anything else, it's far from the only product in Sonos' lineup.
If you want a more powerful home speaker and are OK with giving up the Alexa smarts, the Play:5 delivers room-filling audio that puts the Google Home Max and Apple HomePod to shame.
Want to upgrade your TV's built-in speakers? Sonos now has three different soundbars to choose from — the Playbar, Playbase, and recently released Beam. If you really want to go crazy, you can even splurge for the $699 Sonos Sub that'll shatter your house's foundation, but it'll totally be worth it.
Sonos Beam review: Raising the sound bar
Hell, you can even buy the new Sonos Amp amplifier if you want to upgrade any exisitng speakers you have.
Everything works and is easy to manage
All of those products serve a big purpose on their own, but what really ties all of this together is how each and every Sonos products works beautifully with one another.
No matter how many Sonos devices you have, everything is controlled via the Sonos app. You can see what rooms have speakers in them, browse through songs/podcasts from any services you've connected (e.g. Spotify, Pocket Casts, etc.), search for a particular song, add a subwoofer or surround sound speakers to your soundbar, and plenty more.
It'd be easy for all of these controls to be messy and convoluted, but for the most part, Sonos lays everything out in a manner that makes sense and is easy to understand. I don't know if I'd call it the greatest app ever made, but it's ten times better than the mess that is the Google Home app.
Everyone is welcome 🤗
The Sonos One and Beam both support Alexa. Earlier this year, the One, Beam, Playbase, and second-gen Play:5 got updated with AirPlay 2 and support for Siri commands. At some point before 2018 is over, Sonos will finally bring over the Google Assistant.
Rather than limiting yourself to one specific ecosystem, Sonos products are designed so that you can choose which platform(s) you want to use. Want to use Alexa to control your smart lights while also using AirPlay to stream your favorite music? You can do that with Sonos.
Giving users so much choice and not locking them down into one camp is pretty rare in 2018, so it's awfully reassuring to know that an option like this still exists.
What do you think?
That's enough rambling from me — what do you think about all this? Do you have Sonos products in your home or are your audio/smart speaker needs served elsewhere? Let me know in the comments below!
Joe Maring was a Senior Editor for Android Central between 2017 and 2021. You can reach him on Twitter at @JoeMaring1.
1 reason not to, Chromecast Audio groups

Yeah, no. I'm not using Android just to get locked up in a closed ecosystem. The lack of any analog inputs on the non-premium speakers is ridiculous. Glad I went with JBL.

I recently built a new home. Prior to construction, I purchased 2 Sonos 1's to try out. I love the interface and was convinced to go Sonos in the whole home. Friends convinced me to prewire just in case.
Here is my set up:
Great room-Playbar, Sub
Office-Sonos 1 (my old one)
Master bedreom- Sonos 1 (my old one)
I had 3 old receivers and numerous speakers. Enter the prewire and 3 Sonos Connects. I pre-wired the garage and deck for speakers and used the Connects and my old systems to run those. I have even put another Connect and old components in my shop about 100 ft away.
The sound is outstanding in each area. The interface is simple and we keep an old android tablet in the kitchen that only has home automation apps on it and everyone can use it. No remotes. No problems. Even visitors say it is the easiest they have ever seen.
The only downside is the Google home interface that should come out this year. I was using a backdoor app Yonami successfully for Google home until they had to remove it.
When Sonos comes out with that interface I will purchase at least one Sonos One and place it in the great room along with and older Sonos 1 for surround and Google home control.
Once that is available, it might be time to purchase some stock. If not now!

Unfortunately you can't combine a Sonos PLAY:1 together with a Sonos One for surround sound (5.1) for TV since they are two different products. You have to use 2 of the same rear speakers (so 2xPLAY:1, 2xOne or 2xPLAY:5) for this. Good reason to buy 2 One speakers ;) I also have a 5.1 setup for the TV with the One as rear speakers, PLAY:5 in the kitchen, One in the bathroom (they are moist resistant) and PLAY:3 in the bedroom. Sonos is the best investment I've ever done regarding home audio!

Sonos is nice and makes it especially easy for those that want good audio and simplicity of set up. That being said I would still just buy great speakers and hook up a Chromecast audio. I Had a play one for a while, and maybe it was because Google intergration wasn't there or maybe it was the price, but I ended up returning it. I was able to pick up 2 Google homes for like 80 a piece. Still have my book shelf Speakers hooked up to a Chromecast audio in a different room and wouldn't trade them for the world

#5 - IFTTT Support was added today. Another bridge to the eventual Android Assistant implementation. https://ifttt.com/sonos I use a Chromecast Audio plugged into my Play:5 for this now, but full integration would be nice....
Android Central Newsletter
Thank you for signing up to Android Central. You will receive a verification email shortly.
There was a problem. Please refresh the page and try again.