In 2020, the Snapdragon 765 showed that no one really needs a Qualcomm 800-series chip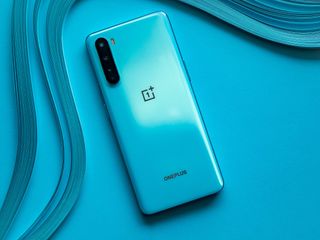 (Image credit: Apoorva Bhardwaj / Android Central)
If there's a constant among all the best Android phones today, it is that they're all powered by Qualcomm's chipsets. Qualcomm is the de facto choice for phone makers releasing a flagship device, and in 2020 it solidified that position with the Snapdragon 865.
But the bigger story in 2020 is the introduction of the Snapdragon 765. Everyone knows what to expect from a flagship Qualcomm design, but with the Snapdragon 765, the chip vendor showed that it could offer the same caliber of performance at a lower cost.
As a result, the Snapdragon 765 powered some of the best phones of 2020, including the Google Pixel 5 and Pixel 4a 5G, the OnePlus Nord, Motorola Edge, the U.S. variant of Samsung's Galaxy A71, and many more.
What made the Snapdragon 765 stand out was the performance on offer. With two Cortex A76 cores and six energy-efficient A55 cores, the chipset delivered the same level of performance as 2018's flagship Snapdragon 845. Simply put, the Snapdragon 765 showed us that mid-range phones can deliver the same level of fluidity as flagship-tier chipsets for most day-to-day tasks.
When talking about day-to-day usage, it's important to note that we're now at a point where even budget phones deliver reliable performance. I've used plenty of budget phones powered by the Snapdragon 720, 732, 730, and the 662 this year, and they all held up just fine in daily use.
In that context, the Snapdragon 765 paved the way for phone manufacturers to introduce devices with flagship-tier performance for as low as $335. Sure, devices like the Pixel 5 debuted at $700, but the chipset introduced a new wave of value-focused 5G phones.
That's another point in favor of the Snapdragon 765. While the Snapdragon 865 featured an external 5G modem, Qualcomm went with an integrated 5G modem on the Snapdragon 765; so instead of two distinct modules taking up space on the mainboard, the Snapdragon 765 delivered an all-in-one solution.
Talking about the performance, I pitted the Snapdragon 765 against the 865, and it was clear that the more affordable 765 chipset was more than adequate for most day-to-day use cases. For both CPU and GPU performance, the Snapdragon 765 held up incredibly well against Qualcomm's flagship designs.
A lot of this is down to the work Arm has done over the last three years to optimize its Cortex cores. Arm is a UK-based designer that has revolutionized the mobile chip industry. It designs the instructions set that companies like Qualcomm, Apple, MediaTek, Samsung LSI, and HiSilicon use to build mobile chipsets.
Every phone you see today — whether it's Android or an iPhone — features Arm's instruction set; some companies license Arm's Cortex CPU while others license the architecture itself and build their own CPU design. Qualcomm used to be in the latter category, but over the last three years it went with stock Cortex cores with a few customizations to the memory scheduler and interconnects to stand out a bit more from MediaTek.
The Cortex A76 is the performance core on the Snapdragon 765, and it debuted at the end of 2018, delivering huge performance gains over the A73. It was able to hit the sweet spot between performance and efficiency, and that's why Qualcomm continues to use the core even today.
The Snapdragon 765-powered phone that I used the most this year was the OnePlus Nord. OnePlus said at the launch of the device that the performance of the chipset convinced the company to use it in its first mid-range device in lieu of the flagship Snapdragon 865.
I used most Android flagships in 2020, and the Nord felt just as fluid and capable as the Galaxy S20, Note 20 Ultra, or the OnePlus 8T in most daily tasks. The only area that it didn't deliver the same level of performance is gaming; in visually-demanding titles, the chipset defaulted to medium settings.
Qualcomm's decision to launch the Snapdragon 765 was a masterstroke. Not everyone is interested in buying $1,000 flagships, and the chipset delivers the same level of performance from devices that cost significantly less. I'm particularly interested in seeing how Qualcomm builds on the design with the Snapdragon 775. The upcoming chipset should offer sizeable gains across the board, and that makes me excited to use mid-range phones in 2021.
The Snapdragon 765 changed the paradigm for mid-range phones and value flagships. You can look forward to Qualcomm continuing that momentum into 2021 and beyond.
A great 5G phone
(opens in new tab)
Making 5G available for everyone
The Pixel 4a 5G makes it easier than ever to switch to a 5G phone. The Snapdragon 765 delivers outstanding performance in daily use, you get a massive battery that lasts all day, clean software with Android 11 out of the box, a vibrant OLED panel, and the best cameras you'll find in this segment.
Harish Jonnalagadda is a Senior Editor overseeing Asia at Android Central. He leads the site's coverage of Chinese phone brands, contributing to reviews, features, and buying guides. He also writes about storage servers, audio products, and the semiconductor industry. Contact him on Twitter at @chunkynerd.
The Snapdragon 754 ,like the 756 but just 002 less capable.

Well, I certainly wouldn't pay $1000 for an 800-series phone. But I'm happy to pay $400 for last year's 800-series phone. Ain't planned obsolescence grand!

Yeah exactly. People forget last year's top tier is still a better phone than this years midrange.

1000 percent agree. My Samsung A71 5G is all me, my wife or son have needed. All upgraded from our S9 devices. Zero need to pay higher prices anymore. I suspect all Pixel 5 and 4a 5G owners would agree. Throw in the exceptional battery life I get with 4500 mah battery and I am good until Android 14.

Or until the new PKB BlackBerry drops in 2021. Keeping my eyes out for that as I still REALLY enjoy using my Black Edition BlackBerry KeyOne as well

Same here. Though I'm still missing bb10

Because you use a phone every day and should expect it to last 3+ years performing well. I'd always buy a top tier phone because they're an investment we all get a lot of use out of. If you're skint fair enough but if you're on a reasonable wage why get a sub-optimal performance. Besides top tier phones are more than their chip.

The 845 is still very capable. If you don't play games all day because you're working all day what's the point in getting a phone that fast? If all I do is edit documents and browse the internet do I need an i9? That's just waiting money.

S10 with 855 is the best purchase one can make

Let Mediatek Dimensity series enter the market and the Dimensity 800 series would again conquer the market.

100% agree. Just like Intel's high end chips, for most people they are not needed. Other parts of the mobile phone matter more, like camera optics and flash memory size.

I paid up for the 865processer. The S20 FE, black Friday Amazon deal 549.00 buck-a-roos. I call that paying down! Wow-we, am I 😊 happy?

What the SD765 showed us is that 1, people dont mind having phones that are ever so slightly slower in every day use, and 2, we have reached a point where phone chips are fast enough. We should now work on making phones last longer, with longer security support. I'd gladly continue using my pixel 2, if google kept supporting it with security updates. I'd even pay a small fee to support the security updates from google, but i guess that wont happen.

So $1,000 Flagship Devices will use the Qualcomm 800's, while the more affordable Devices (marketed to people like me!) will use Qualcomm 700's ..... and everyone will be satisfied (especially those who didn't waste $1,000 on a Device!)
Android Central Newsletter
Thank you for signing up to Android Central. You will receive a verification email shortly.
There was a problem. Please refresh the page and try again.