The 2017 Hyundai Elantra will include Android Auto support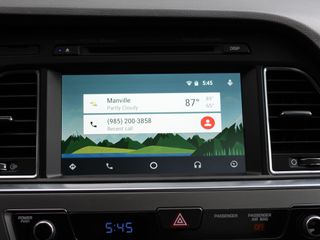 Buyers of the 2017 Hyundai Elantra will be able to get the vehicle with support for Android Auto when it goes on sale later in January. It will be supported on the Elantra's seven-inch Display Audio touchscreen system, along with Hyundai's eight-inch touchscreen navigation system that provides access to smartphone apps, voice texting and more.
The car will also include support for "voice actions and predictive Google Now functionality through Android Auto" that will allow users to access Google Maps, make calls, respond to text messages and more. Here's what else owners of the car can expect:
Pandora integration
SiriusXM Satellite Radio with enhanced features
Pause, back and play for current station
Automatic recording of top six presets
SiriusXM Travel Link
Sports scores and schedules, stock ticker, movie times, fuel prices and weather/alerts
Advanced voice recognition
Multi-touch screen that supports swipe and wipe gestures
New home screen with multiple functions
Hyundai has not announced any prices for these features, but it's likely that they will be offered as optional packages. The car maker plans to reveal which of its future vehicles will support Android Auto later in 2016. It will also reveal how current owners of Hyundai cars that have support for its fourth-generation navigation system or Display Audio can update them to add Android Auto.
Source: Hyundai
I had a Hyundai Sinatra as a rental a few weeks ago, and it had AA support. It worked really well. I just hope that there's no way to allow rental companies to charge for AA/CP on a per rental basis. Posted via the Android Central App

I had a Frank Sinatra and it did not have Android Auto. Posted via the Android Central App

My 2016 civic has AA. It's darn cool. Posted via the Android Central App

No ****! I haven't read anything from Honda about having AA. But, now I'm excited!
I could google it, but is this something they're introducing in all vehicles? Or just select ones? I'm thinking about getting an HR-V this year.

Sorry to burst your bubble, but the MY2016 HR-V doesn't have AA, at least on the equipment list. I expect the MY2017 model to have it. My mom is deciding between the Mazda CX-3 and Honda HR-V as a replacement for her 2007 Nissan Versa, so they're gonna have to step it up.

Don't think I didn't notice you wrote "DRIVE WITH SIRI" What the hell?

Hurray! I've been waiting for an excuse to swap my Volvo S60 for a stunning Hyundai Elantra

You know it's a Volvo, right? Posted via the Android Central App

My husband would like this but he's a Chevy man hopefully they will get more wide spread support. But my baby 1941 Studebaker truck M5 will never see this. Sometimes it's nice to get away from technology when I drive down the gulf coast. Posted via the Android Central App

Nice! You ever do the Cruising the Coast rides down in South MS?

GM is one of the manufacturers listed to have partnered with Google for AA. It's already been announced to ship in several GM cars. So .. done and done. :)

While still considering using Android Auto or not, you can try the instant messenger especially for drivers.
Be the first to feel hands free and safer communication experience while driving.
https://youtu.be/9NOX4YG9egQ
Android Central Newsletter
Thank you for signing up to Android Central. You will receive a verification email shortly.
There was a problem. Please refresh the page and try again.