Hands-on with the ZTE Axon 7 mini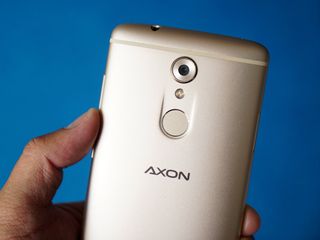 ZTE has unveiled today the latest addition to its flagship AXON series, the AXON 7 mini. It looks a lot like the bigger Axon 7, but with a 5.2-inch display. This gives consumers more options, especially those who don't want to spend a lot of money on a new phone. Watch our hands-on video to see it in action.
ZTE Axon 7 mini specifications
Swipe to scroll horizontally
Category
Feature
OS
Android 6.0
Display
5.2-inch FHD 1080x1920
AMOLED
16M Color
CPU
Qualcomm Snapdragon 617
Memory
32GB(ROM)
3GB(RAM)
microSD slot
Camera
16MP rear camera
8MP front camera
Battery
2705mAh with Quick Charge 2.0
Size & Weight
147.5x71x7.8mm
153g
Others
Fingerprint sensor
Dual speakers
3.5mm audio jack
The ZTE Axon 7 mini retains the all-metal unibody design of the Axon 7 with 2.5D curved-edge glass touchscreen, which feels really good in the hand. It has an AMOLED display like the Axon 7, but it has a 1080p resolution instead of 2K. Most won't notice the difference in sharpness, though. And just like the Axon 7, it has dual front-facing speakers.
Image 1 of 4
Running inside is a Qualcomm Snapdragon 617, 3GB of RAM, and 32GB of internal storage. There's also a microSD slot if you need more space.
On the back, there's a 16-megapixel camera with f/1.9 lens. It doesn't have optical image stabilization like the Axon 7, but there's electronic stabilization. And if you like taking selfies, there's an 8-megapixel front-facing camera.
Image 1 of 2
ZTE says the Axon 7 can last a whole day with its 2,705 mAh battery, but that's going to vary depending on your usage. And if you do run out of battery, the Axon 7 mini supports Quick Charge 2.0 through its USB Type C port. You'll be able to charge the phone from 0 to 46% in just 30 mins.
The ZTE Axon 7 mini will be available in Russia, Germany, Spain, Poland, Japan, Australia, India, Saudi Arabia and the USA. In markets outside the U.S., it will be available for sale at the end of September at a recommended retail price of 299 Euros.
Are you looking forward to the Axon 7 Mini? Let us know in the comments!
Android Central Newsletter
Get instant access to breaking news, the hottest reviews, great deals and helpful tips
I know that big phones are what people tend to buy, but no phone that's larger than the Galaxy S7 should be calling itself "mini."

well it's a smaller version of the axon 7, so i don't see why axon 7 mini is an inaccurate name Posted via the Android Central App

Well, times are changing. Today many believe 5.5 inches to be the standard and 5.2 a relatively small device.

Well it is a "mini" battery. : D

I tought the on-screen buttons of the Axon 7 were gone in the final release... Is there a way to activate them again?? Is the same function present in the mini version?? Or both phones in the video are pre-release hardware??

I heard it's gone for the US, but chinese versions have it. I had our US capacitive non-light up keys! Give us on screen buttons!

I thought that too but then saw the A9s and was OK with it

Missed the A9s battery stat. I'll go check it out, give me something else to dislike about it lol.

Not terrible for such a slow processor, but it's not great.

They are going to sell a ton of these outside the US.

What's the point? It's virtually the same size, with stripped down hardware. The original is already a great bargain at $399USD.

It's not the same size. 5.5 vs 5.2 inch screen. I know that's not a significant difference but it's not the same size.

It's virtually the same means it is almost equal in sizes (only marginal difference) to be a mini

Oh I get exactly the same now means almost
Ok.

Well, I don't remember one "mini" version of any manufacturer to have the same internals of the "normal" version. And, technically speaking, it is smaller, although not by much. The only manufacturer that offers the same experience on a Compact package is Sony.

Not that much cheaper than big bro! I just as soon spend the extra and get the regular Axon 7!

I would consider it, if they would support non GSM carriers. These phone makers could instantly increase their sales if they offered Verizon and Sprint phone. Not sure why they all want to compete for just att and T-Mobile customers.

Because GSM is a worldwide standard unlike CDMA.

Yeah, it's a shame that so many seem to forget there is an entire world beyond their backyard... And that world does not use CDMA.

GSM being a global standard or not. If a nexus can work on all radio bands i don't see why these cannot also do the same.

Costs more to support all bands. As others have said gsm is a global standard. Your government should've legislated to stop the mobile networks in the USA fracturing like that and effectively monopolising it.

The Axon 7 does support CDMA carriers. Plenty of guys are using it on Verizon. Go to their forum and read for yourself.

So I've went and researched various forums about the Axon 7 (not Mini) on Verizon, and at this time I wouldn't consider it "working on Verizon". Users are reporting that they can't use voice/data at the same time, can't use MMS, that it drops LTE occationally, it shows it's roaming, etc., etc.
It's not able to use all VZW Bands since its not certified by VZW yet, so that may something to do with LTE stability. Basically I couldn't give the Axon 7 to my wife because if she had to do the things they people are doing to get it to "work on VZW" she'd throw it in the trash.
I really hope that ZTE and VZW gets this straightened out.

I don't understand why companies are still using the 615/616/617 in product launches. Worse yet, why ZTE is pricing that phone with those downgrades within $100 of the Axon 7, that's just weird. I might get excited about this if it had the Qualcomm 625 series, with it's ultra efficiency, speed and newer gpu / radios, or at least the 652 which is similar to the 617 but has some A72 cores and a better gpu.

Are there any smaller phones 5" or under that have the QC 625 Chip? That's what I'm after a smaller phone with better battery efficiency.

The Xiaomi Redmi 4 looks to have it with a 5" 1080p display and a HUGE battery (4100mAh) but it hasn't been announced yet and isn't ilkely to come to the US anyway. The Huawei Nova looks to be the device to get if it heads here (and it likely will)... 5" 1080p w/ 3k mAh battery.

Those look like great devices, hopefully they come to Australia Huawei Nova is so close to the exact phone I'm looking for, the only things that are annoying are. 1. No amoled
2. No OIS
3. Software skin

So much this. Qualcomm should really stop manufacturing the SD61x series. At that price, SD617 is not enough.
Android Central Newsletter
Get instant access to breaking news, the hottest reviews, great deals and helpful tips
Thank you for signing up to Android Central. You will receive a verification email shortly.
There was a problem. Please refresh the page and try again.