YouTube viewing time up 60 percent from last year, mobile viewing has doubled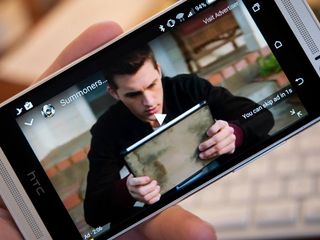 Speaking on Google's Q2 2015 earnings call (broadcast on YouTube, as you'd expect), new CFO Ruth Porat dropped some new numbers about how YouTube is growing. Total watch time on YouTube is up 60 percent from this time last year, the strongest growth rate Google has seen in two years. Most interestingly, mobile watch time has also doubled in the last year — CBO Omid Kordestani added that the average viewing session is over 40 minutes long on mobile.
With new YouTube initiatives like YouTube Gaming and YouTube Kids expanding the platform to even more users, you can expect to see numbers continue to grow. It likely doesn't hurt that phone screens are getting larger either, making it easier to watch longer-form content on the service.
Andrew was an Executive Editor, U.S. at Android Central between 2012 and 2020.
I am one of those that have increased my youtube viewing this past year. Cutting the cable cord had much to do with it. Posted via the Android Central App

Are they making a profit yet or should we expect more ads?

It seems like it doesn't matter how much money any company makes, always expect more ads. Posted

Meanwhile my YouTube app crashes daily especially when connected to the Chromecast. Posted via the Android Central App

You are not alone...wait yes you are, mine works perfect. PS. you got a bug somewhere...squash it! Posted via the Android Central App

What a lame comment (so was this) Delivered by my Shamu

Happened before the Moto X 2013 lollipop upgrade and still does it after my factory reset. No bug on my end. Posted via the Android Central App

I wonder if Chromecast factors into that at all-- not that we watched a lot of YouTube before, but now that it's so much easier to look stuff up and get it on the screen, I'm way more likely to whip out my phone to show something to people.

Not to mention YouTube on mobile gaining 60fps playback support. I'm actually interested in how YouTube Gaming will go considering most people still use Twitch for livestreaming games Cynicism Evolved

My YouTube consumption increases daily. Posted via the Android Central App

Same here. Love those new car reviews. Posted via the ACA on NEXUS 6

Well, I know my kids are hooked, but I can see that I am not the demographic that YouTube channels are going after. Just too old, not interested with what is on offer.

That to bad because I can guarantee with 100% certainty that what ever you are interested in is on YouTube waiting for you to enjoy! Posted via the Android Central App

Sure. Once I in a while. But the big YouTube shows that you hear about making millions of dollars are not made for me. I'm not whinging (too much). I'm just not that hooked on it. Not sure why I even commented. Just chatter.

It's all good. Please keep commenting. We need more input from common sense individuals like yourselve. Posted via the Android Central App

YouTube is my go to for tech and music. Hell yeah I use YouTube!!!!! Posted via the Android Central App

LinusTechTips #firepole Posted via the Android Central App

Part of me wonders how much of this growth is from people actually watching more or is it because the next video just automatically plays and videos just keep playing until someone stops them....

I'm gonna assume much of that time is coming from Chromecast sales and cheap Android phones selling in third world countries. Posted via the Android Central App

I use the YouTube app often, but I still prefer sitting in front of my PC for it. Becuz, MAH SCREEN SIZE!

You can get credits on games such as Madden Mobile for watching Youtube ad videos. This could be a reason for increased viewrship. Posted via the Android Central App

Seems like Google would do well to advertise interesting content. Maybe it's just coming around, but it has felt like one of the hardest places to find quality media. You really have to dig to find it.

70% of my video consumption is now Youtube.. the rest is Plex and som streaming news

Shame they just ruined the YouTube app by removing the slide out from the left and adding all subscriptions on a top bar Posted via the Android Central App

Youtube keeps getting better.. If they keep at it, it could dethrone Netflix. All it needs it content like shows and movies. Get that paid subscription going and get the content, we have a valid competitor. I listen to music at work, TED talks, documentaries, tech stuff.. Its awesome Nexus 5 (AT&T)

"All it needs is content like shows and movies." Yeah like the media companies have made that soooo easy for Netflix that YouTube should have no problems. Okey dokey. --- This message brought to you via the sarcasm keyboard available for download at the Google Play Store.
LG-G2 on Lollipop.

Between the larger screen on my N6, my Chromecasts, and Google Play Music, my YouTube consumption has gone way up. Posted via the Android Central App

I hate the fact you can't minimize youtube and multitask while listening to music. Screen stays on, killing more juice. I miss Fastube and SuperTube on my bb where I could listen to 2hr sets with no ads, multitask while doing it, and sleep the screen if needed. Posted via the Android Central App

And I still Buffer, like it's 1999! Posted via the Android Central App
Android Central Newsletter
Get the best of Android Central in in your inbox, every day!
Thank you for signing up to Android Central. You will receive a verification email shortly.
There was a problem. Please refresh the page and try again.