YouTube changes its app interface yet again, moving to bottom tab navigation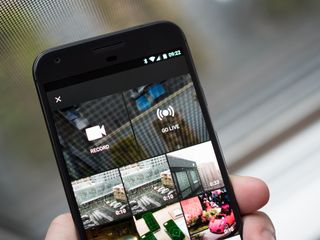 YouTube is once again tweaking its Android app interface, aiming to hopefully clean things up and make the most-used YouTube functions easier to quickly reach. The crux of the new interface is the move to a bottom navigation bar that lets you quickly tap one of five tabs: home, trending, subscriptions, shared and library. The trending and subscription tabs use a familiar bubble interface at the top of the page to let you refine your view.
Outside of the tabs moving from the top of the interface to the bottom, not much else has changed to our eyes. The live video button is no longer a floating action button and now has a permanent place in the top bar, and your account icon is also stuck up on the top bar rather than in a submenu.
The YouTube app listing in Google Play (opens in new tab) hasn't actually been updated for a few days, but we're actually seeing this new interface arrive without a distinct update to the app itself. To force the update we just force-closed the app and reopened it. This is likely rolling out in waves, though, so be patient if it doesn't arrive right away.
Andrew was an Executive Editor, U.S. at Android Central between 2012 and 2020.
Where....is.... the....DARK....Theme!

The dark theme would be sweet

Would be nice if Mobile Nations could figure out a way to stop these dumb spammers

+
+++++ C'mon Google! Dark theme! Or even better release a theme engine an let people who are cooler than you do it!

Well they're offering a dark theme in the new desktop preview ... so one would hope that's coming to the production-level app too.

Hey, this is exactly what I posted in Slack.

Even the YouTube Gaming app has a dark theme!! There's no excuse!!

It's coming first to PC, then coming over to the Android according to a couple of articles that I have read. They've already took down the 'beta' version of the theme on Chrome/Firefox, so hopefully it will be real soon I'm thinking around August/September maybe??

About time too. All android apps should do this cos tabs at the top are a pain to reach.

No. Tabs at the bottom are a pain to reach. Tabs at the top allow swiping.

Sigh. I miss the swiping feature already.

Yes swiping makes more ergonomic sense than tapping

Wait, they removed the swiping feature? Not updating till they put that back. I love watching videos with only one hand on both portrait and landscape and its impossible to reach the bottom left portion on my 6" phone. Damn.

I agree. This is great news. No more reaching. Nice.

i like it better than the old version

Overall I like it, except when I try to click the search button I find myself accidentally pulling my account settings instead. Those two tabs are too close to each other for my fat fingers.

I had it for about a month now, tbh I though this update has been rolled out to more people already

Funny thing. After I read this article and closed the YouTube app and reopened it, I got the new layout. What I don't like it how I can't swipe anymore to get to another page, like the Trending like, Subscriptions etc. It feels like a more fluid and faster interface, but that swiping though.

Going to iOS design language, away from Material Design...

Just had it go live... No swiping sucks. I just want to set subscriptions as the default screen, I don't care about the first two useless tabs, which i believe are titled "badly targeted ads" and "literal garbage".

Finally someone talked about it. I'm using it since Sunday. Maybe late Saturday, but not sure

Made it like the IOS app...good good.

My phone got this update a few weeks ago. I have been using it for awhile. Talk about a slow staged roll out. Weird.

This is made it similar to its iOS version. But it's still less consistent to other Google apps on Android. The settings menu should be accessible via swipe-right like gesture and the add video function should be floating on the lower right, like most Google apps (or other apps built for Android). The Search function can be placed on the navi bar below or it can stay on top as the only active button/function.
Android Central Newsletter
Get the best of Android Central in in your inbox, every day!
Thank you for signing up to Android Central. You will receive a verification email shortly.
There was a problem. Please refresh the page and try again.