YouTube announces mobile live broadcasting coming 'soon' for everyone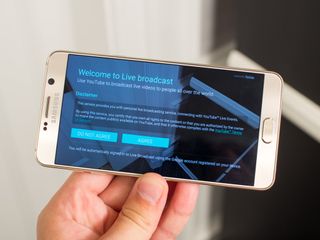 Though the likes of Periscope and Facebook Live are the talk of the town right now in mobile live video broadcasting, YouTube is now ready to get into the game. Taking to the YouTube Creator blog, Google has announced that live broadcasts will be coming to the YouTube app "soon" and that it'll be "more reliable than anything else out there."
Though YouTube makes the point that its service offered live streaming for events since 2011, it has sorely lacked the latest hot feature of direct broadcast from your phone — the only way to go live to YouTube from your phone directly was to have one of the few that supported the feature, namely recent Sony and Samsung phones.
With this change, everyone with the YouTube app will be able to start broadcasting live to millions of people (well, at least potentially) with no extra strings attached. The thought of "better late than never" certainly applies here, but with Facebook Live already showing huge growth in such a short period, you have to wonder how YouTube will catch back up and win over users.
Andrew was an Executive Editor, U.S. at Android Central between 2012 and 2020.
Now if GoPro can just get the api for the app that would be great Posted via the Android Central App

Pretty late to the party YouTube. Facebook Live and Periscope is already stealing potential users away.

I disagree, pair it with YouTube Red, and / or Google play music. It's a win win for streaming content. Facebook for podcasts or listen to music? None that I know off. Live streaming Vblog, concerts, music, movies, podcasts ect .. all under one is smart and will be the go to spot quickly.

This will give non- facebook/twitter users the ability to broadcast live. Could be big. Posted via the Android Central App from my Samsung Galaxy S6 Active

I'm liking Periscope right now (never heard of nor plan to try Facebook live), but would happily ditch it for a YouTube variant. 99% of the worthwhile online content still comes from YT.

Hopefully Youtube will offer live streaming with higher bit rates and better resolution than Periscope Posted via the Android Central App

Everybody's doing it. One picture at a time--LG V10

Let's hope the quality is better than Facebook and Periscope. If it's not at least in 720p, I won't bother with it. Posted via the Android Central App

Can not wait for yt to drop this on periscope. Periscope doesn't care about real content creators they trying to be the next news broadcasting station like CNN. The moment yt launches this app periscope be sweating. Posted via the Android Central App

YouTube has already sort-of had this, but it involved workarounds like using TeamViewer to start Hangouts on Air on a PC, invite yourself to the hangout, and answer on your mobile. I've done it, since telling people to use YouTube to view it is easier than having them install Periscope or sign up for Facebook, but it was a pain.

Well, Facebook is a festering sewer that's past it's prime so YouTube or Periscope are the best options and based on the sheer size of their user base I think YouTube is the way many will go... including me if I ever see anything worth streaming

What a strange attitude. YouTube is different. This is great news!

If the quality is good Chromecast support? Posted via my Motorola Startac
Android Central Newsletter
Get the best of Android Central in in your inbox, every day!
Thank you for signing up to Android Central. You will receive a verification email shortly.
There was a problem. Please refresh the page and try again.