Your next Nokia phone may not run stock Android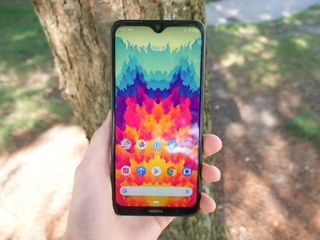 (Image credit: Joe Maring / Android Central)
What you need to know
HMD Global may soon start working on its own custom Android skin.
The company is hiring a "User Experience Designer."
Nearly all Nokia-branded phones from HMD Global run stock Android UI currently and are part of the Android One program.
HMD Global is among the few smartphone makers that still offers devices that are part of Google's Android One program. According to a new report from XDA Developers, however, that may soon change.
HMD Global is hiring a "User Experience Designer," which suggests the company may be looking to create a custom skin to differentiate its phones from other Android OEMs. Currently, all of the company's phones offer a stock Android UI. Its best Android phones also happen to be part of the Android One program, which guarantees two major OS upgrades and security updates for up to three years.
The job description on LinkedIn (opens in new tab) doesn't reveal a lot of information, but notes that the UX/UI designer be responsible for "user interface elements like menus, tabs, and widgets." Since the company doesn't explicitly mention anything about a custom skin, there is a possibility of HMD Global looking for a designer to revamp its first-party apps.
Even if HMD Global is indeed planning to create a new UI for its phones, it could still continue to release Android One devices. Some of Motorola's Moto One series phones, which are part of the Android One program, also come with a fair bit of customization on top.
The clean software experience is one of the key selling points of Nokia phones right now, and ditching it in favor of its own skin could potentially be a really bad idea.
Get the Android Central Newsletter
Instant access to breaking news, the hottest reviews, great deals and helpful tips.
Ah back to this with every phone maker I see. It is a shame, but then again HMD hasn't had a huge presence with their Nokia devices nor have their updates been that great lately.

My Nokia 7.1 showed some potential, but the Pixel "a" line would be my preference in mid tier now. Nokia's 2 OS upgrades is compromised by the 1st upgrade being the current os that the phone should have shipped with. Nokia and Moto will likely be the next LG - but android may be better if surviving manufacturers win by supporting their devices.

Agreed.
Loved my 7.1. Only negative was speakerphone but stock Android was pure joy.

HMD Global are trashing the Nokia name with boring and featureless stock Android, the attraction for me was the on time updates but even that has lost its lustre with Nokia getting worse with updates, Google should just let Android One die and never revive it again because nobody cares about stock Android, they never have and never will.

One of the attractions for buying a Nokia was it's stock Android and regular updates.

Guess I won't be going back to Nokia after my 6.1 is on next to last security patch

HMD should have ditched Android One YEARS AGO.
Using stock Android is the single stupidest thing they've done and their awful and declining sales has proven it.
I know Android Central likes to live in a fantasy bubble where people like stock Android and Google phones, but reality says otherwise: consumers DON'T want stock Android. I for once can't wait for that oaf Sarvikas to leave and the next CPO to take his place. HMD needs to do a 180º on their hardware and software strategy and FINALLY deliver on what we were promised by Nokia in 2016 instead of joining LG Mobile: smartphones worthy of the Nokia brand.
Which HMD phones have never been. Which is why I bought the 1st wave of Nokia-branded HMD phones and refused to buy any more of them. Stock Android is sh*t Android. The sooner it goes away, the better. Let Android One die its deserved death. Its existence has outlived its welcome.

Stock Android is pretty much dead in the water with only Google keeping Stock Android alive with its iPixels but that will soon be a thing of the past as well with Google being Google. I personally won't buy a Stock Android phone ever again, not since I got my S20 FE 5G, which blows Stock Android out of the water.

Yup.
And the ironic thing is that not even Google's own iPixels run stock Android anymore. Google itself has added more features to their phones which didn't make it to either stock nor Android One. Heck, Google even changed the look of the software. The iPixels have a proper Dark Theme, with black notification shade and system settings...whereas stock/Android One has the system settings in a horrid bluish grey.
Goes to show they know stock Android doesn't sell. Even though I loathe OneUI 3.0 (hate the transparent notification shade) it's definitely still the best version of Android on the market. By far.

Agreed, once you go Samsung, you can't go back to using anything else, especially stock Android.