Your Android device is not the place to store your photos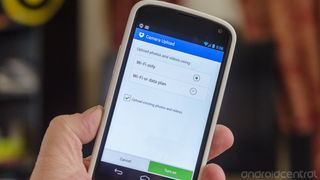 When (not if) you lose everything on your phone or tablet, you'll be thankful you backed up the important things
We just got another heart-breaking email from a reader who has lost all their pictures and video because the SD card in their Android device went belly-up. We get at least a few of these every week, and it's horrible having to tell folks that there is a very good chance they'll need to use complicated forensic data retrieval tools to have any hope of getting those memories back if they can even get the media to be recognized in a computer again. Not having a good answer is the worst part of our jobs.
Now, this is not the SD card vs. no SD card debate. The same thing can happen with the internal storage on your phone, and while corruption isn't as common, accidentally erasing everything is more frequent -- especially when folks are tinkering with things and wiping and flashing "stuff". Don't go thinking this doesn't apply to you, because it does.
No matter if you have 64GB SD cards, or 64GB of free space on your phone, or even just 2GB of free space, don't use it to store all those pictures and videos you'll never be able to get back if you lose them.
There are all sorts of methods to save all those pictures of friends and family, some simple and others more complicated. But I promise there is at least one that will work for you. If you're OK with the cloud, I can personally recommend DropBox and Google+ as great ways to store all those pictures and video, and they have fine grained settings to control when to upload, so you can stay away from your data cap and use Wifi. Other services may be the same, so be sure to investigate all of your options.
Or maybe you're not a cloud kind of person. That's fine. Plug your phone into your computer and drag the folders with your pictures and videos to a backup location that isn't quite as volatile as your phone's storage. I promise, one day you'll erase everything, or drop your phone into the pool (or worse). When that day comes, you'll be glad you kept good backups.
Android Central Newsletter
Get instant access to breaking news, the hottest reviews, great deals and helpful tips
Senior Editor — Google Ecosystem
Jerry is an amateur woodworker and struggling shade tree mechanic. There's nothing he can't take apart, but many things he can't reassemble. You'll find him writing and speaking his loud opinion on Android Central and occasionally on Twitter.
I hear you, Jerry. I'm in the process of backing up mine right now.

Now that's taking advice to heart! I personally back my photos and videos up about twice a year. ;-)

Got in on the Box promo deals for unlimited amount of time 50 gb free, with 2 different emails so 100 gb. Since box doesn't allow large file transfers, all its good for is just backing up your pictures. I use google drive for all my hd videos like from vacations. Just recently had my old hard drive crash, wished I would of backed up everything from my pc, lost gbs of pictures and videos. It would cost a lot though to have backed up 500 gb on drive, i only have the 200 for $10 a month which is great and budget friendly.

I prefer physical storage (although like yours I have 50Gb account from Box), so I backup all my videos and pictures as well as important and sensitive stuffs in 500Gb Seagate Free-Agent for about 50 bucks.

Hey Jowlah, If you arent using Flickr, its the right time. Try it once, you wont regret :-) Jim

Do they offer easy upload from phone yet though? I totally was psyched until I started looking and seeing
1. no auto upload
2. no easy batch upload (i.e if I remember you couldn't even just multi select)

Good...cause I lost my ass past 5-6 yrs complied on a 32bg mirco sd card was stupid...lost it doing wheelies on my bike ftl...I will always back my ish up now no less than twice a year if not double that...please do NOT lose all your valuable memories like I did...terrible...

Well said Jerry !
I always keep a copy of everything I have in my phone & Tablet in my Laptop ... just incase! I was in the situation before where my Atrix stopped responding & I ended up Hard Resetting it

So easy to back it up to an external hard drive. At least one a month I back it up.

I vote for the complicated. A combination of an ssh server app (SSHDroidPro), a little homemade android app, and 3 crontabbed little scripts to rsync on my PC equals back up magic. My whole DCIM folder, my Titanium back up folder and any nandroids get backed up to an external hard drive on one of my home PCs. It is fast, wireless, is fully automated while I sleep every night.

I do the same thing, but not just for my phone. I do it with every computer on my network and it all backs up to a server, which then writes the data to three HDDs. It may be a bit of a setup but definitely worth it.

Mine isn't automated but I use ES File Explorer to paste my dcim and titanium backup folder onto a drive on my lan and to dropbox every night before bed. Posted via Android Central App

I have an external hard drive but my android videos won't back up to it. All previous at&t phone videos backed up easily. How can I get the android videos on to the external hd?

Ftr, this includes your pr0n too. Don't store that there. lol. What? Someone had to say it, it was either Jerry or me.

Why do you have to call us out there man? :/ Anyway, yeah someone just HAD to mention it. Posted via Android Central App

Pictures and Videos are on my phone 1st, then DropBox, and lastly I do back them up on an external HDD that is used exclusively for mass storage. Other than saving to a cd there isn't much more I can do.

I shot a wedding and my card for the ceremony got corrupted. Recovery software recovered all the photos.
Best 40.00 I ever spent.
If that ever happens to somebody never format your card without trying recovery. Micro sd cards typically have a 3 year warranty so if you ever have card trouble contact manufacturer and they will replace for free.

What recovery app did you use?

Also, if you already did format, you're more likely to have success (at least with software that analyses the raw data to find files) if you format it exactly like it was before (same format, same logical drive layout, etc.) I accidentally formatted my MicroSD over a year ago, and I got all my data back, albeit missing all file table data (folder, file name, modified/accessed date, etc.

I use Dropbox & Google+, just last month I decided to start forking money over to Google to increase my Drive & Google+ storage. Posted via Android Central App

Hmm.. It seems like you havnt checked new Flickr. Try it once :-) Jim

The Gallery app on my GS3 always crash and end up losing my pictures, even though my photo are stored on my phone. So I have been storing all my photo/video on DropBox.

Hi Cloud..! Try new Flickr Website ..! Its Wonderful Site.. I Fell in Love with it :-) Jim

well Im a new android user, but with my old Nokia 920 windowsphone had the option to auto upload pics I take to skydrive. Is there not anything like that on Android?

If you use Dropbox there is a setting to upload each pic as it's taken
Same for Google + Some other cloud providers offer the same options Posted via Android Central App

I don't see a way in Google Drive, but Google+ and Dropbox both have automatic uploading. Also a new company to the game is copy.com. they offer 15gb to start and will auto upload as well. Posted via Android Central App

Copy.com will give you 20GB (instead of 15GB) if you sign up with a referral link https://copy.com?r=FJ0ixF Copy has been working well for me. It might be a little slower on really big files compared to Dropbox, but not enough to matter to me.

Hello Rider..! Try New Flickr Website. It does have andriod app.
Better than skydrive. For Sure :-) Jim

I use both drop box and G+ to auto backup. Couldn't be happier. Nothing beats double back ups. well... maybe triple... Or quadruple. Posted via Android Central App

Same here. I use Dropbox and Google+, and have a pogoplug on my network at home so as soon as I connect to my home Wifi certain folders backup to a hard drive. Better safe than sorry!

Jerry, that sounds like the making of a good article there (auto directory backup over WiFi)

Hi AnThono.. :-) Flickr is better site(If not app)..The only drawback i see is auto backup and option to select all photos in one shot. Hope they will add it soon. Have a look at Flickr Website and Decide yourself :-) Jim

For a while Google+/Picasa pic auto-upload would edit the original file each time it touched it to do the upload, which if it did it after Dropbox uploaded the file would cause Dropbox to upload a second copy with the edits. Super annoying. I reported it as a bug to Google and Dropbox, and only Dropbox bothered to even respond. Ever since then, I am a Dropbox-only customer. I have free accounts at all of the cloud storage providers, but Dropbox is so fast and simple that it really has no competition. After Dropbox, the files show up instantly on my home PC and then get archived with all my other (non phone based) pictures regularly to offline vaulted storage.

Part of the problem is the small micro-sd cards used in phones, I find they are much more susceptible to failure than standard sd cards. One thing I cannot stress enough is at least reduce the risk by buying a decent card, don't buy some cheap market-stall rubbish.

Especially with the deals Amazon will give on SanDisk cards every so often getting a great card at bargin bin pricing is just timing and paying attention.

I take a photo it then gets auto uploaded to Carbonite premium, G+, Dropbox premium account, and something else I can't remember. I still don't think that's enough for some reason. It's wayyyyy too easy to back stuff up now to not have a backup for your photo's. Even music for that matter. I have all my music on Amazon cloud drive, Apples cloud service, and Google music cloud service. Looking at this seems like I have been going in 3's kinda scary. I'm thinking I might wanna stay inside today...

+1 on the Carbonite. I just subscribed and, to my surprise, phone backup was included with the desktop subscription. What's even better is it backs up to unlimited with the pictures full size. So now I have G+ set to the compressed unlimited backup and Carbonite for full size. Posted via Android Central App

I personally recommend copy.com for all your back up storage needs it is easy to use and you get 15g of free storage from start and you can expand that by reffering freinds and tweeting it I use this and have never lost anything because of it.

G+ auto-upload and drop box for me. Then I don't have to think about backing up. I'm also playing around with copy.com now too. (if you sign up for copy.com find someone that already has it and use their referral link and you'll get 20GBs at sign-up instead of the normal 15GBs, anyway, just mentioning that for those that want to look into it) eh, i'll shamelessly throw mine out https://copy.com?r=ZD820D Posted via Android Central App

Jerry speaks the gospel here, folks. Make it a point to save at a frequent but regular interval, especially if you do not utilize cloud services. If you take photos/videos of important stuff during a given day, do it that night. It only takes a minute or two tops, and it can save a long time of grief.

I use Google+ and dropbox. I learned my lesson when all my photos was lost from a vacation. Posted via Android Central App

General rule of thumb, if it is important it should always be backed up, and this applies to any and every device you own. I can't tell you how many times I've heard "can my ubber important files be recovered from my hard drive" followed by no I don't have a back-up

Great article Jerry, sadly a subject many people do not take seriously enough. This is pretty much what I was going to say. This is what I tell teachers, staff and students where I work: "If it is important to you, make sure you have at least one copy of it somewhere else." I have been using Copy.com and now have my important files backed up on 3 different computers and can access them from my phone. One of those computers recently had the HDD fail on it, surprisingly enough it was the laptop with the SSD in it. I think I am up to about 40GB or so of free storage. Need to get my referral code out there some more for people to sign up and get 20GB of storage for free. If anyone is interested, and has yet to sign up with Copy.com, I would appreciate you using this link: https://copy.com?r=kVBI2f The service is great, and is from Barracuda networks, a top notch security company.

Auto upload with Dropbox has saved my butt more than once. I put mine on G+ and DB without a worry of losing anything. Too important not to. Posted via Android Central App

I use Google+ to backup my photos and use MEGA for everything else.

I used to do the same till arrival of New Flickr Website. Now, i use Flickr for all my Photos and MEGA for everything else :-) Jim

Yes Jerry as usual speaks absolute sense, I had a Micro SD card fail, tried everything but no dice, I had all the important stuff uploaded onto Skydrive thankfully. On that topic, does anyone know of a cloud storage provider where you can order prints direct from the web interface without having to download images and then upload them to a photo printing service ? Posted via Android Central App

Always a good reminder. I am very redundant with my backup since having my son 6 months ago. I have my photos backup to Google+ in reduced resolution, then to Dropbox in full size. I work the dropbox folder to find any important photos and upload them in full-res to Google+ albums if they're of my son, then I send them to my home server for local storage. The server runs Crashplan backing up all of our computers, and backs its own media up locally and to Crashplan Central. With all of this, I'd better not lose any photos! I also set up Google+ photo backup on all of my family's phones. I tell them I do it, but I don't think they know what it is. It's such a seamless backup that they don't need to know.

A thousand times THIS! I've had the card that came with my phone kersplat on me about a year or so ago. I've moved on to getting a Transcend card into it and even still I backup everything to my Box account.

I always back up[ to google+. Having a copy on your phone and at home is not enough, a copy in the cloud should always be a third choice. Another app is Sweet Home https://www.androidcentral.com/e?link=https2F2F... I've been using it for a long time, when I charge my phone while connected to my home wifi it connects to one of my computers over the network and uploads all my latest pictures. To go one step further the folder the picture are kept on on my desktop is backed up with carbonite. I have 4 copies (phone, computer, g+ and carbonite) of all my photos at all times without me having to do much of anything but charge my phone at home.

Here's what I do. When I take a picture it uploads a downsized copy to Google+. I do this for an instant backup without using a lot of data. Then once I am on wifi it uploads full size images and videos to Google Drive (using cloud vault uploader), pogoplug (I have unlimited storage with them), Dropbox (pics only), and my personal owncloud server. Then at night while I'm sleeping I use folder upload to rsync my entire sd card to my home nas which is then backed up with my offsite backuppc server. I also run a backup of all of my apps with helium. In the end I feel pretty good about my data. :-)

I really want to do a back up my note 10.1
, but my imac , windows 8 pc and xp pc will not recognize the device.

XP and Win8 may not support the drivers for it, use Dropbox and all your stuff will be synced to all 3 of your computers if you install it on there as well.

Or you haven't enabled USB Debugging.

Try Droid NAS. You'll see the phone in the Finder on your iMac.

Dropbox is a great service, and their app is excellent. Especially nice when I got 50gb on Dropbox along with my S3.

Working at tmobile I see this happen all the time worst part customers aren't smart enough to write their gmail info down and lose & everything Posted via Android Central App

Yeah been using Google+ to back up my photos/videos since I've had my nexus 4, don't regret it one bit. Peace of mind. Posted via Android Central App

I use Google+ too, I like the fact that all the images are private until you share them - no accidental public uploading of every picture you takes. Also, Google+ has a nice selection of photo editing and touchup features which you can use to stylise it before sharing it! Plus, you can log into your Google+ account on any webpage to see the pictures, which makes for really easy sharing away from your own PC or phone.

Yeah been using Google+ to back up my photos/videos since I've had my nexus 4, don't regret it one bit. Peace of mind. Posted via Android Central App

I have my S3 on auto dropbox upload so when I come home they end up on the cloud and every 2 weeks I back it up to a computer or my external HDD

Just a thought, Flickr gives a ridiculous amount of storage, not sure about auto Backup though.. Posted via Android Central App

Yep. That's the cloud storage I'm using right now. Google+ is nice because they allow unlimited photos, but only if you reduce size to 2048². Flickr is 1TB of any size photos. So nice.

Yea no auto backups with Flickr or share photo outside of there program. You have to actually send a flickr link that opens up the website. That sucks. Flickr is like a instagram that you share with the world vs just with your friend. Again....Sucks

I use rsync to backup to my all-purpose server. It's not something that probably appeals to most people, but once it's set up, it's very secure and transfers are fast.

Between DropBox, Ubuntu One, Box, and SkyDrive, you're good to go after a few setting changes. If you have multiple computers and want extra space with dropbox, just create a couple extra email addresses and refer yourself then install the application on each computer and before you know it you will be up to 8-10Gb :) And like their page on FB. Easiest 500mb ever.

how about taking backup...

Google+ instant upload & a 1TB back up drive. I do the backup drive about once per week. Tim
Posted via the totally awesome Android Central App from my Droid 4

Wise words.
I use instant upload on Dropbox and Google+, and a nightly automated backup to a home server through Tasker, Wake on LAN and Foldersync. You can never have enough backups.

That's why I put all my photos on Google Drive.

Backing up on anything but cloud platforms is the way to go.

I learned this lesson the hard way back in the days of the 5 1/4 floppy disks. Technology is new-human error and faulty disks aren't.

Advice to live by. I've lost so many photos on both my laptop and phone either by hardware failure or clumsiness. Cloud storage is the way to go.

I manually upload photos to Picasa/Google+ right from the Gallery app when I'm on wifi. Everything syncs across my Android devices that way. I also use Picasa on my PC, which I've set up to download the pics to my NAS. Took a while for the community to figure out that bug that was preventing uploads to Picasa from the Gallery, but it's been working for a long time now.

My ATT Android came with AT& Locker. I have it auto-download all new photos...

Google+, Copy and Box. I,too, believe in redundancy :)

Here's my backup situation. I use Google plus as well as drop box to automatically back up my photos. Recently I added lookout mobile security to my phone and activated its auto photo backup feature. Finally I have crash plan set up on my laptop which backs up the pics I transfer to it Posted via Android Central App

Agree +1 I use DropBox and Google+ for photo backup along with the Helium backup app for app data. Can't go wrong there!

Good advice Jerry! I keep my music and pics within the cloud, and a USB flash drive.
I also plan on investing in an external hard drive.
Funny reading this because, I had 29 songs I bought on Amazon.
I saved them on my SD card, until I could load them on the USB.
This morning, my SD card did just that. Went belly up, somehow the files were no longer there. Posted via Android Central App

I never leave photos on my phone for too long, mostly because of what Jerry is talking about, but also partly because I hate cluttering up my phone with too much stuff. I recently checked my wife's iPhone--she has 8.6 GB of photos on that thing, and only recently started to back up the ones that she really wants to keep. It's interesting to me that when I hear about someone losing their phone, and all of their life's memories with it, it's almost always an iPhone. I suspect some of that is due to the fact that iPhone users tend to be less tech-geeky anal-compulsive and think that their iPhone will last forever (or will never get stolen), as well as the notion that the iPhone "just works," and therefore there's no need for those photos to be anywhere else.

I started backing up my photos years ago when one of my 8gig cards started acting up in a phone. Card has been fine since so I can only assume the phone was having an issue.
...unfortunately only after buying a 32gig card and putting it in my Galaxy S3 I read up that MANY people on XDA were having issues with 32gig and 64gig cards becoming unreadable :( I'll be watching closely and backing up quite a bit more often now.

If you have a Carbonite account, you can back your phone pics there. It's at no extra cost.

All my photos automatically go up to Dropbox and Google+ whenever I take anything (Video r Photo-wise) so I guess rhar's kinda backing them up although I sometimes copy my photos and vidoes to my computer as well just in case. I need to get an app to back up my phone but short of rooting and getting Titanium I'm not sure what my options are regarding that. Forgot to mention I got Copy, Skydrive, Google Drive etc... so I dare say I'm not too short of options.

Or you can send them to Facebook or Twitter. Posted via Android Central App

I backup to Google+ and Google Drive and to my NAS at home. My NAS gets backed up to a redundant NAS device (I always buy two of every storage device I get and set one to back up the other).

Hindsight is 20/20. You will be surprised at how many of my friends and colleagues don't backup their devices at all.

When I got my note 2 I got 50gb free dropbox account for two years so I just use that, they auto upload on wifi then I copy them onto the pc and then once a month do a copy onto a external hd. Was proper happy to get a 50gb dropbox account for free!

I can not imagine NOT HAVING Dropbox on my device. I always back up my photos, it is actually happening automagically after setting up camera uploads. I also keep my music in the cloud. Still do not understand people arguing about lack of memory card slot of any sort in certain devices...

Can I also add don't be stingy and buy a cheap SD card! I recently bought a 64GB micro SD card and out of a choice of a £39 one and a £12 one I decided to save the cash and go the cheap option which came back and bit me in the arse (that's right, i'm a brit and we say arse) big time. It's true what they say....you get what you pay for. I lost around 7 GB of photos i'll not be able to get back and quite a few videos (all decent and family friendly lol). Dropbox account has now been added and a quality SD card purchased.

I tried Drop box once. But I noticed your pics etc get uploaded to your PC as well.
My photos etc I share with friends and family.
Not the computer tech guy when it breaks. :-D
I am also only seeing 2GB of storage space.
None of my friends use Drop box, so storage is limited, since referrals is.limited for me. Posted via Android Central App

With the PC dropbox app you can control what folders get synced to that machine.

OK,thanks. I will look a little more. Posted via Android Central App

I didn't want to take any chances. I bought a pixel so I can have a terabyte of storage. I use Foldersync to back up everything from my phone to google drive. I also have my google drive folder on my PC on an external drive which keeps an extra copy on a local drive for me. I use SyncToy to sync all my folders on my PC to the google drive folder which I have on an external drive. This ensures I have 3 copies of my data (cloud, PC and external drive). And there is one more thing.. I also have my data on another external drive where data syncs one way to it with files added but not deleted (there is a setting for this on SyncToy). This method makes sure that if my data was maliciously deleted and I was not paying attention, I will have an extra copy in that fourth location! It sounds a bit paranoid, but like Jerry said, why to take a chance at losing your precious memories.

What's the upload limit with Copy?

There isn't one that I've found.

Here is what Copy says about file restrictions: "Email attachments have size limitations. Copy doesn't.
Anything you have saved with Copy can be sent without the hassle of file attachments. Send 1080p videos to your clients or whole wedding albums to your friends. Goodbye, email filesize limitations." This can be found at the following link: https://www.copy.com/about/ A quick run through of the site did not find anything to contradict this.

For anyone needing to recover data from a MicroSD card, I recommend TestDisk http://www.cgsecurity.org/wiki/TestDisk It's free (cost & open source), & can recover from almost any filesystem type (including FAT, NTFS, exFAT & ext2/3/4), runs on Windows, Linux & Mac, so on & so forth. I've used it on everything from 2 GB MicroSDs to 3 TB external drives.

It is actually a little sad that people need to be reminded of this. The same goes for your camera. When I return from a trip the first thing I do is upload to my PC. Every so often I also back that up on to another drive and I also upload most to Flickr.

Flickr is even better since it now offers a 1TB of storage. Posted via Android Central App

Dropbox. Get it. Install it. It will sync every picture you take to your Dropbox account. I adore this feature, and use it all the time.

After you upload your pictures to Dropbox/Google+, should i delete them from my phone/sd card?

You can do that when you need more space on your phone since they are now backed up.

o ok thanks for responding

Maybe a good time to mention 1TB of free storage on the flikr app for Android. Posted via Android Central App

Wow, one terabyte, they must be desperate. Posted via Android Central App

It's not modeled as a backup app although they tell you you have 1 tb. No auto update, sharing etc...

Its crazy to me to see how many people don't back up at all, that includes phones and PC's. With an SD card or a hard drive its not a case of if it will fail, but when. I've seen people lose years worth of images. However even after losing data some people don't learn their lesson. And its so easy these days with large free cloud backup. Beggars belief lol

That's one thing I love about google+. That way you always have all your stuff because is really sucks to loose pics of your kids

So i have a question if i enable auto backup with google plus after it backs everything up is there any way of restoring it back into a new phone if i had to get a replacement ?

Yes once you sign into you gmail account google+ photos is checked automatically to download and will download a small thumbnail of each picture in your android gallery. But dont forget to actually go into the app to turn on upload photos. Photos want be uploaded till you have at least opened google+ once.

I have an Amazon Cloud Drive account and have my photos and videos set to get backed up whenever I'm on wifi.

I have my photos automatically backed up to Dropbox. No more losing photos for me. Plus I can access them from anywhere I have an internet connection.

This happened to me this weekend... My SD just stopped working. Luckily I'm a little crazy about backing up my pictures, I auto back-up to google+ as soon as the picture is taken, and when my phone gets in wi-fi it also backs-up to amazon and dropbox. I know that's overkill, but better safe then sorry.
Although one thing all the backing up didn't help was the fact that I was on vacation in a area with no cell coverage, so nothing backed up, so I lost a days worth of pictures up in the Adirondack mountains

I stopped feeling bad for people those who suffer this fate a long time ago.

Since I use Smugmug for all my photographs, I have a Mobile Pictures gallery as well that I send all my phone pictures to. I have had SD cards go south before and it is no fun thats for sure. Pictures are something that I try to backup in triplicate to be extra sure I will always have them.

Carbonite Mobile, free unlimited wireless automated backup= done!

I was using G+, but the problem is that on my wife S3 and now on mine it wouldn't stop syncing. Talk about a horrible battery drain. On her phone I had to completely disable G+. On mine, I was able to get away with not syncing. But now I don't have a way to back-up our pics. Maybe I'll try Flickr.

This may be expecting too much. But I have all my photos within Picasa,arranged in folders.
Google+ is nice, since it backs up your photos as they get loaded in Picasa.
One problem I see with Google+. All the photos uploaded, but they are all mixed up.
Is that the way Google+ loads them, or is it some bug? Posted via Android Central App

I think it IS " the SD card vs. no SD card" thing. If you don't have a lot of storage ("and dude, i need my music! "), you're more inclined to use automatic cloud uploads (FB, G+, Drive). Problem solved, though at some point you still have to sort and clean out the pile of stuffs.... Posted via Android Central App

Dropbox + Dropsync Pro (5 bucks) = NEVER losing a precious photo or video again. Seriously, for a "Fin" you can have absolute security that your photos and videos won't be lost due to an accident or clumsiness. This isn't hard.

I use both a Samsung Tab and a Z10 blackberry. For both, I wouldn't care if I had to lose all data, since all emails, contacts, and calendars are from Gmail/Google Apps/Yahoo/Hotmail, all pictures & videos are automatically updated to Dropbox.

Android Central FTW!!! Thanks Jerry!

some affordable devices are here duℬ40. ℭℴℳ

I personally use Dropbox. Easy to get stuff on and off. Tried G+ Instant Upload, but couldn't find any way to download videos. Since, they have implemented something buried that can download, but I am already dug in with Dropbox.

So once I back up (google + and amazon) could I erase the pictures on my sd card and everything will be ok? The ones I saved won't be deleted will they. This may be a stupid question just want to make sure. And can you develope your pictures from Amazon cloud or google+? Thanks.

Hi I have a Xperia SP and a Samsung Galaxy A3 I've installed Dropbox and I've Google +, picasa and Google Drive (as uve guessed I'm not tech savvy) which is the best to store ALL my photos on? Can I just use Dropbox? On both phones with the same email address? HELP HELP HELP

Hey Umesh singh1! What's your take? Leave a comment. Mai aapna photo upload kaise kru

Hey Umesh singh1! What's your take? Leave a comment. mai aapna photo load kise kru

I'm desperately trying to do just this! My photos automatically update to Google but apparently if I delete them from my android, I'm also deleting then from the cloud too. This, I have run out of ALL storage pace on my phone. HELP! My phone hardly functions but I don't want to lose my pictures. Thanks in advance!

Why do I have 131 comments from the previous owner. Still on this phone. Yet, I can not access my own?

Facebook said we need to get. Moments. So, Please tell me how to get it on this phone??????
Android Central Newsletter
Get instant access to breaking news, the hottest reviews, great deals and helpful tips
Thank you for signing up to Android Central. You will receive a verification email shortly.
There was a problem. Please refresh the page and try again.