Google adds official speaker support to Android Wear, new gestures for easier navigation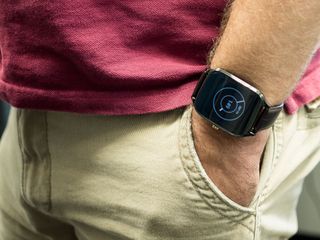 Google is finally enabling speaker support in Android Wear, meaning select smartwatches will be able to make calls and listen to messages using the included speaker. We've seen watches like the Huawei Watch and ASUS ZenWatch 2 have speakers inside, but they were not active at release. Google has announced a number of changes for Android Wear-powered smartwatches that make controlling things easier from your wrist. These changes include:
Navigate your watch with new gestures. Scrolling up and down your card stream is as simple as flicking your wrist. Starting today you can also expand a card, bring up your apps, or return home to your watch face with a push, lift or shake. You'll be able to stay connected to what's important, while keeping your phone (or other hand) in your pocket.
Send more messages with just your voice. With Android Wear, you've always been able to get answers to spoken questions. Now you can also use your voice to send messages from apps like Google Hangouts, Nextplus, Telegram, Viber, WeChat, and WhatsApp. Running late for lunch? Just say "OK Google, Send a WhatsApp message to Nathan: I'll be right there."
Make calls and listen to messages with speaker support. Screening calls from your wrist is a nice convenience that comes with Android Wear. Thanks to speaker support, you can now make and take calls over Bluetooth. And you can listen to audio/video messages with apps like Glide. All you need is a watch with a speaker, which today includes the Huawei Watch and the ASUS ZenWatch 2 (49mm).
These changes will be rolling out to all Android Wear watches over the coming weeks, so keep an eye out for the update on your watch.
Source: Official Android Blog
Android Central Newsletter
Get instant access to breaking news, the hottest reviews, great deals and helpful tips
Jared started off writing about mobile phones back when BlackBerry ruled the market, and Windows Mobile was kinda cool. Now, with a family, mortgage and other responsibilities he has no choice but to look for the best deals, and he's here to share them with you.
Makes me glad I snagged a ZenWatch2 over the holidays. Alas, my G Watch R won't get in on the party though.

Interesting...my OG Moto360 allows Bluetooth connection directly to listen to downloaded music, does that mean I can answer a call?

No your OG moto listens to music over a Bluetooth connection between your watch and Bluetooth headphones. Your moto doesn't have a speaker. Posted via the Android Central App

Where did you get that metal band for the Asus Zenwatch 2?

Glad I decided to just hang on to my first gen moto 360 and not upgrade, I have a feeling that gen 3 watches are going to have an uptick in functionality.

Since I have a 1st gen android wear smartwatch, I won't be receiving much things from this upgrades. What I wonder is, when will we be able to send audio messages through wear to apps like WhatsApp and the like?

As soon as the developers of said app decide to add this functionality. As a developer, I can assure you there's nothing stopping them from doing it now. Posted via the Android Central App

I'm more interested in the under the hood parts of the update they're not talking about. I'm going to guess this brings wear to the 6.0 codebase, which hopefully clears up some of the oddities I've come across with it paired to a 6.0 phone. Since people will ask, my best example is if you install Instaweather: right now the only way to get the watch faces after the install or sometimes even an update is to go to the app drawer on the watch, launch instaweather, and confirm the permissions before you can set the watchface. Hopefully things like that work a little better when the watch is on a 6.0 codebase.

This is good. Not that making calls would be great and really only useful sometimes but just for the fact if you misplace your watch it will be easier to find Posted via the Android Central App

Android Wear - still 2 years behind the Samsung Original Gear watch. I have a G Watch R that serves its purpose but will not buy another Android Wear watch until Google finishes with the feature set they plan creating for Wear. This add something every six months that require you to buy another watch to get the feature is flappin criminal.

I had the Gear S OG and I mostly agree with you. I love Tizen and GearS was way ahead anything AW was able to do, however a lot of it for me became unnecessary. And now they actually took features out the Gear S, so even though it did more, it's start to do less, and sometimes that's a good thing. Posted via the Android Central App

If you're going to wait until they add all the features they 'are going to add' then you'll be waiting until either android wear is killed off or Alphabet goes under. Until then, the same with anything, you buy when the current version does what you want. Posted via the Android Central App

This will be great for my line of work. Excited this is finally being implemented Posted via the Android Central App

They need to support NFC and MST on the watch. Paying without taking your phone out of your pocket would be awesome.

So glad I bought a Zenwatch 2 instead of a 360 2015. I got mine for $120 on swappa like new and it has a speaker. Bang bang bang. Posted via the Android Central App

First thing iam doing is disabling that speaker. So glad I got the moto 2nd gen

2nd Gen 360 has no speaker so what would you disable? Posted via the Android Central App

Lol. . Wait. .what? !!lol. That was funny. Posted via the Android Central App

Don't forget to disable that black bar Posted via the Android Central App

I can understand what he means. One of my favorite things about my OG Moto 360 is that it allows me to leave my phone on silent and still get notifications. I work in an office that is frequently pretty quiet, so I hate it when my phone is going off constantly. As a result, I would leave the system volume almost all the way down, but then I would not hear it go off when I was no longer in a quiet environment. If my watch was suddenly playing audio, that would defeat the purpose. Not everybody wants the same things.

I thought it was reported that all the new smartwatches from last year including the moto 360 (2015). Well I know at least Asus and huawaii confirmed our for theirs. Posted via the Android Central App

What would be cool, is if devices that don't have speakers would be able to utilize blue tooth headphones as its communication speaker.
But I'm still loving this update.
Posted via the Android Central App

The current LG Urbane and Zenwatch2 both have Bluetooth 4.1 and can utilize bluethooth headset (or any bluethooth speaker really) as it's communication speaker. In fact, i have saved music and audio recordings directly on my LG Urbane and Zenwatch 2 and listen to music through bluetooth headsets while on runs, hikes, or bike rides WITHOUT having to be connected to my phone ( I leave the phone at home). There are also some apps like Android Wear YouTube Videos that allows for watching videos streaming off your android wear and using the headset to hear the audio. LOTS of features and functionality to android wear ...at least for the LG Urbane and Zenwatch2. I assume most android wear watches have similar capabilities (if similiarly specked on hardware...4 GB internal storage, 512 MB RAM, independent Bluetooth 4.1 and above, and independent WI-FI), but can only speak for sure on the 2 models I own. As for the Zenwatch2 and the marshmallow release, Asus has not rolled update out yet, but when they do which would enable the speaker on my Zenwatch2, I will ONLY be using the speaker functionality for ALARMS and locating my watch. AS another person commented, the point of having a smartwatch (at least for me) is so I SILENTLY check incoming notifications, texts, emails, etc....so I can set my phone ON SILENT and keep it out of sight so I do not disturb those around me (plus I find the constant ringing, dings, and audio chimes annoying after a while.) So while I am glad my Zenwatch 2 has a speaker built in, I DO NOT really intend on making much use of it...other than the aforementioned limited purposes. And I should note that I purchased both smartwatches (LG Urbane and Zenwatch 2) at the same time and fully being aware that the LG Urbane was without an internal speaker while the Zenwatch 2 had a un-used speaker. This was not a detraction, nor was price. What I wanted was exactly what I got - two very functional (for my purposes) and VERY STYLISH watches (one full-circle round display, and the other rectangular display) that used standard interchangeable 22mm watchbands (I can swap bands between them to dress them up or dress them down as much as I needed in seconds), and a way of reducing the need for me to have my phone on all the time and has cut down my need to be on my phone by 70. I now only use my phone for adding new contacts or when I have to browse extensively online. (Mind you - android wear does have apps for browsing webpages online, shopping on amazon and ebay, watching youtube videos, etc...and the google now voice assistant is MUCH MORE practical and effective for being able to quietly speak into your watch instead of pulling out your phone and typing in or speaking loudly into the phone. I cannot say enough good things about Android wear. Makes life WAY EASIER and makes my phone seem dated...like an old black and white TV!

Sending messages via voice from chat apps is a nice and much needed update.

Did anyone who has the urbane receive the update yet? Posted via the Android Central App

I've got the Huawei watch and this version of Android Wear, but an not hearing anything from the watch. No volume setting or any way to turn this on either. Posted via the Android Central App

how do i know if my zenwatch has the speaker?
Android Central Newsletter
Get instant access to breaking news, the hottest reviews, great deals and helpful tips
Thank you for signing up to Android Central. You will receive a verification email shortly.
There was a problem. Please refresh the page and try again.