You can now buy the LG G Watch and Samsung Gear Live from Best Buy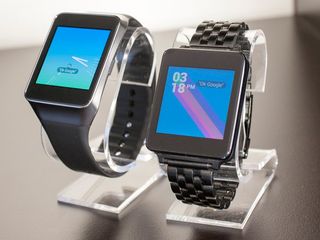 The two currently-available Android Wear smartwatches — the LG G Watch and the Samsung Gear Live — are now available for purchase from Best Buy (opens in new tab). Sure, you order them right off Google Play (opens in new tab) or from Amazon (opens in new tab), but if you really want to get your hands on one and see what Android Wear is really like before you plop down $200 or more, then Best Buy might be your option.
That is, once they'r available in stores. Neither the G Watch or the Gear Live show as being available for in-store pickup, but they are at least listed as "coming soon". The G Watch is at least shipping within a day of ordering, whereas the Gear Live is currently listed for pre-order.
Does an Android Wear smartwatch from Best Buy suit your fancy? You can check them out below:
Derek Kessler is Special Projects Manager for Mobile Nations. He's been writing about tech since 2009, has far more phones than is considered humane, still carries a torch for Palm (the old one), and got a Tesla because it was the biggest gadget he could find. You can follow him on Twitter at @derekakessler.
First comment woop!!!! Posted via Android Central App

Hopefully T-Mobile stores will follow suit. TMO-news reported this morning that accessories will be able to be financed over the course of 24 months like they do phones. It'll give T-Mobile users the opportunity to pick up a smart watch and only have to pay a couple bucks a month having it financed. Posted via Android Central App

I'm hoping for this as well. Much easier than saving up for a G watch.

They're not really available from Amazon yet. Just a bunch of third party sellers trying to make a quick buck by charging three hundred dollars a watch.

Unfortunately, this isn't really anything "new". It's been this way on Best Buy's site for days (maybe even a week at this point). I check their site daily because I'm waiting for in-store inventory and the G Watch has been available via web ordering the whole time except for the initial day of launch while the Gear Live has been available for pre-order for the same time frame. You got me all excited thinking that in-stock availability was finally here. :(

For over 2 weeks they have been on the bestbuy website. The G watch was on sale (pre-order) the same day as the play store.

No it wasn't. Not even close. I searched the heck out of these things from the moment it was announced through the 7th, the day the Gear Live was SUPPOSED to be available from Best Buy. Neither watch was on their site. Just a general "coming soon" section for Android Wear.

Only the gear live was "coming soon". I promise the G watch has been there since day 1. I didn't order b.c store pick up was not an option.

The Gear Live wasn't even "coming soon." It basically gave no indication other than the product category. I searched daily, and clicked on their "Android Wear" section. Nothing.

True. The gear live was nowhere at first. Maybe a week ago? The banner that said coming soon showed.

You can simply go to your local At&t store. We have been selling the G Watch since Friday Posted via Android Central App

I won't do that for two reasons: 1. I want the Best Buy rewards points. I'd prefer to earn Amazon points for it but they have yet to begin selling it directly unlike what the article states. Only third party retailers over-inflating the price due to the demand.
2. I spent nearly a decade in local AT&T stores on both the independent and corporate sides. Returning to an AT&T store is the last place I feel like going.

This is what i did. Posted via Android Central App

They are not available because Best Buy won't have any actually in stock until Thursday the 17 (for G Watch) and Next Thursday the 24th (Gear Live) Source: Employment

Good to hear since I've been waiting for in store arrival so I can build my shopkick points.

Just FYI, they were available for pre-order last week and they were shipping as of Saturday/Sunday. I got mine in yesterday.

How is the watch so far?And is it worth it?

When are they coming to Amazon? They are there but through 3rd party and at a high markup. Posted via Android Central App

I picked up last week the gear fit for sale at Best Buy for $99. So far I'm very happy. It does what I need. It tracks my walking, tells me the time and shows the notifications I want to see. Plus I can see it outside in the Phoenix sun. I may have to try the 360 though.
Posted via Android Central App

Good I can try them on there Posted via Android Central App

Those prices on Amazon are murderous.

Weird. Best Buy was supposed to, according to Google's announcements, have the Gear Live on the 7th. I preordered a G Watch, but planned to refuse it and pick up the Gear Live at Best Buy based on reviews. That morning there was still no news, and new reviews were already starting to get me to waffle, so I kept my shipment. Glad I did. G Watch is great, and the charger issues with the Gear Live don't sound worth it. And based on the battery life I'm getting out of my G Watch, which is pretty much perfect for my day, I'm pretty sure the lesser life of the Gear Live would have killed it for me.

I just walked in to my local ATT store and picked one up. Their website still lists that they're not in-stock for 50 miles but sure enough, they had several. They even matched the "buy 3 accessories, get big discount" deal. It took some finagling to find some $5 clearance cases but i walked out with a G Watch for $192 with MD tax. And I've got 14 days to return it if I'm not thrilled.

Title should read "You can now get buyer's remorse at bestbuy".

I have been wanting to buy this (or ANY Android Wear devices) did tons of research. One thing that I haven't been able to confirm: If I connect multipl bluetooth devices, what will happen? Specifically:
1). I have a BT headset - if I am on a call, will the watch also pick up my voice? 2). I am in a car with intergrated bluetooth - If I connect to the car's bluetooth for phone calls, will the watch also pick up my voice?

From what I read I've seen people have had success with the car not sure about Bluetooth headset though.

First I get interested about android wear I searched a lot about it until I reached to the point of the internet connecting, this devices can't be connected to internet alone it need a mobile or tablet near buy to get notification and internet from it without paired the device with a few supported number of mobile & tablet it's useless this is a terminal like the sport gear fit you need a phone to make it work. moreover the samsung gear when you first buy it you can't get it to work until you pair it .. read the review at the the next page http://www.amazon.com/Samsung.../product-reviews/B00JBJ3I4?tag=hawk-futu...

You're just realizing this now? In all seriousness, yes, your description is correct. That's how it is designed and is not something that should be considered negative. If you're looking for an independent watch/phone combo, you're not going to find it utilizing Android Wear. At least not in the foreseeable future.

So ymmv but I managed to find one best buy near me that had 2 g watches in stock and I bought both. Most stores in my area aren't receiving any till the 20th. They aren't on display yet at the store I bought from they were just boxed up in the back. So give your local best buy a call and hopefully you get lucky. They should be able to check inventory for stores near you as well.
Android Central Newsletter
Thank you for signing up to Android Central. You will receive a verification email shortly.
There was a problem. Please refresh the page and try again.