Xiaomi's Mi Band 2 has a fancy new screen but costs only $23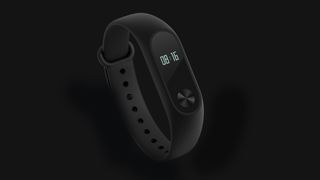 Xiaomi's Mi Band 2 has been officially unveiled by the company. With an increased price of $23, the second generation of the wearable adds exciting new features for budget concious buyers. Features of the new band include a 0.42-inch OLED display, heart activity monitor, step counter, waterproofing and more. For the low price point it's an absolute steal of a device.
As noted by Engadget, this new display will unfortunately take a toll on the wearable's battery life, but it's still an impressive 20 days (compared to the 30 days offered by its predecessor). The Mi Band 2 will be available in black, blue, green, and orange, and will go on sale in China (opens in new tab) on June 7. There's no word on worldwide availability as-of-yet.
Does it display the time of day... Posted via the Android Central App

It is displaying time in picture.

Taking not reading the article to impressive new levels. Posted via the Android Central App

+1 AT&T Galaxy S7 Onyx Black with Unlimited Data

That's my problem with it. Make great hardware all you want, but if the software to use it is absolute garbage, why would anyone buy it?

This is so affordable. Posted via the Android Central App

this makes the chinese fitbit knock offs look rubbish 20 days? the C.F.K my kids have, last about 12 hours

MY $200 Basis Peak only gives me 4-5 days with similar functionality. I might just buy one of these to play with.

I have the first gen and it is great. Definitely getting this. Love the app to. Posted from my Nokia 3310

Well, I'm probably going to have to consider this now.

You should. I have the first-generation Mi Band lying around somewhere. For that price, nothing comes close.

I've had the 1st gen for almost a year now and it is still used daily. So useful for notifications. Posted via the Android Central App

I actually have a first-gen Mi Band. I really liked it. Unfortunately, it's kinda dead, since it stopped taking a charge.

Dang it I just bought a first gen mi band... this is a worthy upgrade though, if only importing one weren't so dang expensive Posted via the Android Central App

*conscious Seriously? Doesn't anyone even use spell-check anymore? It's not like he messed up on a homonym (There, Their, or They're).

I wore a Sony smart band for a while,which was essentially the same as the original mi band, but nicer looking. This thing is a big improvement in the looks department and has a screen. Also, 20 days is a lot better than the 5 days my Sony had. I'm kind of tempted. Posted via the Android Central App

Have the original Miband and love it. Probably will skip this and get their smart watch later this year... Posted via the Android Central App

Just one more word required in the title!

How do USA consumers buy this?

Ebay or Amazon Posted via the Android Central App

My wife and I both have the first gen. For this price I will definitely be getting one so I don't have to wear a watch at work anymore. Posted via the Android Central App

I hope this one is also waterproof. Posted via the Android Central App

Marketing BS, show me where i can buy it for 24$? its 40 even for PREORDER.

Whoa! That's cheap. I would look forward to updating my Mi Band with its successor. Posted via the Android Central App

nice band! i had ordered one, and buy screen protector for it from here: http://vifocal.com/new-high-quality-scratch-proof-screen-protector-film-...
Android Central Newsletter
Get the best of Android Central in in your inbox, every day!
Thank you for signing up to Android Central. You will receive a verification email shortly.
There was a problem. Please refresh the page and try again.