Xiaomi Redmi 4 Pro unveiled in China: FHD display, Snapdragon 625, and 4100mAh battery for $135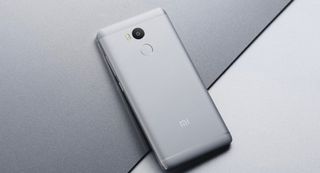 Xiaomi has unveiled the latest in its entry-level Redmi series, the Redmi 4, in China. The phone will be offered in three variants — a base model Redmi 4A, the standard Redmi 4, and a version called the Redmi 4 Pro with double the storage and a Full HD display.
All three models in the Redmi 4 series feature a metallic chassis, which gives you an idea as to how far budget phones have come in recent times. The back looks identical to what we've seen with the Redmi Note 3, and the specs on offer reveal similarities with the Redmi Note series.
Let's kick things off with the Redmi 4A. The phone offers a 5-inch 720p display, Snapdragon 425, 2GB of RAM, 16GB storage, microSD slot, 13MP camera, 5MP front shooter, and a 3120mAh battery. The Redmi 4A will be sold in gold and rose gold color options.
The Redmi 4 and Redmi 4 Pro feature a fingerprint sensor at the back, and 2.5D curved glass at the front. With the Redmi 4, you get a 5-inch 720p display, Snapdragon 430, 2GB of RAM, 16GB storage, microSD slot, 13MP camera, 5MP front camera, and a 4100mAh battery. The phone will be available in gold, silver, or dark gray.
Finally, the Redmi 4 Pro is the most interesting phone in the series, offering a 5-inch Full HD display, Snapdragon 625, 3GB of RAM, and 32GB storage. Everything else is similar to that of the Redmi 4, including the color options. All three phones run MIUI 8 atop Android 6.0 Marshmallow.
And now for the pricing. The Redmi 4A will retail for ¥499 ($74) starting November 11, the Redmi 4 will cost ¥699 ($104) and will go on sale from November 7, and the Redmi 4 Pro will be available for ¥899 ($134) from November 7.
Harish Jonnalagadda is a Senior Editor overseeing Asia at Android Central. He leads the site's coverage of Chinese phone brands, contributing to reviews, features, and buying guides. He also writes about storage servers, audio products, and the semiconductor industry. Contact him on Twitter at @chunkynerd.
Just a stupid question, but why don't we get some of these interesting cheap phones in America?

They wouldn't be able to sell it for that price in America.

Because the U.S. is still mostly a carrier-dominated market, where you get flagships for $200 - $300. In places like India, where over 90% phones are bought unlocked at full price, you'll need to pay $700-$1,100 for the Galaxy S7 Edge and the iPhone 7 Plus. That's why $200 mid-rangers like the Redmi Note 3 are wildly popular.

You don't pay $200-300 for flagships. That is just the down payment. I am sure they have financing in other countries.

I've been asking Y we can't buy all European diesel cars that are far more efficient than anything offered here. For 10 yrs now they have cars that average 40+ mpg (city + hwy combined) and many are going 50+. All we got is a few extremely expensive luxury models that are not saving you that much on fuel anyway.
I guess they want to protect special interests wherever possible.

That has to do with buying habits and cost of certification for the manufacturers. Diesel is (aside from trucks) a niche market here, most mainstream buyers just don't buy them. Maybe something to do with the ****** diesels GM put out back in the 80s. How many Cruze diesels have you seen, right?

Because America isn't a large enough market compared to China and India.

A 4100mAh battery and a Snapdragon 625 should make for some crazy endurance. Shame that it's launching on Marshmallow but considering the heavy skin, it's perhaps not too surprising.

Ya...actually xiaomi's skin is sort of heavy and kinda boring also..if it starts making its skin more simple and light then more no. Of people will get attracted to its phones for sure.

maybe boring but definitely not "heavy". it was heavy a few years ago. now some mi phones are faster than the pixel xl and even the OP3

I mean "heavy" in terms of how customized and different it is compared to AOSP. MIUI is very different from a more traditional Android skin. It's much like EMUI before EMUI 5

oh, i was replying to ayush1997.
yeah that's true. i guess "heavy" is a little vague and might mean different things to different people. peace.

I have the Pixel XL and Mi 5s next to each other. Mi 5s isn't close to being as smooth or as fast as the Pixel.

i dont know about the Mi5s but the Mi5s Plus is faster. look at this video
https://www.youtube.com/watch?v=frY2oxX4oM0

That's not a good test. The mi has 6gb compared to the pixel with 4gb

why? it's not a good test only if the pixel xl is cheaper or of the same price. the Mi5s Plus is cheaper and has more ram. and even faster. isn't that a good thing? lol

You only see the advantage of added RAM when it is being utilized, like in heavy multitasking scenarios. In normal use, you may be hard-pressed to see a significant difference.

it has more ram, it is cheaper, and as we can see in the video, it is faster. utilized or not doesn't matter here simply because it is still cheaper even with more ram.

I was replying to worldsoutro. I did not factor in the price because the person I was replying to was talking strictly about memory capacity. So I had to explain why more RAM doesn't automatically make a phone faster in everything. My Moto Z, for instance, uses 2GB out of its 4GB on average.

my apologies. a little hard to tell with this comment section system haha

No worries. It can get messy when replies pile on.

Sorry actually to be more precise...simple and stock android are the ones that i prefer....and i just wanted to say that the mi ui didnt pleased me much after using mi 5 (of one of my friends)....ya its totally upto personal preference

no biggie. i prefer stock too. have been doing so for 4 years

It's not boring at all. As you can change every single thing about it if you don't like what it looks like.

4000mAh should go for atleat more than a single day

I was thinking the same, 15 hours of SOT should be doable with that processor and battery.

That battery life last for at least 8 hours SOT. I owned one of the predecessor. Redmi 3s.

These big batteries are great and all, but they still need to power phones I'm actually interested in using lol

Man... xiaomi is upto something....means its rare to see any mobile company releasing so many phones in only one year.. i think it will be the 11th mobile of the year or so...feels like xiaomi is high on drugs or something kind of adrenaline rush....

Show me is how you pronounce their no

'Xiao' is pronounced as 'Shao'. So Xiaomi is pronounced as Shaomi and Xiaolin as Shaolin.

Oh my... SD 425, 2GB RAM, 720p, 13MP camera for $75? Thats amazing

Jeez my word.. Apparently 625 is the most efficient processor from SD and 4100 mah for 135 usd with MM? How can you not buy this? No seriously.. How can you not buy this? Problem is when these phones reach other countries the mark ups on these things are absolutely ridiculous!!!

Nope, All the countries in which Xiaomi officially sells, the price is nearly the same. You can expect same pricing for the Indian launch.

With the exception of Brazil. That country has a terrible tax structure.

Unlike Google and Apple, Xiaomi doesn't mark 'em up at all in India. If they are to follow the precedence from the last couple of years, these devices will be launched at these exact same prices in India. I'd buy the Pro version right now but for the screen size. Can't use anything smaller than 5.5" (preferably 5.7") with my giant gorilla hands.

LeEco and Honor are selling in the US. Expecting Xiaomi to start selling their phones in the US soon. Mean while, im gonna import the Redmi note 4. Software is not a problem and they run good enough. Just put a different launcher and no problem here.

Xiaomi said they're staying out of US market. Because of carrier control, there's basically no way they can make a dent in the Apple/Samsung duopoly here. That being said, some of their newer phones are supporting US LTE bands, so using imported models will be a lot more practical in the future.

Just buy a xiaomi phone and throw a CM rom in it!! I've got to admit that this is a very sweet deal. I'll be getting this off of AliExpress.

Android phones still have Google services at the heart of the OS but Google is blocked in China?

The 4 Pro model is interesting. The 4 is basically the same as Redmi 3, in terms of specs.
Android Central Newsletter
Thank you for signing up to Android Central. You will receive a verification email shortly.
There was a problem. Please refresh the page and try again.