Xbox One YouTube app gets revamped UI, will roll out soon to other TV devices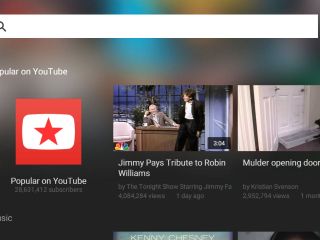 If you own an Xbox One and checked out the console's dedicated YouTube app sometime in the last 24 hours or so, you may have noticed that the app has an all new user interface. Today, Google offered more details about the YouTube TV app revamp, which will be rolled out to other set-top boxes, game consoles and smart televisions in the coming weeks and months.
The design is HTML5-based, which means anyone with a compatible web browser can also check out the new YouTube TV UI right now. Google says:
The revamped design also allows users to see any new playlists created by a user's favorite YouTube channels. If you own an Xbox One, what do you think about the changes made to the YouTube app?
Source: Google
Can you watch your purchased videos? That's one reason I haven't replaced my 360 yet

Hopefully Vizio jumps on board. This would be pretty nice to have although I may still prefer using my phone and Chromecast.

As TomW093 mentioned, can you watch your purchases? That would be pretty damn awesome.

Likes- you can get to a proper channel page now and they got rid of the 10 rows of suggested junk.
Dislikes - Default view is "what to watch" which only shows a few videos per channel rather than all uploads, not every channel has the uploads playlist at the top, added sound effects and if feels slower than before. I'll get used to it I guess but I much preferred the old version :(

Not a fan of it. Very clunky. Posted via Android Central App Hoping Google TV is better. Navigation is kinda bad. Maybe just need to use it more.

YouTube has sure been updating a lot lately. This is worth it though. Awesome!

Help how to search for videos on YouTube on Android lengthwise pls help Posted via Android Central App

I thought this was an Android site, not a Google site. What does this have to do with Android? Posted via Android Central App

Not this again. Posted via the Android Central App

I'm with col_krismiss, Android Central is turning more into "Google Central" - I don't need to know when the YouTube app on the Xbox was updated or how to hack my Chromebook

jesus, if you really didn't care to read about it then you damn sure shouldn't have clicked on it... yeah I guess they should have made an article about the new nexus instead... thats hasn't been announced yet... or even been leaked yet... or doesn't really have anything to discuss about... I know, lets do another article on the S5 or the G3! if you guys don't like what this site offers, you're lucky, there are many many more to choose from. I would much rather read something slightly off topic vs. reading another article talking about the same this from an article a week ago... there are plenty of articles that are not interesting to me, I just don't click on them to read them, and I'm surely not going to spend time posting and complaining about topics I'm not interested about when I could be spending that time reading about something I do care about. also being an intelligent person, I realize that this website is created for people other than myself as well. AC, haters gonna hate. dont listen to the trolls. keep doing what you're doing.

Its OK just wish when I go to a channel the uploads section would be the first thing I would see instead of having to scroll through the playlists. Posted via Android Central App

I love my XBox One, but will my 360s (I own 2) get this also? Sent from my Nexus 5

Great! I love controlling YouTube on my Xbox One with my X! Posted with my Nexus 7 2012 or Moto X via the Android Central App

Funny google relating it first on a Microsoft product, would think it would be last. Really want a Android TV for this reason so I know I'll get the latest updates for things like YouTube, Netflix etc. I have a "smart tv" from 2012 and I have YouTube etc but man the ui and software is just slow and you know it will never be kept up to date with new looks like this YouTube ui or the recent Netflix for TV ui. Posted via Android Central App on nexus 7 (2nd gen)

Great! any word onw when there wil be an app for the PS4?
Android Central Newsletter
Get the best of Android Central in in your inbox, every day!
Thank you for signing up to Android Central. You will receive a verification email shortly.
There was a problem. Please refresh the page and try again.