Wordle on Google Sheets? This guy made it happen and it's called Sheetle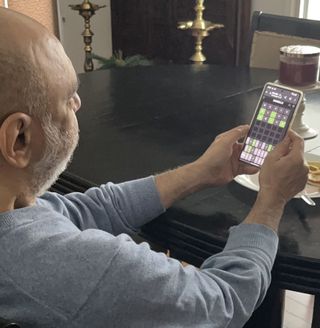 (Image credit: Android Central)
What you need to know
Everyone is playing Wordle, but one creator made it on Google Sheets.
The format is a bit different, but the concept is the same.
The creator uses some of Google Sheet's lesser-known features.
By now, you have probably seen multiple tweets that contain green, yellow, and grey squares. It's all part of the new buzz-worthy game called Wordle, a one-word-a-day guessing game that has taken the internet by storm.
Josh Wardle, the creator of the game, wanted to create something for his wife to play during the pandemic. The game was then posted online and now is played by likely thousands around the world.
The aim of the game is easy, you need to guess the right word, but you only have six tries. If you get a green square it means the letter is correct and is in the right position. If you get a yellow square, it means the letter is correct but in the wrong position. If it's grey that means the letter is not in the word.
The game is free and is only available through your internet browser on any of the best Android phones out there. In fact, it is so popular that many tried to recreate it into an app version.
But one creator wanted something entirely different and decided to recreate the game on Google Sheets.
Tyler Robertson, who first wrote about creating the Google Sheets version of the game in a blog post on Zapier, says he wanted to adapt it to his medium of choice.
"It's a self-contained, mostly complete copy of Wordle, with daily words and six guesses and everything - all running in Google Sheets," he writes and even provides a link to his Sheetle.
In his blog, Robertson explains in detail how he was able to create his project, which took a few steps and used some of Google Sheet's lesser-known features. First, he imported five-letter words from a GitHub repository. In Sheets, he used "Index to tell the sheet which specific row to stick to and Upper to make it upper case."
Using Calculation, he was able to create how often "formulas recheck their math."
"In this case, I have Sheetle check its formulas any time something changes and every hour, and when it does that, it rechecks everything one extra time," he says. This is a great feature because then you can turn checkboxes into buttons, and as Robertson writes, can "build whole games from scratch" in your spreadsheet.
For Sheetle, he says the feature will let the player guess each time they press the Submit button. Finally, he included hidden ranges so that answers and guesses are split into two new ranges.
If you're interested in playing, check it out here.
Get the Android Central Newsletter
Instant access to breaking news, the hottest reviews, great deals and helpful tips.
Shruti Shekar is Android Central's managing editor. She was born in India, brought up in Singapore, but now lives in Toronto and couldn't be happier. She started her journalism career as a political reporter in Ottawa, Canada's capital, and then made her foray into tech journalism at MobileSyrup and most recently at Yahoo Finance Canada. When work isn't on her mind, she loves working out, reading thrillers, watching the Raptors, and planning what she's going to eat the next day.