Word, Excel and PowerPoint Office apps for Android smartphones now live in Google Play Store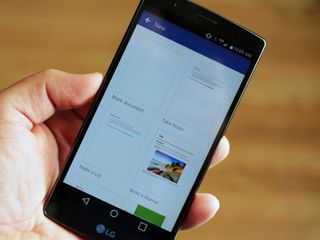 After just over a month of beta testing, Microsoft has now updated the Android versions of its Word, Excel and PowerPoint apps in the Google Play Store to include support for smartphones. Microsoft previously launched versions of those apps for Android tablets in January, but the expansion to Android smartphones should result in a massive increase in the use of those apps on Google's platform.
In addition to supporting smartphones, the new versions of all three apps now include cloud storage support for services like Google Drive and Box. You can download all three apps for free in the Google Play Store.
Android Central Newsletter
Get instant access to breaking news, the hottest reviews, great deals and helpful tips
Hmmm, this or WPS Office? I've been loyal to WPS for a long-time.

Dumb question, I'm sure... But is there any benefit of one over the other by using the individual standalone apps vs. using Office Mobile?

I believe Office Mobile is only for devices running Android versions older than 4.4

I've had Office Mobile on my Moto X (2014) running 4.4, 5.0, and 5.1 until now when I got the separate apps, so that isn't it. I am interested in learning the difference though. I've kinda enjoyed having all my documents and spreadsheets editable from one app.

The new standalone apps are more feature filled. You can do most of, if not all, the things you can do in the PC apps. You can even create PowerPoint presentations, something you can't do in the office app. Get them man! They're awesome. Posted via the Android Central App

Yes. The new ones are really good. In Office Mobile you couldn't create PowerPoint documents. Word as a standalone product is far better than the Office Mobile app. This is the kind of productivity suite I have been waiting for on Android. Just waiting now for Microsoft to bring it their own phones. Posted via the Android Central App

I got tired of waiting for Windows Phone to get these apps and many others. That's why I'm using Android now. Posted via the Android Central App

Me too! Posted via the Android Central App

Time for a comparison vs Googles suite?

Only one winner there. Microsoft's apps are miles better than Google's. Posted via the Android Central App

More choices for us. Don't like Google slides. Posted via the Android Central App

Personally I would only open such documents on my phone to view, never really to do any serious work. Therefore the preinstalled Google stuff on my Nexus 5 is more than sufficient. What does in-app purchase mean in this case?

In app purchases release some functions not available on the free version, E.g. word art, the ability to create landscape documents etc. Still has some good features in the free version. If you already subscribe to Office 365 you may be able to unlock them anyway. Depending on how many devices you have. Posted via the Android Central App

not bad. i'm happy to report that MS Word/Excel for Android both support password protected files (Google Apps and others do not). one big negative though is that MS Excel for Android will not open any spreadsheet files that contain Web Queries. forget about using Web Queries - the file won't even open. dealbreaker. so 'll keep using OfficeSuite Pro by MobiSystems for now which can do it all and is still best in class.

Microsoft is nailing it with their apps, very happy and impressed! Although I have relatively new devices (2yo laptop, <1yo tablet, new phone), my next generation of devices will likely look very different. This is due to the ever-growing capabilities of mobile devices. I see myself with a "smaller" phone (like my S6) and a tablet w/ detachable keyboard; either Android or MS Surface if Google ever stops snubbing Windows for apps (gmail, youtube, etc) like poor-sport children. My Surface/Android tablet will dock at home/office for larger monitor, proper keyboard/mouse/speakers.

Yeh. You need a Note series, N6 or a biggie phone to avoid getting your knickers in a twist. Even then I would run back to the safety of a large monitor any chance I get.
I am temporarily using a 4.5" Moto G after a Note 3 and there's no way... But great on Microsoft again, I like all their apps. Also kinda payback time after paying through the nose for years on top of a new pc purchase. Posted via the Android Central App

Microsoft is still not offering the Office apps in the Play store in my region. It seems that will not change.

Download Fake Location and Psiphon ;) Posted via the Android Central App

I am guessing it is limited in device support (one of my tablets) that I carry in shall we say harsh environments (I don't care what happens to it) is not supported

Great to see Microsoft so hard at work on delivering quality app experiences for mobile productivity. I cannot tell you how man times I wished I could simply make a few changes on a resume or document on the go on my phone. All this is going to come together even better with Windows 10. Posted via the Android Central App

Can you save to local storage with these apps? That's the main reason I don't use Microsoft Office on my phone.

Yep, you sure can. Just tested it out from Word on the LG G4

can i use this on a chromebook or is it strictly phone and tab?

Not the Android apps, no. Microsoft has some reduced-feature web apps for free with OneDrive. If you're an Office 365 subscriber, then you get more features on the web apps AFAIK. Posted via the Android Central App

Each app is 100 MB. Doesn't really give you any better options than other office suites out there. So the question really boils down to how much storage are you willing to give up.

If you have a good look at the apps you will find they have plenty of options that are not available in other apps. Posted via the Android Central App

Really, no good reason exists as to why usable storage can't increase--markedly, even "instantly"--if desired.. it seems that developers and fabricators intentionally limit such storage nowadays--even some such entities associated strongly, or even intimately, with Google. Android may obtain the most "pop" from opening that "gate,"--shaming Apple and Amazon--instantly. (I'm referring to micro SDXC max capacities, currently at 256GB, and missing micro SD slots which should now assist. SDXC max capacity currently stands at 512GB--according to newegg, anyway.) Maybe i'm missing something: I just don't get it, though: Why Android doesn't "go in for the kill!" Nonetheless, this "thorn" remains a bottleneck to further usability....

Is there an app that will open .pub files? None of the office suites include Publisher. Posted via Android Central App

I ran into these apps before reading the article. I was looking for Office for Android after getting a OneDrive for Business account and found them. Didn't know they were so new. Posted via the Android Central App

If their tabs and affiliated Windows mobile OS devices sold and performed better, MS wouldn't do this. I credit Google, also--for growing up, somewhat and finally: Maybe they've gotten over the novelty of grandmothers and grandkids amused endlessly by "Angry Birds." Biz people have been peeved at Google, Amazon, and Apple, for decades now--given the latter's bug-eyed, flaky, and dumb consumer focus upon useless whiz-bang. (OK, some of that is pretty cool--increasingly, that too is far better--just recently, it seems.) Some users actually desire to perform some work with apps: Getting MS in ties very well too into devices actually performing well (perhaps) as "virtual digital personal assistants" --features so over-touted and over-puffed, for so long. Finally, promise is meeting fulfilment....
Android Central Newsletter
Get instant access to breaking news, the hottest reviews, great deals and helpful tips
Thank you for signing up to Android Central. You will receive a verification email shortly.
There was a problem. Please refresh the page and try again.