Win an IOU for a BlackBerry KEYone from CrackBerry Kevin!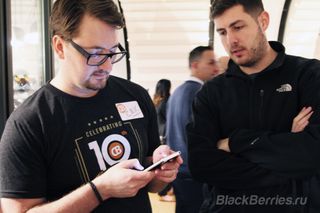 Winner's Announcement: Click Here to see who won!
A few weeks ago Daniel Bader wrote many kind words here on Android Central letting you know that CrackBerry Kevin was coming out of retirement to celebrate 10 Years of CrackBerry and to cover the hell out of the BlackBerry "Mercury" launch.
Fast forward through a crazy few weeks of editorials, youtube videos, tweets, instagram photos and even an onstage appearance at BlackBerry's press event and it feels to me like CBK never left. It's been a helluva fun month!
More exciting than CBK having tech blogging fun again is that the newly-christened BlackBerry KEYone has shaped up to be helluva good phone. Having used one now for a few days now, I think it's a phone that BlackBerry users past and present will absolutely love, and many who have never touch a keyboard before may even find themselves developing a crush on if they give it a try. The hardware build quality and design is top notch. The physical keyboard is fantastic to type on (having a fingerprint sensor in the spacebar is brilliant), the battery life is amazing, having the same camera sensor as the Google Pixel means it takes fantastic photos, and despite having a keyboard there all the time the screen size itself as you use the device is BIG (prior to the KEYone I was using the Pixel XL, DTEK60 and iPhone 7 as daily drivers). This finally is the no compromise BlackBerry I have been waiting on for YEARS. Running on Android, I finally have the app ecosystem I need and it's also giving me the features of BlackBerry I've always loved.
Enter to Win an IOU for a BlackBerry KEYone from CrackBerry Kevin
Clearly, I'm gushing all over for my new BlackBerry KEYone. And I know there a LOT of former BlackBerry users here on Android Central who used to be highly active on CrackBerry (I'm glad when you left you found your way over to the best Android site and community in the universe!). In the spirit of our CrackBerry 10 year anniversary, the return of CBK and the fact that I'm legit in love with a BlackBerry again, I want to give a KEYone away to an Android Central reader.
To enter, you just need to fill out the form below! We'll run this giveaway through to the end of March and I'll announce the winner here on Android Central on April 1st. Open worldwide! As soon as the KEYone becomes available for purchase I'll buy and one send it to you myself.
*Required field
Rebuilding the BlackBerry Community Bottom Up!
With a giveaway of this nature, we typically make it really easy to enter - just asking for you to leave a simple comment to enter. This time around I am asking for more, for a reason. I want to be able to get to better know and communicate with all of the biggest BlackBerry and Android fans in the world. First Example - I want to know what city you live in. If I'm visiting, I want to be able to send out an email to all the fans living there - you never know, maybe we can make an impromptu meet up happen to talk tech. Second Example - Occupation. So we can better plan our content, I'd love to get a better sense of everybody's background in this community: are we students, IT admins, entrepreneurs, business professionals, teachers or ??? If you're on social, I'd love to know your handles so we can follow you there too. The data will not be shared, and only your name and email address is mandatory to enter, but knowing more about you will help reforge a stronger BlackBerry community!
Enter now. Good luck!! And if you ever want to swing by CrackBerry.com for a visit, don't be shy. The team over here at Android Central is CRUSHING it on all the coverage, but nobody will get mad if you spend some time hanging out on both Android Central and CrackBerry :)
Related CrackBerry Kevin Videos
Get the Android Central Newsletter
Instant access to breaking news, the hottest reviews, great deals and helpful tips.