Why an iPhone is a better work-from-home tool than an Android phone (and how Google can fix it)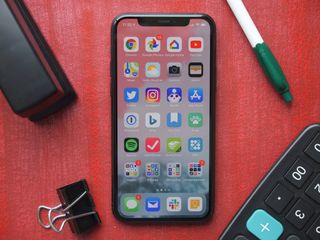 Here on AC, I've made it no secret that I own and enjoy using an iPhone. Right now, my daily carry consists of a Google Pixel 4 XL and iPhone 11 Pro. The Pixel 4 is more fun to use, specifically thanks to its deeper level of customization, smooth 90Hz display, and better tie-in with the Google ecosystem (something I'm heavily invested in).
However, as someone that works from home, the iPhone is what I find myself picking up more often during the workday. The Pixel 4 is my go-to device for watching YouTube, playing CoD: Mobile, and using other mindless apps, but the iPhone 11 Pro has a clear advantage when it comes to being a tool that helps me stay productive and on-task.
That might seem like a sacrilegious thing to say on Android Central, but it's true.
Little features that make my workday so much easier
As you'll find with a lot of my colleagues (and plenty of other people that work from home), Macs are often the go-to computer of choice. Whether we're talking about the MacBook Pro as a powerful video editing machine or the iMac as a simple, all-in-one workstation, there's no denying how good these computers are for getting stuff done. I work from a late-2015 iMac, and using an iPhone with it is a gamechanger for productivity.
Apple gets a lot of flak for its walled-garden of an ecosystem, but you'd be silly to say that living in it doesn't come with serious perks — my favorite of which is Universal Clipboard. It's a pretty simple feature, allowing you to copy something on your iPhone and paste it on your Mac (and vice versa).
I personally get a lot of use out of this when it comes to entering passwords. As a 1Password user, all of my online credentials are stored away in my 1Password account which is locked behind a lengthy master password. My iMac doesn't have any biometric authentication of any kind, so if I want to access my passwords, I have to type in my entire master password and hope I don't misspell it along the way.
Since I have an iPhone (opens in new tab), however, I can also just open the 1Password app on that, instantly access it thanks to Face ID, copy the password I need, and then click paste on my iMac. Just like that, I'm logged in and ready to go.
This is a very specific use case I'm describing, but there are plenty of other instances in which it can be a lifesaver — whether it be copying and pasting links, notes, you name it.
In a similar vein, there's the Handoff feature. I often take little breaks throughout the day to stretch my legs, but while doing so, I usually have my phone with me so I can still keep an eye on newsfeeds or ongoing Slack conversations. If I find a news story that I need to write about or if a PR contact sends me a link to a press kit, I can open it on my phone, sit down in front of my iMac, and click the Google Chrome icon that pops up to instantly transfer the tabs from my phone to the computer. It may sound kind of boring and only saves a matter of seconds in each instance, but all of that time added together over a couple of years is pretty significant.
Then there's the iPhone itself. It works beautifully in tandem with a Mac, but there are also standalone benefits that make it a more reliable work-from-home tool.
A lot of Android apps are now on-par with their iOS counterparts, but even here in 2020, iOS continues to have the better overall app ecosystem. Airtable and Concur are two work apps I rely on quite a bit, and comparing the Android and iOS versions side-by-side, they run better and are more nicely laid out on my iPhone than they are on the Pixel 4. You'll find this to be the case for a good handful of applications, and as someone that uses their phone as a tool for getting stuff done, having access to the best and most polished apps possible is a big deal.
What Google can do to fix this
As stated above, I love using my Pixel 4 XL (opens in new tab). If it offered the same functionality that my iPhone does from a productivity standpoint, I'd be happy to rely on it more often. I can't do that right now, but thankfully, I don't think it'd be too difficult for Google to make a few small updates to better compete with Apple in these regards.
In December 2018, Google rolled out a new initiative for Chrome OS and Android called "Better Together." Similar to how iPhones and Macs work so seamlessly with one another, Better Together aimed to bring a similar cohesiveness to Google's desktop and mobile platforms. It took the form of text message integration, instant tethering, being able to unlock your Chromebook with an Android phone — and that's it.
Google has a solid foundation with Better Together, but I would love, love, love to see it offer its own versions of Universal Clipboard and Handoff. Furthermore, if Google can find a way to extend these features to Windows and Mac through the Chrome browser or another app, that would greatly expand the number of people that would have access to these things (sorry, Ara, a lot of people still don't work on Chromebooks 😜).
As for the app situation, I think that's something that'll just have to get better with time. Android's app ecosystem is in a much better place today than it was a few years ago, and as more time progresses, I think that's something that'll continue to get better.
Find the workflow that's best for you
Going out and buying an iPhone just for a smoother workday probably isn't the best use of your money, but if you do have an iPhone lying around and want to see how it compares to rocking an Android phone while you work from home, go ahead and give it a shot.
Yes, I could use my Pixel 4 XL and get everything done just fine, but compared to the iPhone, it's not as useful or as good of a fit with how I work.
Working from home is all about finding the balance that's the best for you, and for me, that consists of using an iPhone with my iMac. Your preferred workflow might look a little different, and that's perfectly fine, too. As long as you're staying productive and getting your assignments done in the best way possible, that's all that matters.
It just works
(opens in new tab)
A powerful tool in my work-from-home arsenal
Call it boring and bland if you wish, but there's no denying that the iPhone 11 is a fantastic handset that lends itself perfectly to a work-at-home environment. From its deep integration with a Mac to the unmatched app support, the iPhone 11 is a productivity powerhouse.
My favorite Android
(opens in new tab)
The Google phone I just can't quit
Sure, its battery life isn't the best out there, but there's something about the Pixel 4 XL that I simply adore. Hardware-wise, it continues to be a strong force with its 90Hz AMOLED display and industry-leading cameras. Add that together with the clean software backed by guarnateed updates, and you're in for something special.
Joe Maring was a Senior Editor for Android Central between 2017 and 2021. You can reach him on Twitter at @JoeMaring1.
Keep jumping those sharks AC...

I knew the first comment I read would be worthless...it didn't disappoint.

So using the iPhone fits better into your workflow because you use a MacBook. But that's a huge factor in why it's better with your workflow. And while MacBooks may be more common than they were in business environments, the vast majority of enterprise users are still on Windows based laptops. The real question would be if you didn't have a MacBook, would you still make the same sweeping generalization that an iPhone is just better for working from home that you suggest in the headline?

+1 for this. I was thinking the same thing, an iPhone works better for you because you use a Mac OS device for work. The same may not hold true for a Windows or Linux/Chromebook user.

My thoughts exactly. My firm is entirely a Windows shop

Let's see what latest news Android Central has on Andr...wait, what?!

I would also suggest most business users that use Android have a Samsung not a Pixel. Depending on one's needs, Microsoft Link and Samsung Dex both offer great things to help with efficiency.

So you use a Macbook and an iPhone works better for you, doesnt take a genious to figure that out. Anyone using a PC would say an iPhone SUCKS for working at home. And I work from home and have used a macbook pro before and currently using a Dell xps 15.
The dell blows away the Macbook in every aspect.
The Dell has better performance, battery life, 10x better keyboard, and I dont have to run bootcamp for my development tools. It is sad you write this article with the tone that what you are saying would apply universally when it actually applies to your limited use case and your limited view to how people work.

What development tools do you use that require Windows? I think Android and iOS are both good for working from home, just whatever works better for you or what you prefer.

With the exception of cross-device copy/pasting (although that's also in the works; in the meantime I just use the sticky notes app in Windows which is integrated into OneNote on Android) everything else this article stated as being so unique to iPhones my Pixel 4XL also does, and just as well, on my Windows 10 machine. All it requires is the My Phone app on both devices. Once that's installed and both are synchronizing I can make and take phone calls from my computer, compose and reply to texts, view pictures from my phone, and even share my phone's screen to my Windows machine. And as far as the beloved Handoff feature well there's a simple solution to that as well: install Edge on your phone and Edge Chromium on your PC. While browsing anything in Edge mobile you can just click on the menu and select "Continue on PC" and voila...it shows up on your PC. If you REALLY want the full Microsoft experience then switch to the Microsoft Launcher and some of this is already integrated. Don't need a walled garden to be productive or do your work.

I was going to mention everything you said but you beat me to it. I completely agree with all of it and use all of this (except the lanucher because I love Nova too much) but yeah IOS really has nothing. The clipboard syncing is a tough one but this can be accomplised too on my Note 10 via the share menu. So yeah android is just as good if not better.

I would say, a large number of people that are working from home right now are using PCs issued by work. With this in mind, Android is alot easier to use for work from home if you use Microsoft Your Phone on Windows/Android. Text messages, screen mirroring, phone calls etc all on your PC and built in already. Although universal clipboard might be a single feature of iOS vs Android, for remote work and a large number of people are now using, it probably makes more sense to use Android right now.

But those of us who don't use a Mac (incidentally for the same reason we don't use iPhones) wouldn't get a better experience on an iPhone? Sorry but this is a ridiculous article.

My job phone is an iPhone and I find being productive with iOS is so much more difficult. To me, nothing's intuitive on iOS and I end up using my Pixel 3a XL mostly. I don't even use any of the cross platform tools on either phone. I just find iOS much more difficult even after having it for 2+ years.

What is it about iOS that you find difficult? Is it restrictions in the OS?